Immuta Data Engineering Survey: 2021 Impact Report
We're on the verge of a perfect storm for modern data access governance. As organizations lean into data and the cloud, new research shows that the majority will adopt multiple cloud compute technologies within the next two years. As a result, data teams will need a modern framework, architecture, and suite of tools to make their cloud data platforms work together efficiently and securely.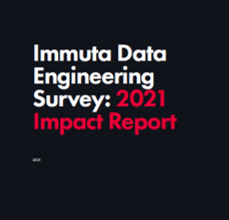 According to Immuta's market research survey, the Immuta Data Engineering Survey: 2021 Impact Report, most enterprise data teams indicate their future data platforms will be entirely or primarily cloud-based, with more than half planning to adopt two or more cloud technologies within the next 24 months. Three-quarters of respondents also report that sensitive data is important to analysis. In this multi-cloud future where sensitive data is powering analytics and data science, the need for a central platform to manage data governance, policy enforcement, access control, and auditing has become an emerging market need across an array of industries.
This report highlights the current and future state of data engineering and DataOps, including analysis on:
The adoption rate of cloud data platforms and what it means for the future of data use
The most challenging aspects of the cloud data management process
Handling sensitive data in an increasingly regulated environment
What organizations and data teams need to remain competitive in our evolving data ecosystem
To read the full findings and what the implications for organizations adopting a multi-cloud strategy, download the Immuta Data Engineering Survey: 2021 Impact Report today.