Navigating the UK landscape: It's time for a low-code approach
68% of business and IT leaders have implemented tech to empower non-IT employees to develop and implement their own digital business applications.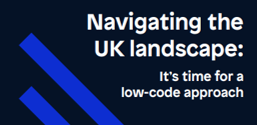 2020 was a challenging year for the British economy, with the COVID pandemic radically transforming the way businesses operate. This has created fundamental challenges for businesses, that have had to implement massive changes in such a short timeframe.
Technology has emerged as the hero in this difficult time. IT teams have helped businesses keep the lights on, adapt and even prepare for the long-term combined impact of Brexit and COVID-19.
But how can technology keep meeting businesses' growing needs, when change is needed rapidly, and resources are tight?
This report explores how Brexit and the pandemic have reshaped the role of IT, as well as the opportunities for organisations to deliver the tech they need more quickly and collaboratively.
Learn how to get the most out of technology and be more prepared for whatever is next.
Read the report to:
Get the results of a survey of UK IT and Business leaders

Find out how low code can support innovation during this time of unprecedented change

Learn how you can negate the pressures of hiring talent in a skills shortage