Nuxeo 2020 Low-Code Research: The 'low-code' imperative
The 'low-code' imperative: transforming content access as innovation tops the business agenda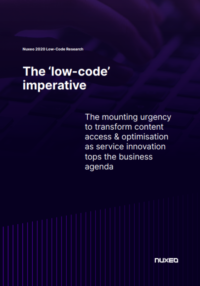 Exclusive new Nuxeo research, conducted among 200 UK software developers in October 2020, confirms a growing appetite for more agile ways of harnessing critical enterprise content assets,
as organisations in all sectors strive to keep up with a fast-changing world.
Given all of the challenges and pressures software developers have faced since the beginning of the pandemic, to fulfill increasingly urgent gaps in organisations' digital capabilities, in October 2020 Nuxeo
commissioned an independent survey among 200 UK developers to understand the growing
prominence of low-code environments and their perceived – and experienced – benefits.
The findings are reported and discussed in the report, download now by filling out the form.