WHY LOW-CODE CRM IS THE RIGHT INVESTMENT FOR CIOs AND DIGITAL LEADERS IN 2020?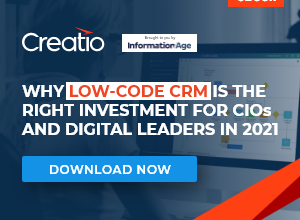 2020 has been a wild and tumultuous year for mankind. The COVID-19 pandemic and the following economic recession made a major  impact on daily life, and no corner of the world was left untouched.
The markets were no exception to this drastic, large-scale change. Businesses from nearly all industries found themselves in conditions that required quick thinking, adaptation, and resilience as supply chains became severed, employees went remote, and customers were forced to change how they interact with businesses.
None of these conditions sound particularly pleasant for anyone involved. However, though many would abstain from labeling 2020 with many positive terms, for CIOs, 2020 could be described as "transformative."
In fact, for those who decided to make an investment into low-code CRM this year, they may find 2020 to be one of their most strategically meaningful years. The difficult decisions CIOs are making right now regarding the technology they are implementing is going to stem far beyond the response and recovery from COVID-19, and is paving the way towards a bright, long-term future for their companies. Here's
why low-code CRM is the right investment for CIOS in 2020, and how low-code CRM can bring about much-needed transformation during
these turbulent times.