There is no doubt that technology has transformed society from both a business and personal standpoint. It has improved operational efficiency across the industrial board and significantly improved aspects of people's day-to-day lives, from healthcare to food delivery and transportation.
However, the benefits of technology extend beyond the needs of today. Indeed, with regard to the planet, it can help preserve the future. Waste represents a serious threat to ecosystems across the globe, especially the plastic-filled oceans. As the global human population grows, so to does the amount of waste created. It is grossly unsustainable.
Sustainable technology initiatives can help tackle this problem. First Mile represents one such green technology project. It was voted one of the 1,000 companies to inspire Britain in 2016 by the London Stock Exchange, and was founded in 2004 when Bruce Bratley, CEO and founder discovered that businesses were not effectively being served by the waste industry.
>See also: Does 'green' always mean clean?
First Mile not only lets businesses recycle when they want and how they want but they are also passionate about making the recycling industry more transparent, holding councils to account and making sure everyone knows exactly what happens to their waste.
The company did 15 million collections in 2016 serving 16,000 businesses including Ted Baker, Metro Bank, Paddy Power and Caffé Nero. They recently partnered with the latter who became the first major coffee chain to convert beans into fuel working with First Mile to do so.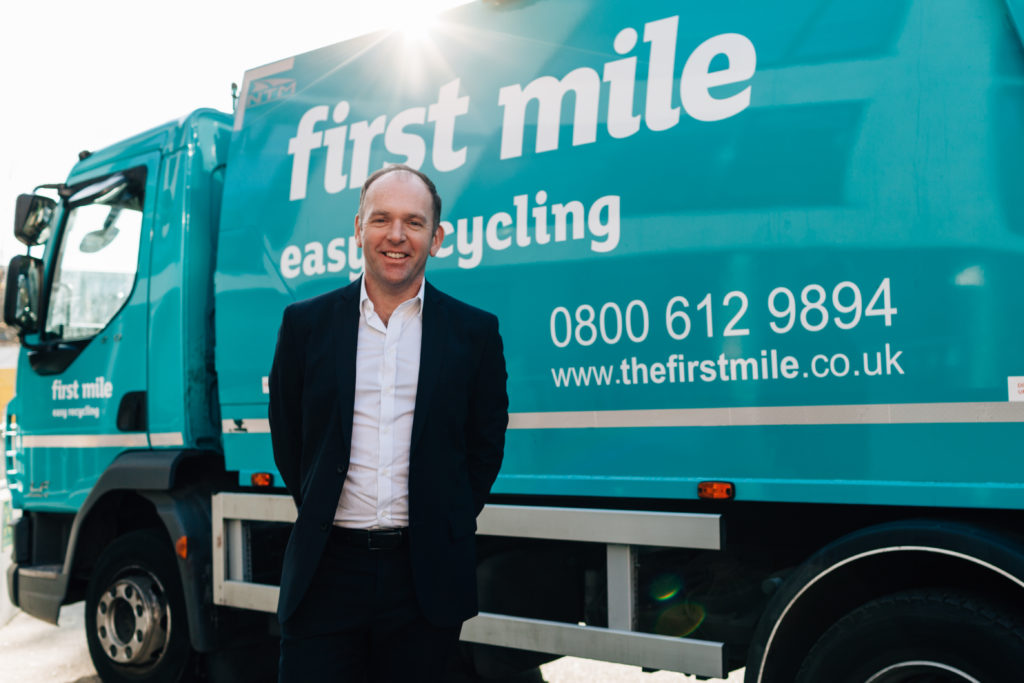 Bratley believes that saving the planet should be made easy and should never be seen to be an inconvenience. A recent report by the Business & Sustainable Development Council found there could be a return of as much as $12 trillion if the world's sustainability goals are backed by big business.
In an interview with Information Age, Bratley discusses how First Mile offers a solution to businesses that are looking to make a sustainable impact.
How does First Mile effectively recycle business waste?
Our mission at First Mile is to make recycling easy. If we want businesses to be sustainable; we have to make it easy for them to do so. It is as simple as that, which is why we offer a low cost, flexible service to our customers.
>See also: How to improve data centre energy sustainability?
Nothing we collect goes to landfill; instead it is used to produce green energy. Using new technology, we are able to recycle multiple waste streams every day. Recycling 66% of all material we collect, compared to the London rate of just 33%, we also recycle 20% more rubbish than other service providers.
What technology does it use to ensure this?
We're strong believers in waste data. One of the innovations we use that is unique to First Mile is telematics. We have sensors under each driver's seat which can tell how long they have been off their seat, and so can estimate how many bags of waste they've picked up. This allows us to track how much each customer is throwing away; transparent data that we share with our customers in regular reports.
With pressures to cut costs and constantly increase revenue, the 'green agenda' may not always be at the top of business owners' minds, although it is often a concern of their employees. Telling a company how well they are doing is invaluable. It all goes back to making recycling more transparent for the customer, enabling them to be planet savers.
Why did you found the company?
I studied Environmental Marxism at university so I've always been interested in all things green. After I did my thesis on the waste management industry, I noticed that the waste industry in London was not working. People were paying a lot of money for incredibly poor service, lazy councils and ineffective disposals.
>See also: Telematics helps fleet owners go green — and more
When I first started I walked into businesses and told them I could do their recycling better and cheaper. This was a stretch when I was doing the sales, the out-of-hours calls and the weekend deliveries but I did it all at first so the company could grow, and it did. We've been recycling ever since, and today 14,000 businesses recycle easily with us.
Recycling is one of the easiest ways every single person and business can reduce their impact on the environment. It plays a huge part in tackling issues like climate change, and can create a positive long-term impact.
Recycling can save businesses money but beyond that I like that we are a genuinely environmental organisation. We all care about helping the planet.
How can the recycling industry be improved?
Fundamentally councils aren't doing a good enough job. People are paying enormous amounts for irregular collections.
Households and businesses are let down by what is an incredibly fragmented industry. It is a complete postcode lottery with no smart use of technology or sophisticated infrastructure to innovate the practice.
We must use technology to play a role in our green agenda and must prioritise becoming a global leader in sustainability; especially now we have left the EU. We must push for a Green Brexit that allows Britain to instil a sense of accountability for the environment amongst individuals and businesses.
>See also: 5G's rise must coincide with sustainability
Why does it have to be more transparent?
Even if companies do recycle, most of the time they have no idea what happens to their waste and they are not provided with any information about the tangible effects of their efforts. As I said, each of our customers receive a monthly recycling report, regardless of their size. This allows businesses to assess their waste disposal. They can then question why one branch is performing better than the other for example. When rubbish is not recycled, customers have a right to know why and how they can avoid this.
How can technology in general aid the sustainable cause?
Using our monthly report system for example (derived through technological data) allows companies to prove the worth of recycling with us, encouraging them to continue recycling and/or recycle even more.
The industry is so fragmented it is difficult for businesses to understand. Every council operates differently, there is no coherent infrastructure let alone an operations or customer service team for customers to speak to. As a result, there are many areas where tech can aid the cause.
>See also: London reaps the rewards of leading the world in open data
In the future, we believe driverless vehicles will emerge and enhance waste collection. We could have crew dealing with collections, whilst lorries drive themselves around on pre-planned collection routes. AI and robotics will also transform recycling over the next decade. With more information on products and packaging, we could also have robots sorting our waste. In addition, AI can enhance customer service, keeping businesses informed about where their waste is going in an industry that has a severe lack of transparency.
First Mile has been using green technology to reduce waste and recycle more for years. Getting disruptive waste management companies like ours, businesses and trade bodies to work together in long term partnerships will be what creates a sustainable, circular economy.
Nominations are now open for the Tech Leaders Awards, the UK's flagship celebration of the business, IT and digital leaders driving disruptive innovation and demonstrating value from the application of technology in businesses and organisations. Nominating is free and simply: just click here to enter. Good luck!