According to recent research, more than three quarters (76%) of corporate travel managers report that their travel programme is only partially integrated, meaning that travellers can book some elements of their business trip on a single platform, such as their flight or hotel, but not their whole journey from door-to-door. The booking process is not made easy or seamless, different legs of the trip are not intelligently linked together, and it does not help travellers get where they want to go without having to overcome some hurdles.
But cutting edge, emerging technology is helping to solve this problem. Using AI, the different elements of a trip can be elegantly woven together, providing users with an end-to-end travel management solution.
Imagine you are a business traveller who has flown to Schiphol Airport for a meeting at the European headquarters of major international sportswear brand, Nike, in Hilversum, 24 kilometres southeast of Amsterdam. Having already trialled a Mobility as a Service (MaaS) transport model, Amsterdam is the ideal city in which to use a travel platform.
Through your corporate booking app, you have been able to arrange your return flights and a hotel near the airport to stay at. When you land, you must get from the airport to your meeting. However, in an unfamiliar city, with an array of transport modes and routes to choose from, this is not as straightforward as it sounds.
Consider what you would need in this situation to be confident that you would reach your meeting in the most efficient, convenient and cost-effective way. Would you want to know that your route had been intelligently planned for you, taking into account every possible scenario, transport method and delay? This is where AI can help.
Journey planning
Using a transport app on your phone, you input your destination in Hilversum and find yourself presented with several different options to get there. Using AI, the app has considered all travel methods available in the local area, be it taxi, hire car, public transport or by foot, and calculated for you the best route and transport mode, or combination of modes, based on price, speed, convenience and environmental impact.
It also needs to take into account your specific preferences. While catching the metro might be the cheapest option, it may not be suitable if you have limited time to reach your meeting and lots of luggage to carry.
Five ways OCR tech can improve workflow efficiency

Optical character recognition (OCR) is a technology that allows converting static documents, such as physical forms, into a format that's searchable and editable
Using real-time and historical data gathered from other travellers and transport providers, the app must be able to adapt its recommendations based on an array of factors that may impact your journey, including the time of day, week and year, weather conditions, and current local events. This process relies on the Internet of Things (IoT), which receives information from sensors in other travellers' phones, cars, and public transport about how fast they are moving and where there are delays.
It must also be easy for you to book, pay for and expense the travel mix that you have chosen, directly from the app.
Chatbots
Based on the information provided by your journey planning app, you decide to book a taxi from the airport to Nike's office. To find out a bit more about your ride, you want to ask some questions. But, instead of calling a human operator, you speak to an AI-powered chatbot via instant messaging on your transport app.
Using natural language processing, the AI can understand your questions, such as "where is my taxi?" or "how much will my ride cost?", and retrieve information from the booking app and taxi to provide you with an instant reply.
By offering simple, accurate replies to your questions, the chatbot removes some of the uncertainties you might have around your trip, making it easier for you to travel without having to worry that you can't access the information you need when you need it.
What is a chatbot? How to make a chatbot? Why chatbots fail? All your questions answered

What is a chatbot? How do you make a chatbot? Why chatbots fail? In this article, we answer all these questions with the help of Howard Pull, strategic development director at MullenLowe Profero
IoT
The vehicle that meets you at the airport may be one of the 200 Tesla vehicles run by Schiphol Taxis – the largest taxi company in Amsterdam, and owner of the largest electric vehicle fleet in Europe. The vehicle is perfect for you, as your company is looking to reduce their carbon footprint.
But AI also plays a vital role in making sure these electric vehicles communicate with each other effectively. The onboard computers in each of these vehicles have been enabled to make them part of the IoT, feeding information regarding charging and charger location into their booking and dispatch network. By combining this data with the same factors used in journey planning to calculate route time and distance, AI is able to decide which vehicle in the fleet is nearest to you and has sufficient charge to complete a journey and return to its charging station.
Using these three AI-powered technologies, you can complete your journey smoothly and efficiently, with transport to take you from door to door. Currently, all three of these technologies exist in some form, in isolation, but they are not yet integrated into a single, mobility as a service (MaaS) platform for business travel. However, in the future, this will become a reality, making business travel a seamless process for all passengers.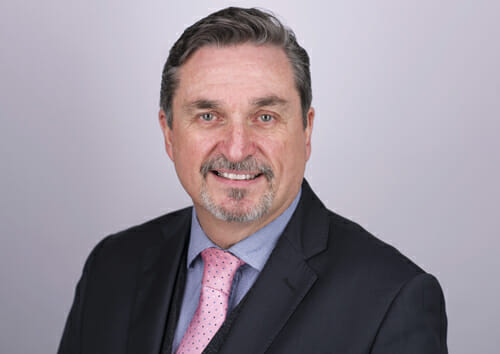 Written by Paul Wait, commercial director at iGo