As the world locked down due to the Covid-19 pandemic, new ways to engage customers have become critical to ensure that customer experience remains high, even in a remote environment. A rise in remote operations also brought a change in consumer behaviours, and without the right data infrastructure in place, organisations can be left behind.
Challenges faced over the course of 2020 ranged from responding to these behaviour changes, to managing shrinking income sources, and to facilitating remote working across workforces consisting of various backgrounds and knowledge bases. To overcome the obstacles that came with shifts previously thought to be around ten years in the making, rather than the few months they actually took, all data domains need to be brought together and made useful for all business functions.
"Business 360 is a common terminology that's now being used to describe a single view of data across multiple domains of data. In order to deliver high quality, differentiated services, its not enough to just have a single view of customer, you also need a single view of product, reference data and supplier," said Greg Hanson, co-host of Information Age's latest roundtable, and vice-president, sales specialists for EMEA and LATAM at Informatica.
"This enables organisations to make business-critical decisions based on the right data being made available to the right people, at the right time."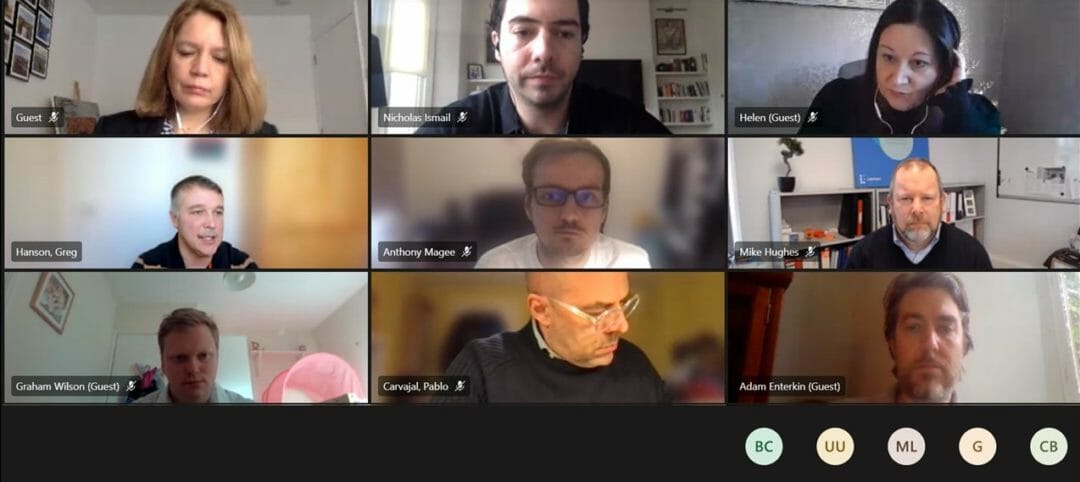 There are also organisations that have a customer base that are in part made up of other enterprises, meaning that they not only needed to ensure that their own workforces could work from home efficiently, but also the employees of clients.
"I think we had a unique experience with the pandemic because not only did we have to ready our own staff to work from home, but we also have a work-from-home technology that was urgently needed by our customers," explained Adam Enterkin, senior vice-president for sales, EMEA at BlackBerry.
"At the same time we were preparing our own staff to work from home, we also were helping our customers do the same for their employees by providing technology to securely connect to work resources from personal laptops. It was a very busy time."
While vaccines are beginning to be administered, many aspects of life are set to be changed forever, and vendors and service providers will need to stay tuned in to these changes in order to stay relevant.
Adapting to Covid-19
For many industries, income shrank in some areas during the first few months of the Covid-19 pandemic, as the world started navigating this new normal. In some cases, this came despite demand growing to levels never seen before.
"We had a 10% increase in volume, which is unprecedented," added another roundtable participant. "But this wasn't necessarily a boom, because we sold a lot of low-margin products as well, so we weren't making that much money, and costs were a lot higher.
"As a company over 100 years old, a lot of our operations are manual, so we need the best-in-class in terms of our supply chain."
Another case of demand growing was that of bike manufacturer Ribble Cycles, and this led revenue to triple as more of its target audience wanted to exercise outside. When the company started remote working, employees were pushed into other departments that needed staff rather than using furlough. But with recruitment needed to meet demand, onboarding proved difficult.
"Infrastructure was already in place to work from home, but onboarding new staff remotely and safely was where problems arose," said Matthew Lawson, chief digital officer at Ribble Cycles.
"We had to ensure that new recruits learned the knowledge and culture of the business. We also had to further digitise and optimise the workshop as all of our bikes are built by hand to order, so we needed to adapt to demand in that aspect."
One of the revenue streams cited during the roundtable as affected by the pandemic was advertising. "For many traditional above the line agencies, Ad revenues just plummeted," said Anthony Magee, director of data and experience technology at digital agency SYZYGY.
"Traditionally, agency media groups have been skimming the cream off above the line media spend through commissions, which is now an archaic and risky strategy that needed to be changed. We apply a completely performance media value-added approach."
"For many agency groups up to 25% of revenue went out of the door, so there was an immediate need for agencies to shift business models to cater for the rapidly accelerated consumer behaviours"
Magee went on to say that the range of clients and proposition that SYZYGY had at the start of the pandemic meant that the organisation could future-proof itself. However, the mindset change that was needed to succeed in remote working proved a challenge for the business as this has been for many but we rose to the challenge and are expanding our team in the UK by 19% right now.
West Midlands Police also found themselves needing to adapt to the current times in order to continue going about their work efficiently. Serving 2.8 million citizens across the region, the vast amount of records at their disposal needs to be searched through quickly.
"We've recently implemented a data insight program to make more efficient use of our data," said Helen Davis, assistant director of IT & Digital at West Midlands Police. "We're now processing hundreds of millions of records every one to two hours.
"Previously, staff needed to go through 11 or 12 systems for the right data, but this platform, along with the cloud, bring real-time insights, and officers can search using mobile devices, which saves them from needing to go back to the office."
Information Age roundtable: developing a data and AI strategy

While much is known about creating a business strategy, creating a data and AI strategy is newer territory fraught with challenges. Read here
Improving customer engagement
When the discussion shifted to how to improve customer engagement, Gartner research was cited, which revealed that organisations have aimed to retain the customers they had to nurture loyalty, as opposed to focusing on potential new customers.
"Hotels, for example, based their services on experience rather than on price," said Hanson. "They had many disparate silos which caused difficulties, but we helped to deliver a single view of the customer, which in turn lent itself to ensuring personal experiences."
From here, loyalty schemes for specific sections of the customer base, such as healthcare workers, led to revenue increasing 19% year-on-year, as well as a 20% surge in other benefits, such as uptake of offers. Alongside these boosts were a 50% reduction in promotional spend.
"Having better knowledge of the customer allows for more targeting of personalised offers, which would see better returns on investment," said Hanson.
"With different messaging apps entering our world, 'generation mute' is born: a younger generation that loves messaging and social media to interact. And they want to start messaging with your business too," said Hootsuite's global vice-president, enterprise marketing, Stéphanie Genin.
"All communication is on instant messaging apps, so when speaking to clients, we've seen an evolution of data disintegration and experience, and also an increase in messaging over social.
"We needed to adopt a digital-first and social-first approach to ensure we continue being not only customer-facing, but also to ensure our organisation stays connected."
However, no digital deployment will be successful if people, whether this be staff or customers, can't get on board with it. One roundtable participant explained that "transformation is about people, not just digital".
They continued: "We knew we had to keep workers and engineers safe, but we also had to look to the future. So we asked customers what they needed their future to be like.
"Working during the pandemic has been more about wellbeing than ever. We've seen that teams stay strong as a result of honesty and kindness."
Utilising an omnichannel approach to engage customers
Over the last 12 months, consumers have been changing the ways in which they engage with businesses, looking for products that meet their needs from anywhere and on any device, in parallel with workers no longer being bound by location. As a result, the businesses have needed to keep up, which has called for an omnichannel marketing strategy.
"One of the main benefits of omnichannel, which I often refer to as a connected brand, is that it creates a customer journey that can be completed via a range of methods that the customer can choose from, and feel most comfortable with," said Graham Wilson, head of business development at Sofology.
"A customer can enter a store, begin a transaction, and go back home to complete the process from home over the phone or online, for example if they leave any required details or measurements at home that they want to check over.
"Appointment booking from wherever the customer happens to be, has also been leveraged during lockdown, and this ensures that a number of consumers can be re-engaged with our expert Sofologists."
Any successful omnichannel strategy enables marketing teams to measure exactly how engaged their customers are. This goes back to the importance of data being used to the best of its ability, as well as data cataloguing with the aid of AI.
"Speaking to customers who are measuring digital engagement, they are also noticing non/disengagement as well, and companies sometimes find that they're only engaging around 50% of our customer base," said Mike Hughes, managing director at Latcham.
"Rather than purely sticking with digital, we had to go back to an omnichannel approach and look at other methods if consumers aren't taking up digital methods.
"Digital is great, and we've seen events such as the RHS who moved the Chelsea Flower Show online, but organisations also looked to go beyond online to deliver some niche, targeted marketing to continue the conversation with attendees."
Also required for omnichannel to be successful is a customer data platform, which enables real-time interaction; the absence of which would leave the enterprise with "either multichannel or cross-channel", according to Pablo Carvajal, vice-president, customer engagement services at Xerox.
"Connected with changes in behaviour is this transformation of points of sale in delivery points," said Carvajal.
"Customers now go to the point of sale to pick up deliveries, which were ordered using digital channels like webpages and mobile applications.. This has changed the rules of the game."
Going forward, it's clear that organisations can ill afford to stay still, and continue to innovate in order to continue engaging with customers. With the balance of consideration of people's needs, and the evolution of technologies such as AI, marketing and sales methods look set to continue changing, which opens up the potential for more immersive, personalised experiences.