All but one of 100 payments executives at large banks said their bank plans to make major investments in open banking initiatives by 2020, according to the results of a global study by Accenture.
Open banking is an emerging service model that allows customers to share access to their financial data with non-bank third parties, which can then use that data to provide the customer with a better banking experience.
Banks can also use the open banking platform to offer plug-and-play financial products to third parties, such as retailers or fintech companies, ultimately expanding their reach to new customers.
>See also: Open banking: a friend of foe to traditional banks?
The survey found that nearly two-thirds (63%) of banks in North America believe that implementing open banking is critical to competing with new entrants – such as fintechs and tech giants – and will help banks remain relevant, compared to half (51%) of executives surveyed in Europe and two-fifths (40%) in Asia Pacific. In fact, half (52%) of all the bank executives surveyed believe that they will be forced to implement open banking in order to compete with traditional competitors (i.e. other large banks) that have invested in digital transformation.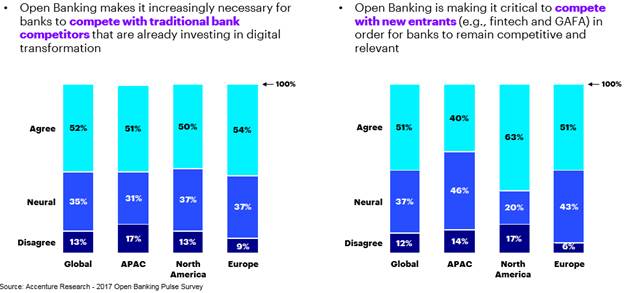 "Unlike banks in Europe where it is mandated by regulation, those in North America and Asia Pacific have the luxury of deciding if, how and when they will implement Open Banking, and we expect many will do so as a way to more easily offer integrated financial services to customers," said Alan McIntyre, a senior managing director at Accenture and head of its Banking practice.
"As European banks ready their networks for compliance, banks across the globe are identifying opportunities to drive new revenue streams by offering services to third parties, such as consumer credit checks and identity management, enabled by open banking."
In Europe, open banking is being driven by the Revised Payments Service Directive (PSD2), a regulation taking effect January 2018 that will enable consumers to share their financial data securely with banks and third parties, making it possible for them to more easily transfer funds, compare products and manage their accounts without their bank's involvement. While open banking is a regulatory requirement in Europe, market competition is driving North American banks to a high-level of interest in implementing open banking.
>See also: Open banking leading financial services revolution
According to the study, two-thirds (66%) of bank executives believe that Open Banking will help create new revenue streams for their organisation, and 90% expect it to drive incremental revenue growth of up to 10%.
Most bank executives surveyed believe that open banking provides more an opportunity than a threat and makes it easier for consumers to access their products. However, many also believe that open banking will introduce more interfaces, leading to potential security and fraud vulnerabilities.
The survey further found that more than two-thirds (71%) of respondents at European banks view open banking as more an opportunity than a threat, versus 63% in Asia Pacific and 60% in North America.
The majority of respondents (71%) also believe open banking will make it easier for customers to access more targeted banking products and offers. And, according to the results of the survey, some banks can already distribute third-party banking products to consumers with whom they do not have a primary relationship: 37% in North America, 29% in Europe and 23% in Asia Pacific.
Finally, half (50%) of all respondents, and nearly two-thirds (63%) of those in Europe, believe that implementing open banking will increase the level of risk in the banking.
>See also: HSBC takes first steps into open banking revolution
"Open banking provides myriad opportunities for banks to generate new revenues and offer new products; however, it also puts banks at risk of becoming back-end, transactional players, with their products and brands buried deep in another transaction," continued McIntyre.
"Banks have an opportunity to use their trusted position with consumers to own the customer relationship, and provide the seamless digital experience customers want and that open banking enables."
The Women in IT Awards is the technology world's most prominent and influential diversity program. On 22 March 2018, the event will come to the US for the first time, taking place in one of the world's most prominent business cities: New York. Nominations are now open for the Women in IT USA Awards 2018. Click here to nominate