During the most recent edition of the IT Press Tour in Tel Aviv, multi-cloud data protection startup HYCU announced updates to its portfolio
With protection of mission-critical data in hyperconverged data centres with strong backup and recovery now vital in a world of evolving cyber attacks, HYCU delivers purpose-built data protection for over 3,100 customers globally. Compatible with on-prem virtual environments as well as public clouds such as Azure and Google Cloud, users are able to alternate between both realms, with 'application aware' disaster recovery in place throughout. The company's flagship product is HYCU Protégé, which offers secure cross-cloud migration and 1-click DR for enterprise applications.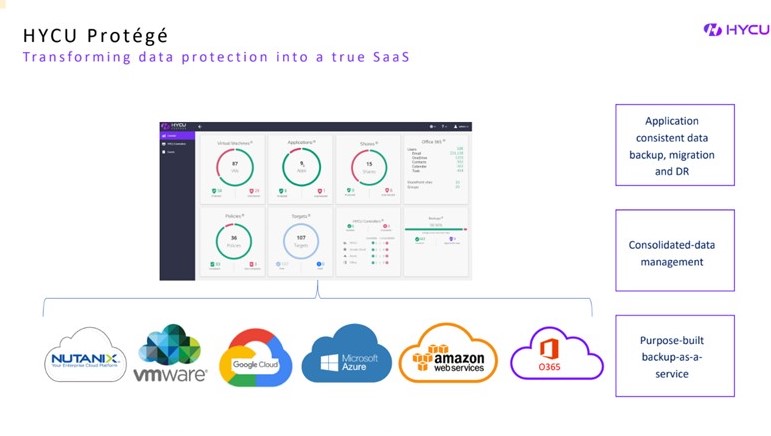 To help customers ensure that their disaster recovery is as strong and resilient as possible, HYCU also offers its R-Score system. Operating similarly to a credit score mechanism, and available as a free web service or paid in-depth consultancy tool, users receive a verdict based on five criteria:
Backup process: determining whether the right data sets are being protected by the right service level objectives (SLOs).
Backup infrastructure: examining resilience of the backup solution or service to malware.
Security monitoring: determining steps being taken to safeguard backup traffic and backup infrastructure from ransomware access.
Restore process: evaluating the organisational readiness and recovery process for resilience when an event occurs.
Disaster recovery: evaluating organisational and operational readiness for recovery to secondary or tertiary storage, in the case of larger ransomware impacts.
Having began in 2018 with a Nutanix-only solution, the Boston, Massachusetts-based startup soon expanded to become compatible with VMWare, before adding public cloud capabilities. Having secured the largest sum of investment ever provided by Bain Capital Ventures last year — $87.5 million — HYCU's portfolio continues to grow, with additions announced at the 43rd edition of the IT Press Tour in Tel Aviv.
Ransomware recovery updates
The first update from HYCU to explore is its expansion of workload coverage via scaled-out backup, to now cater for Isilon from Dell EMC.
This addition to HYCU's portfolio will allow for backup of only required assets in Isilon network-attached storage (NAS), for efficient incremental capability. This will support backup to on-prem and any S3-based asset targets.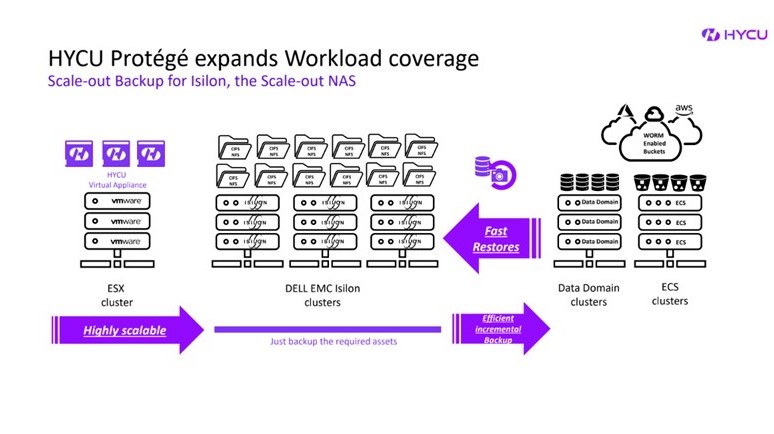 WORM support expansion
While AWS S3 write-once-read-many (WORM) is already available to HYCU customers — through Object Lock — locking alone isn't enough, and backups need to be regularly tested, with validation in place.
To address this need, HYCU is expanding support for backups, copies and archives of all supported sources to WORM-enabled Azure Blob and Google Cloud Object Storage (GCS). This will bring in-built backup validation; ransomware detection; and auto-detection of targets that aren't secured.
Bolstered zero trust for third party credentials
Zero trust is rising up the corporate agenda, with employees making use of log-in credentials from inside and outside the company network. This calls for a 'never trust, always verify' approach across all platforms and tools.
With support for third party credential stores now available, customers can eliminate storing or management of any credentials in HYCU, while leveraging multi-factor authentication (MFA); network authentication; and encryption at rest and in transit.
The developments announced by HYCU this past week make the startup a must-watch going forward when it comes to multi-cloud data protection.
Related:
8 Israeli start-ups disrupting how you think about data — At the most recent edition of the IT Press Tour in Tel Aviv, Information Age met up with eight startups that are disrupting IT infrastructure and data management.
Implementing a data backup strategy with agility in mind — Industry experts discuss the need for agility in your data backup strategy.