The demonstration included an overview of the technology, various industry scenario demonstrations to see what opportunities there are for technology companies, and an opportunity for Information Age to try the device.
Having been fairly new to the technology industry when I first entered Microsoft's demo room I was expecting something entirely different to what Hololens presented.
I expected a totally immersive, virtual experience. Instead the other journalists and I were given a mixed reality experience, a connection between the physical and virtual worlds. A blend of reality and digital.
The Hololens creates an artificial sensory experience like something out of a sci-fi film, albeit a basic one.
The new offering from Microsoft projects holograms into real time environments that can only be observed if you are wearing the all-in-one device.
What do I mean by this? Well the Hololens comes fully equipped with everything needed to have a semi-immersive virtual experience, there is no need for headphones, for example, it is all built into the headset.
Game-changer
The device contains the world's first self-contained holographic computer, with 2 environment sensors and 1 depth sensor that allow it to process real-time information. 'what we call spatial mapping', said Leila Martine, director of product marketing at Microsoft, to Information Age.
'The masterful' holographing processing unit (HPU), according to Martine, allows for a detailed interaction between the real world and holograms.
>See also: All systems GO: augmented reality in the enterprise
I must admit, when trying out the Hololens I was impressed. The holograms were clear and interactive with a variety of business applications obvious. Although the technology does have some way to go.
'We are at the beginning of journey,' said Martine, 'but already the journey is exciting, with significant possibilities.'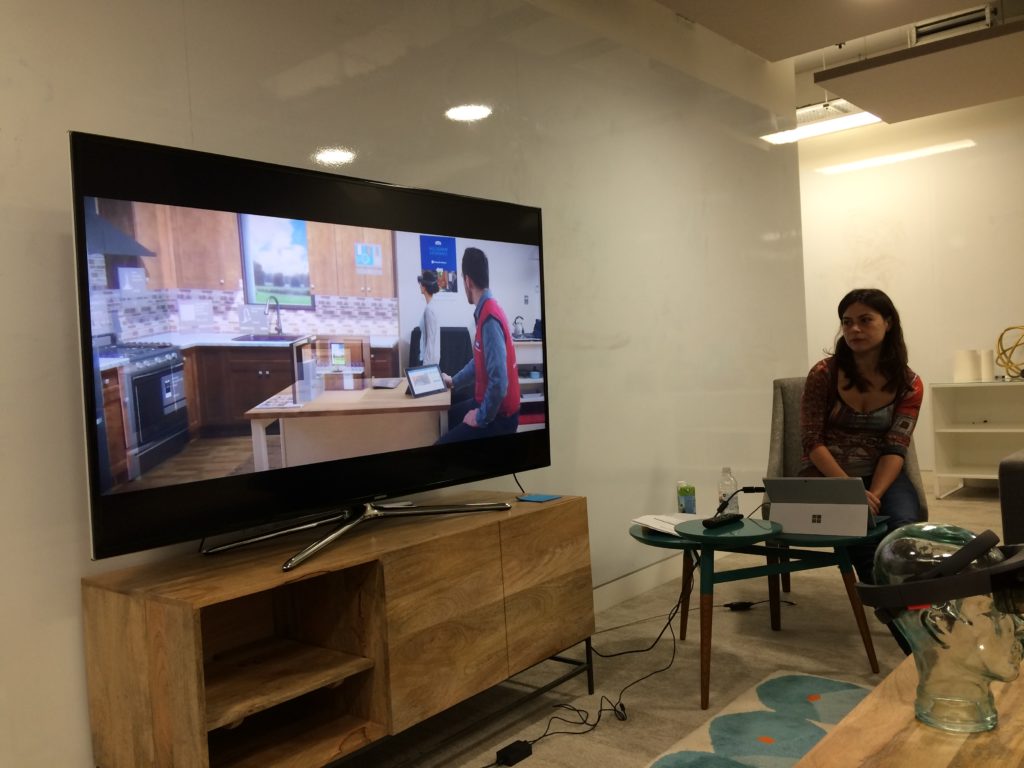 My experience
The other journalists and I were given two Hololens demos to try out.
The first was being used by Case Western Reserve University for education purposes.
HoloLens allowed me to see the human body in good detail, and took me through different parts of the body.
You could walk around the 3D human body and control what layer you saw: muscles, veins, organs etc.
The technology's aim in this field is to transform the way anatomy is taught and to further understand the human body in preparing the next generation of doctors.
It was impressive, but there are no tangible results yet to show what impact it has. Having said this, Case Western are developing a curriculum based on this technology.
The second demo highlighted how 3D visualisation can bring storytelling to life in interactive new ways – be that a presentation, sales tool, or education scenario. For example, the headset allows you to see where your audience (if making a presentation) were most focused on and what they are not, and suggests ways for you to improve consumer interaction.
I felt this was incredibly powerful in demonstrating what Hololens could offer. It was captivating and provides the user with a range of possibilities in transforming business.
'The art of possibility'
A nice soundbyte from Martine as she described how the Hololens and future upgrades has the capability to 'change and transform the business process'.
The Developer Edition costs £2,719 so it is not for commercial use, Microsoft is targeting businesses to transform aspects of their daily operations in creative ways.
>See also: Augmented reality vs. virtual reality
Businesses can add tailored apps to the Developer Hololens, and be taught to optimise its use at Microsoft's holographic academy.
The benefits are varied. 'Geography is no longer an inhibitor,' said Martine, and it will save time, save money and reduce the manufacturing process.
Seeing is believing
I was lucky enough to try the Hololens, and it is important to see how it is used in business applications for yourself.
Here are a handful of customer videos, showing the technology and the possibilities it presents in action:
Volvo Cars
Volvo is using the Hololens to give customers a sensor's vantage point to configuring cars in entirely new ways, allowing them to view car features in new, never-before-seen ways.
Microsoft HoloLens: Partner Spotlight with Volvo Cars
Trimble
Trimble's ground-breaking innovations help architecture and construction industry professionals do their jobs better. Microsoft HoloLens has the ability to extend Trimble tools, by bringing 3D models to life as full-scale holograms and creating new ways to communicate and collaborate with remote teams across the globe.
>See also: 5 ways augmented reality will develop in 2016
thyssenkrupp Elevators
Using Microsoft HoloLens, 24,000 elevator service technicians can now visualise and identify problems ahead of a job, and have remote, hands-free access to technical and expert information when onsite, improving the way people and cities move.
Autodesk Fusion 360
Autodesk helps people imagine, design and create a better world.
Microsoft HoloLens and Autodesk Fusion 360 are helping improve collaboration across the product development process, enabling engineers and designers to iterate together in real-time.
Verdict
Based on this article I think it is evident I am a fan of the Hololens.
It is a cutting edge, albeit unproven, technology with the potential to transform conventional business practice across a variety of industries.
VR and mixed ('augmented') reality are 2 technologies that were predicted by Gartner earlier this year to be some of the most significant business disruptors.
>See also: The digital attention deficit
It is easy to see why, but for all its benefits the technology is still in its very early stages. The field of vision on the Hololens, for example, was limited to an extent.
The consumer will need time to get used to it and the technology will have to improve – as it will – going forward to ensure that mixed reality devices like Microsoft's Hololens really do transform the way we operate in society.
Exciting times lay ahead.