N-able's rebranded cloud-first data protection operations — collectively named Cove — aim to empower managed service providers, with the vision of enabling acceleration of innovation for SMEs
Organisations across multiple sectors are facing challenges dealing with the complexity of cloud data protection, struggling to balance innovation with protection and compliance. Though the global cloud market totalled around $369bn in 2021, and is expected to reach $484bn by the end of 2022, complexity around the evolution of tools available to businesses still put many off looking beyond on-premise infrastructure.
While local-first architecture offered by vendors like Veeam, Datto and Rubrik have been a common cloud data protection go-to for the past 10 years, the market is seeing a gradual shift towards cloud-first architecture.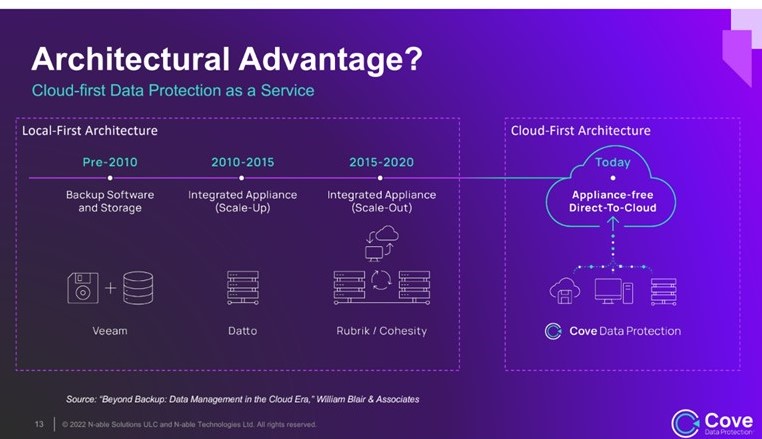 Cove data protection from N-able is an appliance-free SaaS solution looking to alleviate businesses' cloud concerns. The company featured at the most recent edition of the IT Press Tour in Silicon Valley.
One of three overall pillars in N-able's overall market strategy alongside remote monitoring and management (RMM) and security, the team at Cove is looking to an arm's length from the main N-able business, to keep up with surging data protection demand from managed service providers (MSPs). The platform offers protection for server, desktop, laptop and Microsoft 365 in one box.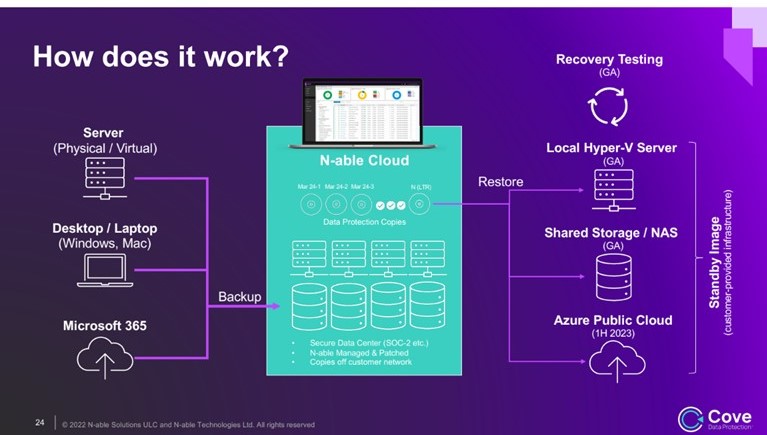 Combining software and storage, the platform looks to go beyond traditional backup by operating as a cloud-first system. The subsidiary company hosts 30 data centres worldwide.
Cove Continuity more specifically tackles disaster recovery-as-a-service (DRaaS). A tool suite for MSPs to deliver DR services, Continuity recovers data and orchestrates it back into production. Users can leverage restore options depending on their needs and data assets' initial location, including server, network share and cloud.
>See also: Data privacy can give businesses a competitive advantage
Rebirth and competition
The data protection capabilities undertaken by IT management vendor N-able has taken an eventful journey steered by acquisitions and service development. Originally launching as IASO in the Netherlands in 2008, this area of operations has since been acquired by GFI, and then SolarWinds (becoming SolarWinds MSP in 2013). Fast forward to 2021, and the company spun off from SolarWinds to become N-able (along with MSP remote monitoring, management and security), and this year it has rebranded as Cove, dropping previous name N-able Backup.
With demand for bolstered cloud-first data protection surging among MSP partners, Cove is shifting its focus towards competing globally with other, more established data protection-focused vendors such as Acronis, Datto and Veeam.
This is being achieved by allowing its users to only backup the data they need, as opposed to every asset present including duplicate files. Additionally, unlike other image-based data protection approaches, only files and folders that have been modified are scanned and backed up. All of these factors can lead to shorter backup windows and faster recoveries.
>See also: Four tips to increase executive buy-in to disaster recovery
Future roadmap
Cove's vision going forward is to enable acceleration of innovation for small and medium-sized businesses, while keeping their data protected throughout.
The company is implementing its three-faceted product strategy — covering core and platform modernisation; DRaaS; and expanded SaaS workloads — for the following planned developments over the next 12 months:
Continuity: standby images to further domains including Azure.
On-premise/core: audit service; portfolio simplification; and simplified retention framework.
SaaS workloads for Microsoft 365 (expanded domains and improved reporting) and Teams (data protection).
Related:
SaaS security not a priority for UK firms, despite high infrastructure spend — Axonius research has found that sofware-as-a-service (SaaS) security is not a top three priority for UK organisations, despite 70 per cent spending more on SaaS applications today than a year ago.
Securing enterprise cloud with biometrics — Maria Pihlström, senior global marketing manager at Fingerprints, discusses how organisations can secure enterprise cloud with biometrics.