The news coming from the OpenStack Summit today was that the open-source software platform has expanded significantly, with a range of industries running OpenStack at scale for production workloads.
OpenStack began in 2010 as a joint project of Rackspace and NASA, amongst others.
It is now managed by the OpenStack Foundation, a non-profit corporate entity established in September 2012 to promote OpenStack software and its community.
The platform runs on open-source software, meaning the source code (a computer's programming language) is available to everyone.
OpenStack, therefore, promotes collaboration from it's foundation.
Effectively the software acts as a cloud service provider, offering multi-tenant IaaS (infrastructure as a service).
The findings of rigorous analysis of OpenStack, by 451 Research's Market Monitor service, revealed just to what extent the cloud provider has grown.
>See also: Five years open: the trials and tribulations of OpenStack
This was expressed in one way to Information Age by Dr Angel Diaz, vice president of cloud architecture and technology at IBM today at the OpenStack Summit in Barcelona.
He said 'we have come from a conference were 75 people attended to one where we have 8,000 in Austin [Texas] and 4,000-6,000 in Barcelona [exact numbers are not yet known]'.
OpenStack's rise
Statistically, OpenStack's growth can be displayed by its revenue OpenStack business models, which 451 Research expects to exceed $5bn by 2020 and grow at a 35% CAGR.
Mark Collier, COO of the OpenStack Foundation, addressed the software's progress in his keynote speech at the OpenStack Summit in Barcelona this morning.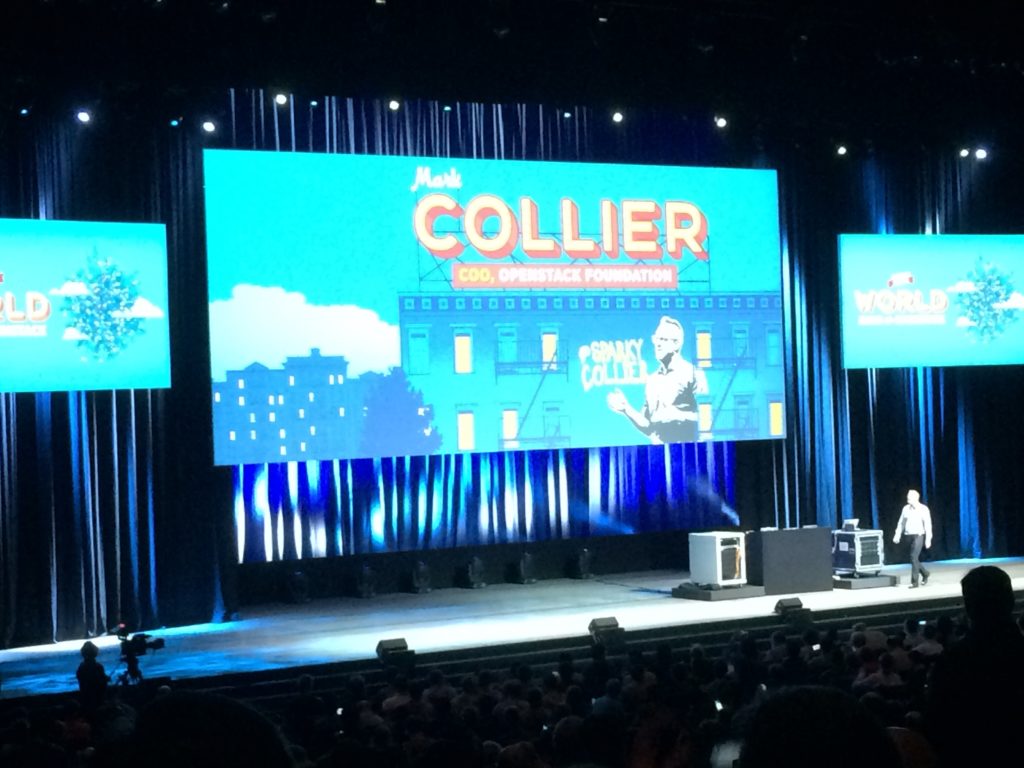 He elaborated on the findings of the research carried out by 451 Group, which produced a general notion that OpenStack had become more inclusive, diverse and expansive for businesses of all sizes across the globe.
OpenStack-powered clouds have moved beyond small-scale deployments, with approximately 72% of OpenStack enterprise deployments ranging from 1,000 to 10,000 cores in size.
Transformation
The research showed that OpenStack users are adopting containers at a faster rate than the rest of the enterprise market with 55% of OpenStack users also using containers, compared to 17% across all respondents.
Containers reflect 'the transformation of application workloads', said Bryan Thompson, general manager of OpenStack private cloud at Rackspace.
They provide a solution to the problem of how to get software to run reliably when moved from one computing environment to another.
>See also: How organisations can get started in OpenStack
This could be from a physical machine in a data centre to a virtual machine in a private or public cloud.
OpenStack supports workloads that matter to enterprises, not just test and development, and 'allows people do things that matter', said Collier.
These include infrastructure services (66%), business applications and big data (60% and 59%, respectively), and web services and ecommerce (57%).
OpenStack users can be found in a diverse cross section of industries, according 451's research.
'80% of users are not in technology industry,' said Collier this morning.
'OpenStack's maturity, works over all kinds of industries and all kinds of sizes.'
Indeed, 20% of respondents did cite the technology industry, while the rest expanded over a variety of industry.
The majority came from manufacturing (15%), retail/hospitality (11), professional services (10 %), healthcare (7%), insurance (6%), transportation (5%), communications/media (5%), wholesale trade (5%), energy & utilities (4%), education (3%), financial services (3%) and government (3%).
OpenStack is inclusive by nature, by running on open-source software and the range of industries utilising the platform reflects this.
The new and improved benefits
A number of industry experts revealed to Information Age a range of benefits that have grown in line with OpenStack.
Economics was cited as a major benefit. Simply, using OpenStack saves money.
Indeed, 50% of those surveyed said reducing costs were a factor in using the cloud enabler.
Mark Shuttleworth, founder of Canoncial, told Information Age OpenStack, used in the right way, provides a cost effective and fast moving experience.
'Ultimately, the goal has to be to provide an internal cloud that has same economics per VM as your public cloud options,' Shuttleworth said.
Although, he did warn 'there are lots of expensive vendor distractions that can take you off course.'
The research suggests that increased operational efficiency was the main driver for enterprises adopting OpenStack, with 76% responding this way.
>See also: How OpenStack is influencing other storage buying decisions
Accelerating innovation and increased deployment speed was a close second business driver for those surveyed with 75%.
John Engates, CTO at Rackspace, told Information Age that this driver due to the liquid nature of OpenStack allows organisations to stay competitive and even disrupt the disruptors, like Uber and Airbnb.
69% said supporting DevOps was a crucial factor in their adoption of OpenStack.
'Our research in aggregate indicates enterprises globally are moving beyond using OpenStack for science projects and basic test and development to workloads that impact the bottom line,' said Al Sadowski, research vice president with 451 Research.
'This is supported by our OpenStack Market Monitor, which projects an overall market size of over $5 billion in 2020 with APAC, namely China, leading the way in terms of growth.'
Cornerstone technology
The research, said Collier, gives an unbiased look into the plans of enterprises using private cloud.
'They're telling us that OpenStack is not merely an interesting technology, but it's a cornerstone technology.'
'Companies are using OpenStack to do work that matters to their businesses, and they're using it to support their journey to a changing landscape in which rapid development and deployment of software is the primary means of competitive advantage.'
Successful end user cases
Members of the OpenStack community have joined forces to take advantage of the momentum in enterprise adoption.
The collaborative effort, dubbed The World Runs on OpenStack, was launched at the OpenStack Summit Barcelona today.
The cornerstone of the campaign is a collection of OpenStack enterprise user success stories that feature many industries, workloads and organisations using the software around the world.
Based on the research and snippets of interviews carried out by Information Age this article has hopefully provided a general update on OpenStack. 
As the week progresses expect to find out more about the challenges companies face deploying the open-source platform and how OpenStack can help: give more power to the CIO, embrace the hybrid cloud and realise the ambition of interoperability.