Businesses across all sectors are increasingly looking to ensure seamless data migration and management between cloud and edge infrastructure, to maintain products and services. But if implemented insecurely, without proper backup and recovery in place, assets across the network can be lost. Data loss includes information that is destroyed, deleted, corrupted, or made unreadable — and can lead to financial and service pitfalls due to time spent reacting to such incidents, as well as breaches of safety requirements.
Tuxera, a data storage start-up founded in 2008 and headquartered in Espoo, Finland, is looking to solve this problem for original equipment manufacturers (OEMs) by providing a suite of storage management software products catering for embedded devices and enterprise data storage. Its customer base spreads worldwide, and includes hardware storage data centre vendors, software-defined storage suppliers, and hyperscalers.
---
How enterprises can bolster management of their data environments — Data Dynamics insists on the necessity of a global rich platform for enterprise data environments, allowing for a better understanding of their assets.
---
Speaking at the most recent edition of The IT Press Tour in Berlin, Tuxera CEO Tuukka Ahoniemi discussed how the company, founded in 2009, is differentiating themselves in the competitive device data storage space.
Protecting embedded device and file data
Currently, Tuxera's operations can be categorised into two main segments: the embedded device domain — including standards-based and specialised file systems, and flash storage management — and enterprise data management, which encompasses Microsoft Server Message Block (SMB) and New Technology File System (NTFS). On the enterprise side, focus is placed on data management performance.
Embedded products, meanwhile, include:
Reliance Assure for safety-certifiable files;
Reliance Edge for smaller, low-level embedded devices, e.g. dashcams and DVRs;
Reliance Sense, consisting of a low-level file system, along with a database for device data;
Reliance Velocity for Linux and Android, e.g. car identification systems.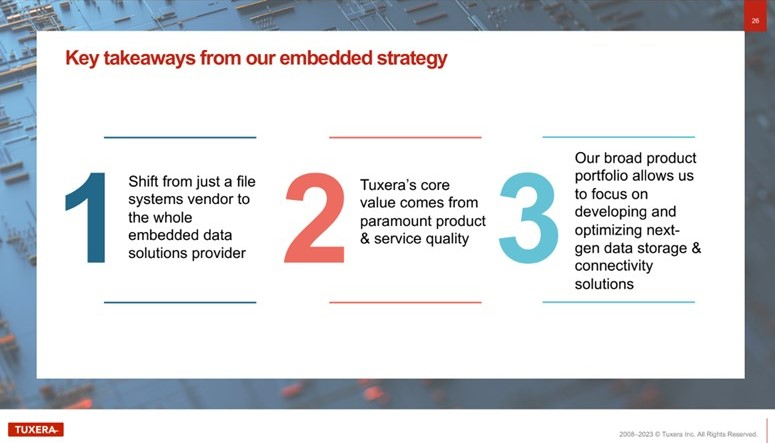 What's more, data management and networking solutions are further bolstered by Tuxera's CryptoCore encryption technology, which applies crypto and hash algorithms across flash storage and networks.
---
Data encryption: what can enterprises learn from consumer tech? — Exploring the data encryption lessons that enterprises can learn from consumer technologies.
---
Industry applications and use cases
Due to the wide scope of embedded devices and file systems in terms of business sectors served, Tuxera's presence can be found across aerospace, emergency and other public services, healthcare, and high-performance computing (HPC) industries, among others.
The company's software can be found at the core of devices such as phones, tablets, IoT devices and routers. Notable customers revealed included NASA — the start-up is part of NASA's Artemis program dedicated to facilitating Moon missions —, automotive company Yura (particularly focused on aiding DVR storage), and on the enterprise side of operations, Orca Security.
While consumer electronics has been the most prominent source of market revenue for Tuxera historically, this has recently shifted towards the automotive industry. Meanwhile, the incoming financial proportions made up by smart grid and telco spaces have grown in the past year, with business in aerospace expected to grow also due in part to the partnership with NASA.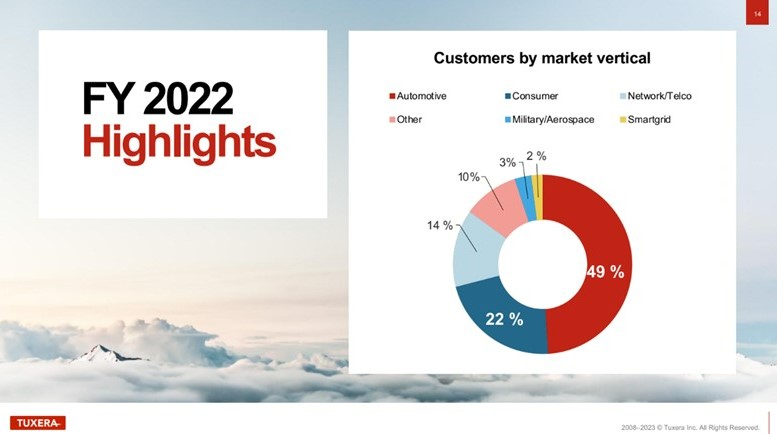 Converging cloud and edge
Going forward, Tuxera plans to gradually converge their embedded device and enterprise domains, in response to growing demand for end-to-end data management solutions between cloud and edge environments.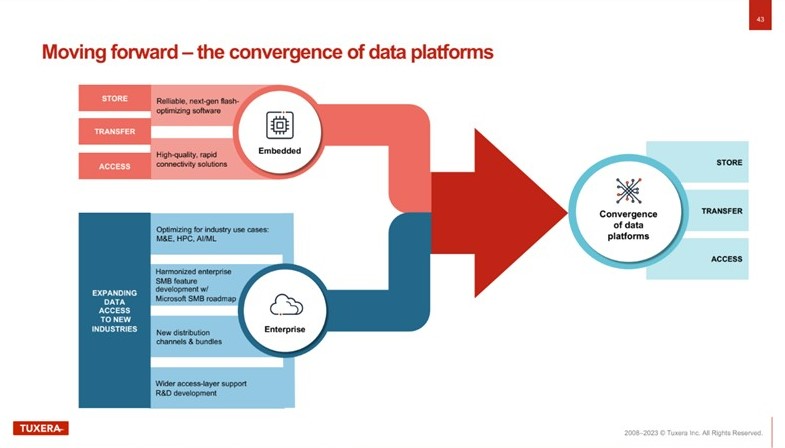 As operations carried out through around a mixture of network-centralised and decentralised endpoints — a trend that saw a surge during the pandemic to facilitate remote working — continue, businesses can ill afford to get complacent regarding device and storage data loss. To maintain data protection across all environments, a holistic approach will be needed.
Related:
How edge computing is mitigating challenges in life sciences — Life science organisations have shown their ability to perform incredible feats, empowered by robust, sustainable and scalable infrastructure systems. In this article, we explore how edge is enabling the next leaps in life sciences innovation.