Sensors being integrated into motorways have led to an increase in those caught speeding and is providing the UK government with an extra reported £1 million a year.
Before the integration of the smart motorway the total number of fines going to central government was £150,600 (5 years ago).
That is an 8-fold revenue increase.
Figures revealed that 52,516 fixed penalty notices were issued on 11 smart motorways – including parts of the M1, M25, M4, M6 and M42 – in 2014-15, compared to only 2,023 worth of fines issued on the same sections of road in 2010/11.
This was before they were upgraded to smart, sensor-dominated, motorways.
An argument on both sides
Critics have said that the integration of smart motorways is simply a revenue generating scheme.
"A cynic might say that it's another way of getting more and more money out of the motorist, over and above what we're paying already," said Paul Wright, motoring lawyer to the BBC.
>See also: Driverless vans could hit UK roads by next year
"And it's an easy way to extract fines from people, because once you're clocked over the limit by the camera, it's very difficult to fight against that."
However, the government insists that sensor-driven roads are important to help ease congestion and improve capacity.
Smart motorways can tell drivers – via overhead boards – whether to use the hard shoulder or not during times of congestion, and can set speed limits based on traffic head.
A Department for Transport spokesman said: "We have some of the safest motorways in the world but we are not complacent and are always looking at ways to make them safer.
"Smart motorways smooth traffic flow and cut congestion for millions of motorists, with evidence from trials showing they are just as safe as regular motorways.
"Enforcement is a matter for the police and it is clear that speeding costs lives. However, we have been clear for a number of years that speed cameras should not be used to generate revenue."
>See also: The inevitable road to the autonomous car: are they safe
Britain, from none in 2006 now has around 236 miles of these smart roads, which are controlled by Highways England.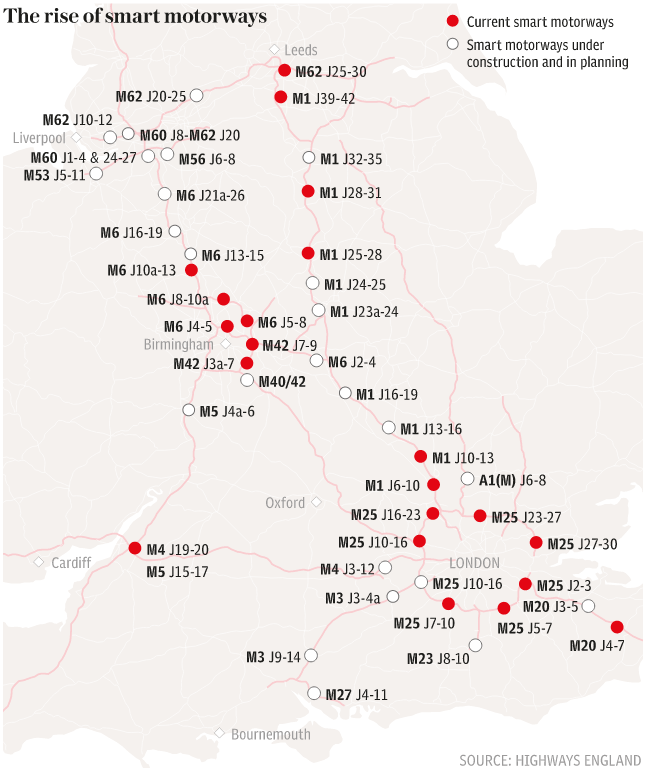 As part of the governments £6 billion investment in smart motorways another 200 miles of road are either being planned or currently under construction.
A Highways England spokesman said: "Variable speed limits on smart motorways are designed to smooth traffic flow, improve journey times and reduce congestion for millions of motorists while also enhancing safety."
"The government has been clear speed cameras should not be used to generate revenue and the vast majority of motorists are sticking to the speed limits."