We have become accustomed to talking about tech skills shortages in recent years. With so many businesses dependent on developing digital channels and new tech-enabled capabilities, it has become almost a given that talent supply can't keep up with demand.
But we have also become used to thinking of the issue as a London-based one, affecting big corporates and start-ups in the capital's tech hubs and innovation centres. However, data from the Harvey Nash/KPMG CIO Survey shows that tech skills shortages have now truly gone national and are affecting cities such as Manchester, Leeds and Newcastle as much as London.
Indeed, the problem is growing at a quicker rate in the North than it is in the South East. Our research finds that over the last two years the tech skills deficit has grown by 21% in the North East and 20% in the North West compared to 13% in Greater London.
Big data/analytics is the skill in most demand and the greatest shortage – we estimate that the UK needs 16,000 specialists to fill the gap. But while two years ago it was London with the greatest big data need (42% of organisations reporting a shortage), now the most acute problem is reported in the North West (49%).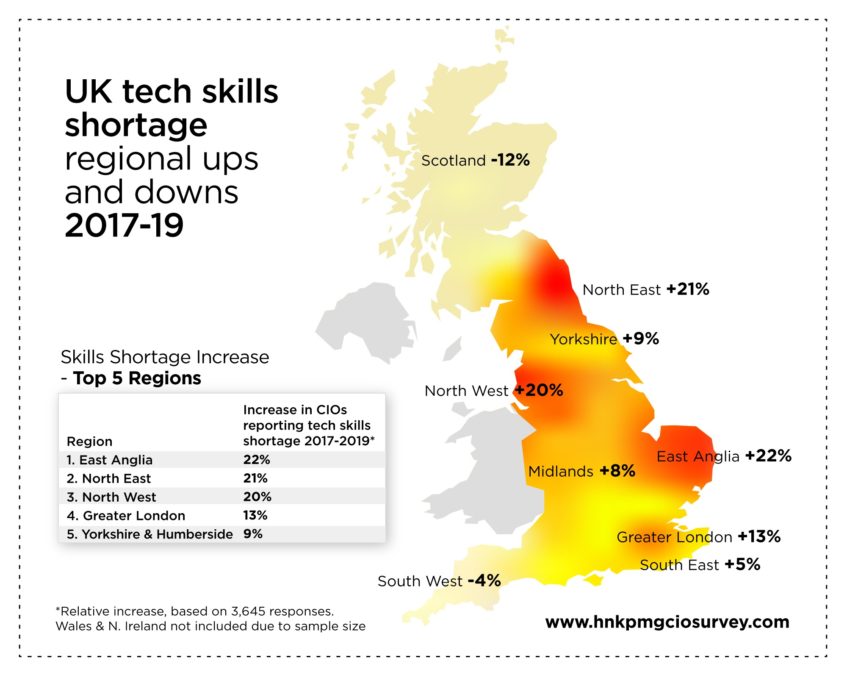 On the one hand, these findings should set the alarm bells ringing. The UK's tech skills shortage is fanning out around the country and threatening to inhibit businesses everywhere from achieving their aspirations.
But on the other hand, I believe that there is also a strong underlying positive message in the data: tech has seeded itself around the country. The shortages are there precisely because of the growth of tech and the ambition of businesses to improve and innovate in their offerings.
A lack of diversity in tech is fuelling the IT skills shortage

The lack of diversity in tech nothing new. But, as the technology industry and IT department face a skills crisis, bridging the gap has become a business critical issue
The reason that Manchester, Leeds, Newcastle and other cities are struggling with tech skills shortfalls is that there is so much going on, so much development activity with technology at its core.
Look at the North East. Newcastle is home to one of the UK's largest software companies – Sage. Through the excellent Dynamo North East initiative, the region has been reinventing itself for many years as a progressive vibrant hub for tech innovation and growth. Its skills shortages are a sign of its success in attracting new businesses to the area, I would argue.
The North West, meanwhile, is more media dominated, especially on the back of the BBC moving many of its operations to Salford's Media City. More recently, Channel 4 announced that it would open a new HQ in Leeds, moving around 200 of its 800 HQ staff there. These moves of course have significant ripple effects through the local economies and spawn the growth of other supporting businesses and suppliers in the sector.
In London, skills shortages remain a pressing issue – nearly two thirds of CIOs report a shortfall of talent – but the problem has in fact plateaued and is almost unchanged from a year ago. This may be a welcome respite – but it is also, I believe, a symptom of the fact that demand in London has become softer than it should be.
The reason behind this, in all likelihood, is Brexit. Nationally, we are in a state of limbo. Many companies are not investing as much as before in skills and are taking a short-term approach. This is applying more in London than in some regional supply chains where industries such as engineering and construction have not been as susceptible to negative sentiment or fears around Brexit. A kind of sword of Damocles hangs above us with uncertainty over long-term prospects and this has created an impasse. We need to hope that, one way or another, this impasse is unblocked soon.
But, apart from hoping for decisive clarity on Brexit, what can be done to help ease tech skills shortages? I fear that for many Millennials, tech has become relatively unattractive due to perceptions of it as a narrow or even anti-social career. We need the industry to showcase as effectively as it can all the fantastic variety and opportunity that careers in tech can offer – especially to girls many of whom remain uninterested in the sector.
For businesses themselves, I think it has become a case of looking for 'high potential' candidates rather than insisting on someone who ticks every imaginable box. Be realistic and broad-minded. See the potential in a candidate and, once they have come on board, support them with on the job training and development. Invest in mentoring or buddying schemes, perhaps make a small budget available in teams to support self-learning initiatives. If you bring in people with the right aptitude, there is so much you can do to help them develop themselves.
Realistically, tech skills shortages will be with us for some years to come. The businesses that think laterally and take a multi-layered approach to recruitment and internal upskilling will be the ones best placed for success.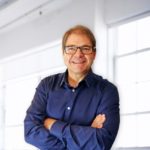 Albert Ellis, CEO of global tech recruiter, Harvey Nash.