Using lease accounting solutions is highly essential to meeting the compliance requirements of ASC 842, IFRS 16, and GASB 87.
It's also beneficial for streamlining lease accounting operations and audits, standardising processes, heightening accuracy, and ensuring timeliness, among others.
Without using a reliable lease accounting software, your workflows can easily fall apart and eventually wreck your company's productivity and reliability.
However, not all lease accounting solutions are built equally. Numerous vendors claim to be the best but fail to meet your software expectations and help you reach your business goals.
If you're looking for highly efficient lease accounting solutions, check out four top-notch choices to explore for your business:
1. Trullion
Trullion is a hyper-efficient SaaS powered by artificial intelligence (AI). It streamlines your full compliance with ASC 842, IFRS 16, and GASB 87. The software is ideal for enterprises, audit and CPA firms, and accounting teams handling more than 10 leases.
Trullion offers a unified, intuitive platform with robust features to enhance your business transparency, collaboration, and financial visibility.
One such feature is automated and AI-powered contract extraction.
Trullion's machine learning and optical character recognition (OCR) capabilities can pull relevant information from your uploaded contracts. They can then suggest data inputs according to accounting standards.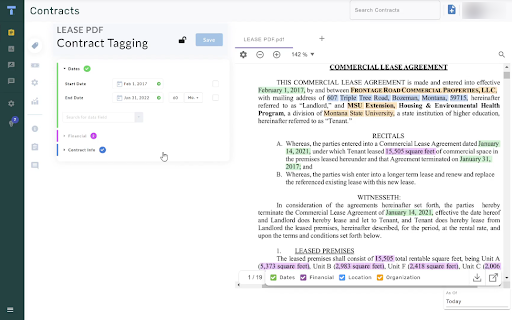 Trullion also streamlines your compliance by automating compliant lease accounting workflows into audit-friendly journal entry reports, disclosures, and more. Even when exported, these documents stay connected with their data sources (e.g., original contracts) that auditors can immediately access with a single click.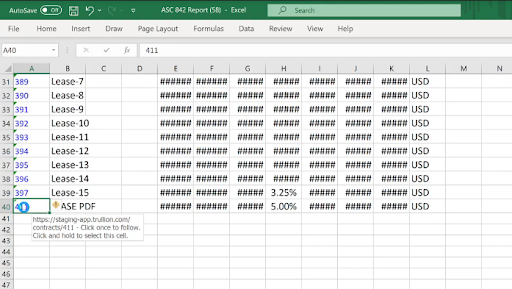 Trullion has several other nifty features like:
Roll-forward reporting
Asset lifecycle management
Amortisation schedule
Capitalisation reporting
Budgeting and forecasting
Critical date alerts
Payment tracking, and more.
In particular, financial and corporate controllers, accountants, and other company users loved the convenience that Trullion's audit trail provides. They even raved about the intelligent features that extract data and support multiple tagging authorisation tasks.
However, users also said that if your lease has many variables, processing can take time. Nevertheless, they still claimed they didn't experience software bugs, and the automatic contract data extraction was 95% accurate.
With Trullion, you and your auditors get a 360-degree view of your audit trail and a single source of truth for your financial reports.
You can also centralise and simplify your lease accounting and audit processes, resulting in superb business efficiency and performance.
2. Nakisa Lease Administration
Nakisa's lease management software is an enterprise cloud platform compliant with IFRS 16, GASB 87, and ASC 842. It integrates with enterprise resource planning (ERP) tools and is available in all currencies and eight languages. Nakisa is best suited for enterprises, including real estate companies.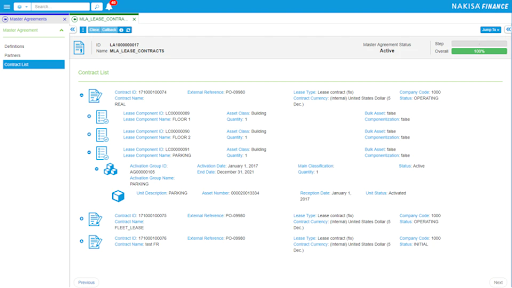 Nakisa's flexible, end-to-end solution offers these features:
Conduct initial measurements of lease liabilities and right-of-use assets
Standardise lease identification and classification
Upload and modify contracts in bulk
Scheduler for automated batch postings and processing, etc.
Nakisa's lease accounting software is also scalable to enterprise demands and simplifies international lease management standard compliance.
It has native API and integration technologies to help you connect with ERP tools such as Workday and Oracle.
Nakisa even gives actionable insights through ad-hoc reports and analytics, and reconciliation reports for the audit trail, among others. This results in automated report generation, minimal irrelevant leasing costs, and more.
Clients like how Nakisa is straightforward to configure and use and that your data remains safe and accessible in the cloud. This attribute prevents you from digging into thousands of files to obtain the correct postings according to IFRS 16. It also helps optimise your time for other business to-do's, making you efficient.
On the flip side, clients experienced many bugs (even with their updated versions) and technical inconsistencies that were too time-consuming for their IT departments to resolve.
3. ZenTreasury
ZenTreasury's lease accounting software simplifies your IFRS 16 compliance through automated workflows and a comprehensive set of functions:
A fluid audit trail that tracks all transaction updates throughout their lifecycle by user stamp, date, and time
Notifications of maturing leases sent to your email inboxes
Duties segregation acting as treasury controls that minimise the risk of fraud and error, which allow you to delegate tasks to meet your business requirements
Built-in company register to define your company's hierarchy and add relevant information about your documents, currency, limits, etc.
Straightforward lease payment schedule generator
In-built multi-currency support for all transactions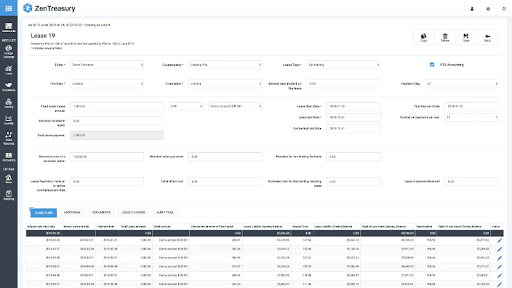 ZenTreasury lets you manage all lease and rental contracts treated as liabilities and right-of-use assets according to IFRS 16 standards. It also enables you to organize term, scope, and price adjustments in the same view, among others.
ZenTreasury even has validated IFRS 16 calculations like:
Different monthly and quarterly payment intervals
Valuation of asset and liability at initial recognition and correctly calculated yearly bookings
Depreciations, etc.
Clients found ZenTreasury's lease accounting software to be agile and simple to use across organisational levels. They claim that the customer service is commendable and provides a generally excellent value for your money. However, the ability to freeze all lease agreements poses a downside if you want to freeze only the data from previous periods — and not all or the future ones.
4. Appfolio
Appfolio is a comprehensive property management software ideal for commercial, residential, and mixed-portfolio property managers with expanding, complex businesses, among others.
A cloud-based solution, Appfolio has AI-driven bill entry features that scan vendor invoices and automate your accounts payable and payment processing.
Appfolio even has robust financial reporting features with templates for various portfolio types. To access data and insights, you can get 80+ customisable reports, e.g., balance sheets, cash flow statements, rent roll, etc.
Appfolio also supports your decision-making processes with real-time data visualisation and customisable performance insights dashboards.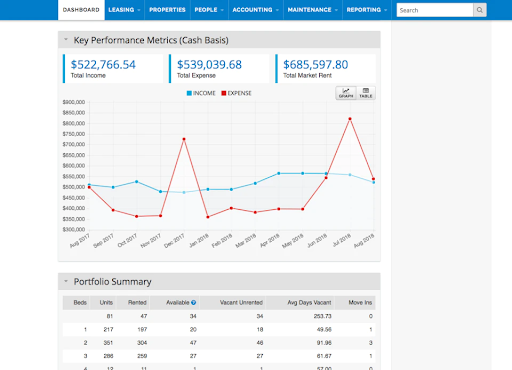 Appfolio offers several other integrative functionalities for holistic property lease accounting management. These include:
Accounting and reporting: Common Area Maintenance (CAM) tracking and reconciliation, online payments, bulk tenant charges, and more.
Communication and service: Online portals for renters, homeowners, vendors, board members, and others. Also, text and email communication, shared folders, etc.
Marketing, maintenance, staffing, training, leasing, and management features are also available.
Additionally, users liked how Appfolio has increased their staff and process efficiencies. They say the platform is straightforward and always accessible since it's on the cloud. Appfolio has practically everything you need for a real estate business.
Unfortunately, numerous clients also complained about the lack of workflow user-friendliness and failure to support specific portfolios. This equates to inconvenience and enormous room for error.
Users even say that Appfolio's terrible customer support gives an unsatisfactory value for your investment. They also disliked that it has no open APIs, making integrations with third-party tools impossible.
Make the right choice in your lease accounting solution
The Internet offers numerous lease accounting software, but not all can be the right one for your company. Pick those whose features functionally meet your business requirements, are always compliant, simple to install, use, and onboard, provide exceptional customer service, and more. The best lease accounting solution will also give maximum value for your investment and genuinely care about your company's growth. Start exploring these and other solutions and leverage them to scale your enterprise.