The UK is home to some of the most innovative tech startups in the world. London is rivalled by only by a handful of other tech hubs, including; Silicon Valley, Shenzhen, Singapore and Israel. However, the top tech startups in the UK are not limited to the capital. In fact, tech startups are emerging across the whole country: Manchester, Bristol, Oxford and Cambridge are some of the most popular and well known tech hubs, although they're not the only UK cities fostering innovation.
In all of these cities, different sectors are being disrupted by a host of companies in an increasingly competitive market.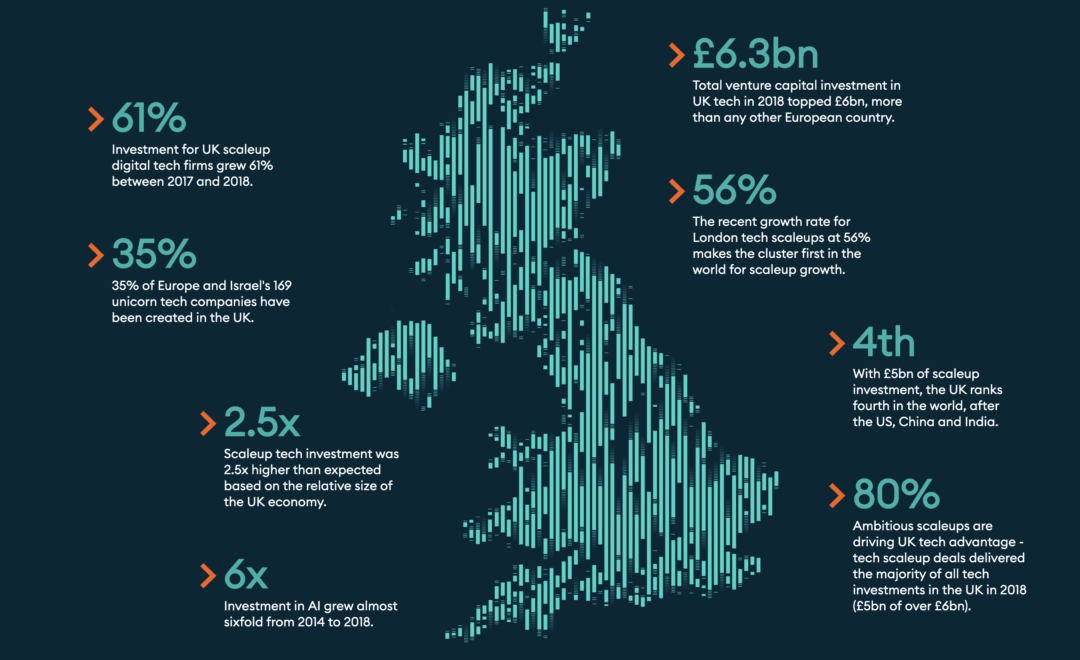 The below list is a subjective attempt by Information Age to identify the top tech startups in the UK by sector. Our aim is to celebrate these burgeoning companies, helping drive the digital economy, by putting them on the radar.
In this instance, we are defining startups as a company that has been founded in the last five years with a turnover of £10 million or less. If you feel that your company should be on Information Age's UK tech startup list, please email nicholas.ismail@bonhillplc.com.
Artificial intelligence
Company name: Peak AI
City HQ: Manchester
Founded: 2014
Market/area of expertise: Peak is a pioneering artificial intelligence (AI) company, on a mission to help businesses 'do great things with data' by providing them with the technology and skills needed to become AI-driven. Peak combines its AI System and people to deliver a unique service, enabling businesses to put AI at the heart of their operations to boost revenues and profits.
Tech focus: AI and Machine Learning
Revenue: Approx £2 million p/a
Company size: 85 employees
Big name clients: Footasylum, Fred Perry, ASOS and Speedy Hire
What makes it unique and ROI figures: Founded in 2014, Peak has grown rapidly, and has been recognised as one of the fastest-growing tech companies by GP Bullhound. It has secured over £5 million in funding to-date to support the company's ongoing investment in machine learning and AI technologies, and further accelerate sales growth. Peak is an Amazon Web Services (AWS) Partner, and holds Machine Learning Competency status. The best example of what makes them innovative and effective is the startup's work with Footasylum, which saw an 8400% return on ad spend and a 28% uplift in email revenue.
Company name: Zegami
City HQ: Oxford
Founded: 2015
Market/area of expertise: Zegami is sector agnostic. By enabling organisations to understand and utilise their data we are driving data maturity, and this will disrupt the status quo in every sector. If an organisation is lost in data, we help them navigate it.
Tech focus: Zegami is cutting edge visual data exploration tool that is helping businesses unlock their data potential through augmented intelligence. It then uses AI to enhance the insight and discoverability of data.
Revenue: N/A
Company size: 13 employees
Big name clients: Oxford University, InnovaSystems, SDWorx, Kew Gardens, Pittsburgh Pirates, Collins Aerospace
What makes them unique and ROI figures: Zegami works with both structured and unstructured data, from multiple sources, from images to documents and APIs to video. Based on Oxford University research, our technology is helping organisations in many sectors realise the potential of their data, including: HR, research, and manufacturing.
Company name: Heliocor
City HQ: London
Founded: August 2014
Market/area of expertise: Regulatory compliance for financial institutions (great and small) to prevent fraud.
Tech focus: AI, machine learning and neural networks to eliminate manual processing of KYC/on-boarding and transaction monitoring.
Revenue: Expecting 3 x YoY growth from a 2018 revenue of approx £900k.
Company size: 34 — 10 in London HQ and a tech team of 24 in Barcelona.
Big name clients: Shanghai Pudong Dev't Bank, American Express (SA); developed Robolitics with State Street, Barclays and Santander.
What makes it unique?: Our exec team is steeped in the crucial combination of tech and banking and compliance — all three are needed for success in regtech! As a result, we have created 'non-invasive' tune-able technology that is simple to instal, easy to adapt and massively efficient. We put the power of the emerging technologies into the hands of the compliance team — from on-boarding, to monitoring to managing employee compliance.
Cyber security
Company name: Immersive Labs
City HQ: Bristol
Founded: 2017
Market/area of expertise: Cyber security
Tech focus: Cyber security skills training
Revenue: Immersive Labs' annual revenue was £1.18 million but between 2017 and 2018, this represents an increase of almost 1,000% and profits rose by more than 300%.
Company size: Immersive Labs' team has grown from 11 employees to over 70. This growth is expected to continue, as the business focuses on increasing its deployments across enterprise level organisations with a strategy to scale across the world.
Big name clients: Its clients include global corporates with complex cyber security needs, such as BAE Systems, Sophos, IBM, KPMG, TFL, The NHS and Grant Thornton. Its largest deployment so far is with the National Cyber Security Centre (NCSC).
What makes it unique and ROI figures: The way that cyber skills are taught to security and technical teams puts companies at risk. Their training is based on legacy teaching methods and yesterday's threats. Badly trained defenders are now making attackers' jobs easy. In Europe costly private consultants dominate the cyber security training market. These consultants can charge up to £10,000 per day and are not a scalable solution. Immersive Labs' platform brings an effective SaaS solution to customers that is superior to competitors and dramatically more cost effective than consultants. Traditional classroom based training was formed in the 1990's when viruses moved at a much slower pace. This is no longer appropriate for today's threats. Whilst working as a trainer at GCHQ's Cyber Summer School James was able to identify how students best learnt cyber skills. Seeing that the most engagement came when students were given tasks that required analytical thinking and problem solving. Recognising there was a gap in the market as well as a need for immediate and real-time skills training James left GCHQ to launch Immersive Labs.
If you're interested in the most innovative UK tech startups and scaleups disrupting the cyber security market, look no further than Information Age's Cyber Innovation hub, where we have profiled 20 of them in partnership with Tech Nation
Fintech
Company name: Countingup
City HQ: London (New office opened in Cardiff also)
Founded: 2017
Market/area of expertise: Accountancy and Business Banking
Tech focus: App — provider of a full bookkeeping solution targeting at micro businesses (plumbers, shop owners, B&Bs, website designers).
Revenue: Estimated at $2 million, according to Owler
Company size: 30 – 40 employees
Big name clients: None
What makes them unique and ROI figures: It is the only company in the world to offer a full bookkeeping solution app to small and micro businesses, which saves an average small business owner up to 8 hours of work from doing the traditional bookkeeping process. The app allows businesses to have a business bank account and accountancy solution all in one app. It is a fintech that is based in White City, but it does not necessarily follow the 'Shoreditch' way; instead focusing on supporting real-world small and micro businesses from Chip vans to window cleaners.
Company name: Feelyx (to be The GFA Exchange from 1st August 2019)
City HQ: Birmingham
Founded: Originally Nov 2015
Market/area of expertise: FinTech / data analytics
Tech focus: Saving time, cost and reduce risk for financial lenders.
Revenue: Pre-Revenue
Company size: Team of 4; Non Executive Advisors x4.
Big name clients: In current pilot with NatWest, Opportunity Network (Spain); in partnership discussions with Barclays Bank.
What makes it unique: Insight marketplace model uses unique insight that we own, to drive scalability.
Company name: Kani Payments
City HQ: Newcastle
Founded: October 2018
Market/area of expertise: FinTech — Reporting and Reconciliation
Tech focus: Web, Cloud and Automation
Company size: 10 and growing!
Big name clients: Flex-e-card (the biggest shopping centre gift card program in Europe), OnePay and Moorwand
What makes it unique?: Kani consumes all financial data from our clients, this includes their transactional processor, their bank, Mastercard & Visa, and more. Kani then cleans and transforms that knotty data to provide tangible outputs, be that reports or bespoke automated reconciliations. Kani was founded by team with decades of experience within the payments and FinTech space, we understand our client's frustrations because we've been there, putting us in the best position to help.
Company name: Tickr
City HQ: Liverpool
Founded: Feb 2018
Market/area of expertise: impact investing for millennials
Tech focus: Fintech investment app
Revenue: Not disclosed publicly
Company size: 15
Big name clients: not applicable, as the company focuses on retail consumers.
What makes it unique?: it is the first to market impact investment app in Europe.
Manufacturing
Company Name: Geomiq
City HQ: London
Founded: 2017
Market/area of expertise: Engineering / On-Demand Manufacturing Services
Tech Focus: Automated outsourcing
Company Size: 25 full-time employees, actively hiring.
Revenue: £2-£5m
Big name clients: Clients are under NDA (Big name clients are among the top FTSE100 Companies)
What makes it unique and ROI figures: Geomiq connects design engineers to the world's best supply chain, allowing for rapid lead times and reduced cost. Through the data driven platform CAD data is analysed and assigns projects to our manufacturing partners to engage their spare capacity. In the last 12 months we have delivered over 45,000 parts to a global network of clients.
Healthtech
Company name: Spill
City HQ: London
Founded: 2017
Market/area of expertise: Therapy
Tech focus: An app which connects you with a qualified therapist, providing you with message-based therapy, as paid for by your employer/university.
Revenue: MRR £15K
Company size: 12
Big name clients: Monzo, Rightmove, Hargreaves Lansdown
What makes it unique and ROI figures:
• Spill makes mental health support accessible and preventative, with 78% of our users have never accessed mental health support before.
• The anonymous message-based format has helped fight the stigma around seeking mental health support, especially in the workplace, shown by 47% of users being male.
• It also gets an average of 14% usage with its large customers, small customers have reached as high as 90%+.
Company name: BIOS
City HQ: Cambridge
Founded: 2015
Market/area of expertise: Healthcare
Tech focus: Healthtech
Revenue: Still in R&D phase.
Company size: 26 full-time employees
Big name clients: Still in R&D phase.
What makes it unique and ROI figures: BIOS is a leading neural engineering startup, creating the open standard hardware and software interface between the human nervous system and AI. BIOS is developing the standards, datasets, tools, and algorithms to enable a new generation of neural treatments to improve the quality of life for millions of people affected by chronic disease. Our team combines applied materials, machine learning, software, neuroscience in conjunction with the experience of surgeons, clinicians and patients to create a seamless and accessible user experience. BIOS has generated the largest peripheral neural data set in the world and is leading cutting-edge machine learning research in the neuromodulation and bioelectronic medicine fields. Neural interfaces and AI-powered treatments are the future of chronic care, which is 86% of healthcare spending. With such a large potential market, this technology has the potential to transform millions of lives.
Company name: Vitaccess
City HQ: Oxford
Founded: 2017
Market/area of expertise: Digital health, Localisation and Health Economics Consulting.
Tech focus: Our digital platform produces real-time data to industry and clinicians on how diseases and treatments impact patients' everyday lives, based on tailor-made apps installed onto patients' smartphones. Scientific rigour from co-creation with patient advocates and clinicians. Launched in oncology and rare diseases, significantly scalable: any indication, any language, any country.
Revenue: £2-5M
Company size: 20 employees and counting…
Big name clients: Bristol-Myers Squibb, Novartis, Sanofi, Vertex
What makes it unique?: Our international digital health study apps offer rigorous, real-time data on how diseases and treatments impact patients in their everyday lives. We co-created studies with patients, patient advocacy groups and health professionals worldwide, in accordance with ethics committees in every country where they are live. In addition to working with biopharma clients, we also finance our own digital studies, with syndicated access for commercial researchers. Profits are shared with patient charities. The company recently made a first donation of £10,000 to Melanoma UK arising from a digital study in melanoma. Its patients' study apps are GDPR and HIPAA compliant Empowering. Together. We give patients a voice, digitally and locally.
Company name: Healx
City HQ: Cambridge
Founded: 2014
Market/area of expertise: Healx's mission is to improve the lives of rare disease patients by using AI to accelerate the discovery and development of treatments at scale.
Tech focus: Healx is an AI-powered biotech focused on accelerating the discovery of treatments for rare diseases. Combining innovative technology, drug discovery expertise and patient engagement to translate therapies into the clinic within 24 months, Healx dramatically reduces the time and cost compared with conventional drug discovery methods. To do so they have developed the most comprehensive AI-based drug discovery platform for rare diseases: Healnet, with the objective to  translate 100 rare disease treatments towards the clinic by 2025.
Revenue: $10 million Series A investment in August 2018
Company size: 38 people
Big name clients: Not applicable as company focuses on developing therapeutic pipeline for rare diseases.
What makes it unique and ROI figures:
• Unique technology — Healx's AI engineers have built the world's most comprehensive knowledge graph of rare disease information, comprising data from a host of sources such as scientific literature, clinical trials, proprietary data, and one of the largest collections of insights from rare disease patient groups, capitalising on this previously untapped expertise. A suite of complex algorithms is deployed to pinpoint relationships between drugs and diseases that have the potential to deliver therapeutic benefit. This is layered with critical oversight by a multidisciplinary team of rare disease experts, patient advocates and drug discovery scientists.
• Evidence of success — Using Healnet, Healx have already discovered potential treatments for diseases such as fragile X syndrome, Pitt Hopkins, neuroblastoma and CDKL5 which have been validated in preclinical disease models. Healx is currently developing treatments for a number of rare diseases in collaboration with patient groups and are ramping up their platform to discover and validate treatments for a further 16 diseases each year – a feat which was previously only possible for the largest pharmaceutical companies. Healx's platform, Healnet, discovered a potential drug treatment for fragile X and advanced it to the clinic in 24 months, cutting typical drug development timelines by 80% and doing so at a substantially reduced cost. This treatment is expected to enter clinical trials at the end of 2019.
HR / Legal Tech
Company name: Broadstone
City HQ: Manchester
Founded: 2016
Market/area of expertise: Temporary recruitment technology — a disruptor to heavily regulated service industries.
Tech focus: 'Labour-as-a-Service' temporary staffing platform
Revenue: £1,783,305 (year ending August 19)
Company size: 14
Big name clients: Wilson James and G4S
What makes it unique and ROI figures: The startup experienced a 300% increase in revenue in the past five months and a 700% increase in its user community in past six months. Transactions via its platform are predicted to exceed £1 million per month by 2020. Temporary staffing agencies usually have a 30 to 40% fulfilment rate. Broadstone, however, had a 98% fulfilment rate thanks to its technology.
Company name: SeedLegals
City HQ: London
Founded: 2016
Market/area of expertise: Legal platform for startups. We empower startups with the exact legals they need to grow and get funded.
Tech focus: FinTech, LegalTech, RegTech
Revenue: £2m+ Run Rate( ≈ 10% growth month on month)
Company size: 31
Big name clients: Investors: 8000 UK startups on-boarded. Big name clients: Fuel Ventures, Episode 1 Ventures, Index Ventures, Seedcamp, Angel Investment Network.
What makes it unique?: It's the world's first online way to close a funding round. A complete end-to-end solution that takes care of all the legals, the financial and regulatory side of getting investment over the line. No law firms. No accountants. No human error. Everything's done digitally via our platform. Within just over 2 years, we're now the largest legal platform for UK startups and help close 1 in 12 startup funding rounds in the UK. Our platform helps close funding up to 80% faster and at a fraction of the cost of traditional law firms.
What are the biggest tech hubs in the UK — and which is right for your business?

The UK technology sector is speeding ahead of other areas of the country's economy, but where are these expanding tech hubs, and which of them is right for your business? Read here