Specops analysed data from the Centre for Strategic and International Studies (CSIS), and found that the US experienced 156 significant cyber attacks between May 2006 and June 2020, while the UK was infiltrated by 47 within the same period.
Most recently in the US, Russian hackers were found by the National Security Agency (NSA) to be exploiting a bug in a commonly used email server to gain sensitive data from American organisations.
In the UK, meanwhile, among the most notable cyber attacks was on the Labour Party's digital platforms during the 2019 general election.
India was the third most targeted country, experiencing 23 substantial attacks, while Germany experienced 21, and China, Iran and Saudi Arabia all encountered 15 each.
Significant cyber attacks were defined by Specops in their study as attacks on a country's government agencies, defence and high-tech companies, or economic crimes with losses equating to more than $1 million.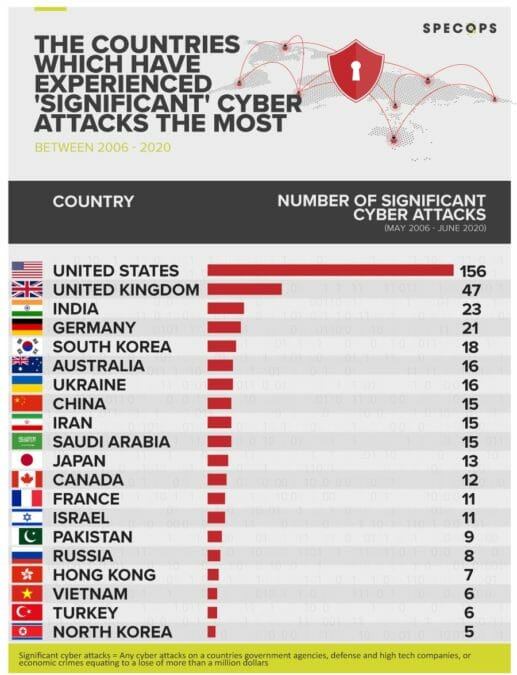 "No one can rest on their laurels when it comes to cyber security," said Darren James, cyber security expert at Specops. "This research highlights the frequency of cyber attacks, which have devastatingly affected key political, social and economic institutions within different countries.
"Whilst some countries have had to deal with more cyber attacks classified as significant than others, it's an important reminder for those in notable positions of power the role they can play in providing the public sufficient and continual governance on what online best practices they can implement to prevent their IT estate from being exploited by opportunistic cyber criminals."
Vendor collaboration in cyber security industry essential during Covid-19

With businesses scattered into remote workforces during the Covid-19 pandemic, vendor collaboration in the cyber security industry is essential. Read here
Top cyber security tips
Coinciding with the study were Specops's top three tips for maintaining high cyber security standards:
Stay up to date with the latest anti-virus software and security patches, and change passwords across your network at least once a month.
Regularly carry out diagnostic tests on your IT ecosystem, if you have the knowledge and capabilities to do so, in order to detect any vulnerabilities that could be targeted and exposed.
If you own a business or are a key decision maker within it, initiate a formal document that clearly states the company's cyber security policies, providing guidance to employees on what they can and cannot do with the company's IT systems, networks and devices.