Shipping firms and shipbuilders strongly believe that self-sailing ships will decrease accidents by eliminating the potential for human error. Autonomous cars and commercial drones will soon be joined by fleets of self-sailing cargo ships that navigate the oceans of the world utilising artificial intelligence.
Several shipping firms and shipbuilders have joined forces to build remote-controlled cargo vessels that could be unveiled by 2025. The ships would utilise Internet of Things (IoT) linking a range of devices over the internet to collect data like shipping information and weather conditions and plot the safest, most efficient and shortest routes. By eliminating the potential for human error, the organisations believe the technology could cut down the number of accidents occurring on sea dramatically.
>See also: The inevitable road to the autonomous car: are they safe?
Japanese shipbuilding firms are investing hundreds of millions of dollars in building the technology needed to guide as many as 250 ships via busy shipping lanes and boost the Japan's sagging share of global shipbuilding market.
These organisations are planning to bring the same amount of autonomy to commercial ships that is already existing on roads and in the skies. The Japanese firms have stated that their vessels won't be completely unmanned to start with. Last year, a company, well-known for manufacturing jet engines and luxury cars said that it was planning to build unmanned ships.
The organisation stated that it had contemplated a remote-controlled local vessel which can become operational by the end of 2020 and an unmanned, autonomous ocean-going vessel following in 2035.
This leading shipbuilding firm has published a white paper starting its vision for cargo vessels that can be remotely monitored by a captain and a crew from the land-based control hub. It is leading an initiative known as AAWA (Advanced Autonomous Waterborne Applications Initiative) bringing together the equipment manufacturers, ship designers and university researchers. Currently, AAWA is testing the technology in Finland.
Before these commercial autonomous vessels can become operative, there are certain security and regulatory challenges to address, including piracy. Mainly, anyone skilful and capable of getting access into ICT system can control the ship and alter its operation according to the objectives of the hackers.
>See also: Autonomous drones in the oil and gas industry
This could simply mean few manoeuvres or disruptive actions introduced for demonstration or annoyance, hijacking of the cargo and ship for ransom, but also powered collisions or groundings created purposefully to cause serious destruction. But, the shipbuilding firms strongly state that the autonomous ships will be cheaper and safer to operate with more room for cargo.
The European Union is also investing large amount of money for research purpose on unmanned maritime navigation. Norway is looking to launch fully electric and autonomous cargo ship in 2018 that will carry fertilisers between three ports in the nation's south. At first, this vessel will be manned but will be operated remotely in 2019 and become completely autonomous in 2020.
A technology similar to this is already being used by US Military. In 2016, an experimental autonomous warship was launched by the US navy. This was named as Sea Hunter and was designed specifically to hunt for enemy submarines. The 132 feet (40 metre) vessel can cruise on the surface of the ocean for two to three months at a stretch without the need for a crew or anyone controlling it remotely.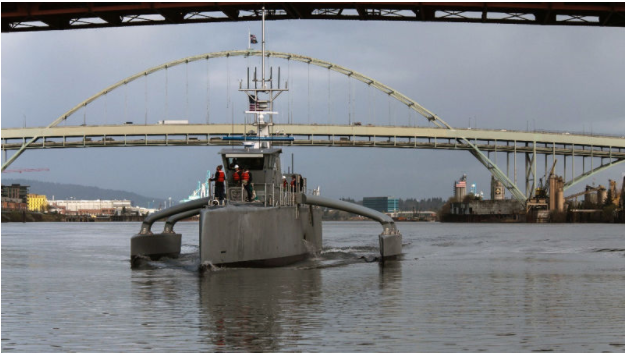 That kind of autonomy and endurance could make it an efficient stalker of submarines at a very less cost when compared with the manned vessels of Navy. This ship has been developed by Darpa (Defense Advanced Research Projects Agency) of Pentagon. It is about to undergo two years of rigorous testing including to ensure that it can follow the international norms for operation at sea.
>See also: Autonomous agents make up the living network in enterprise
The first and foremost thing is to make sure that it can utilise cameras and radar in order to avoid other vessels. The ship can attain speeds of 27 knots as it is powered by two diesel engines. The number of companies building autonomous ships are increasing day-by-day as they are strongly believing that there is no reason to be afraid of these autonomous ships.
Sourced by Savaram Ravindra, Content Contributor at Mindmajix.com
The UK's largest conference for tech leadership, Tech Leaders Summit, returns on 14 September with 40+ top execs signed up to speak about the challenges and opportunities surrounding the most disruptive innovations facing the enterprise today. Secure your place at this prestigious summit by registering here