It's tough to imagine that there are still segments of the global population that are being left behind in terms of internet access. Over half of the global population is already online. Yet, people with disabilities still struggle to go online and consume digital content due to poor web accessibility.
Websites continue to lack support for assistive technologies that are used by the disabled to access digital content. Adherence to standards like the Web Content Accessibility Guidelines (WCAG) should enable technologies such as screen readers and special input devices to process content and navigational elements. But if websites aren't compliant, these devices wouldn't be able to function optimally.
As such, accessiBe comes as a welcome development for all accessibility stakeholders. The company's tool allows site owners and organisations to conveniently and quickly make their websites accessible through artificial intelligence (AI).
The use of AI in robotics and hardware — what CTOs need to know: integration, job loss and privacy concerns, and investment

Every business must deploy the latest technology—CTOs must champion the use of AI in robotics and hardware to innovate and remain competitive. Read here
accessiBe CEO and co-founder Shir Ekerling says: "For so long, people with disabilities have been left out of the digital revolution. Even with developments in assistive technologies such as screen readers, most websites remain inaccessible. We hope to change this by allowing site owners to easily accomplish the complex task of achieving compliance, without spending thousands of dollars on development. Our vision is to make the web accessible by 2025."
Poor digital inclusion from companies
Supporting web accessibility appears to rank low in most companies' tech agenda. A study made by accessiBe, which analysed 10 million web pages, reveals an alarming percentage of websites that fail to comply with the required WCAG 2.1 AA compliance level. Even large companies that boast of leveraging cutting-edge technologies to interact with their customers have largely overlooked accessibility in the development of their digital channels.
For example, leading US pizza chain Domino's has faced criticism and even legal action for their lack of support for web accessibility. Back in 2016, blind US resident Guillermo Robles filed a suit against Domino's. Allegedly, Robles was not able to order pizza the company's website and mobile app despite using screen reading software. Robles argues that this lack of accessibility violates the Americans with Disabilities Act (ADA), a law requiring businesses to be inclusive to those with physical and mental impairments. As of writing, the case is still pending with the Supreme Court.
Similar lawsuits filed against companies for lack of support for people with disabilities have been increasing over the past years. In 2018 alone, there were 2,258 similar lawsuits filed in US federal courts. Such suits could come as major problems for companies. If proven guilty, companies face stiff fines and penalties according to the law. Their reputations could also take hits, resulting in diminished customer trust and confidence.
Applying the WCAG 2.1
To become ADA compliant, websites and services should abide by the WCAG. Currently in Version 2.1, the WCAG directs web developers how to make web content accessible to people with disabilities including provisions for a wide range of impairments including sight, speech, movement, learning, and even cognitive disabilities.
However, following these guidelines to address the needs of these various disabilities is not a simple task. Even experienced web and content developers can struggle implementing the coding and editing necessary for compliance. This is why an AI-powered tool like accessiBe can be beneficial.
Artificial intelligence: Data will be the differentiator in the marketplace

Kicking off Information Age's Artificial Intelligence Month, we look at the importance of data in the future adoption of AI; with the help of Greg Hanson, CTO & VP at Informatica. Read here
With accessiBe, all a site owner or administrator needs to do is install one line of Javascript code. Using AI, the tool will scan and analyse the website to apply necessary modifications. Within 48 hours, the site and its content will feature the necessary changes to become ADA compliant.
accessiBe covers the following key areas:
Color, type, and spacing adjustments. accessiBe's accessibility Interface allows visually-impaired users to tweak the visual components so that they are better able to read and decipher content.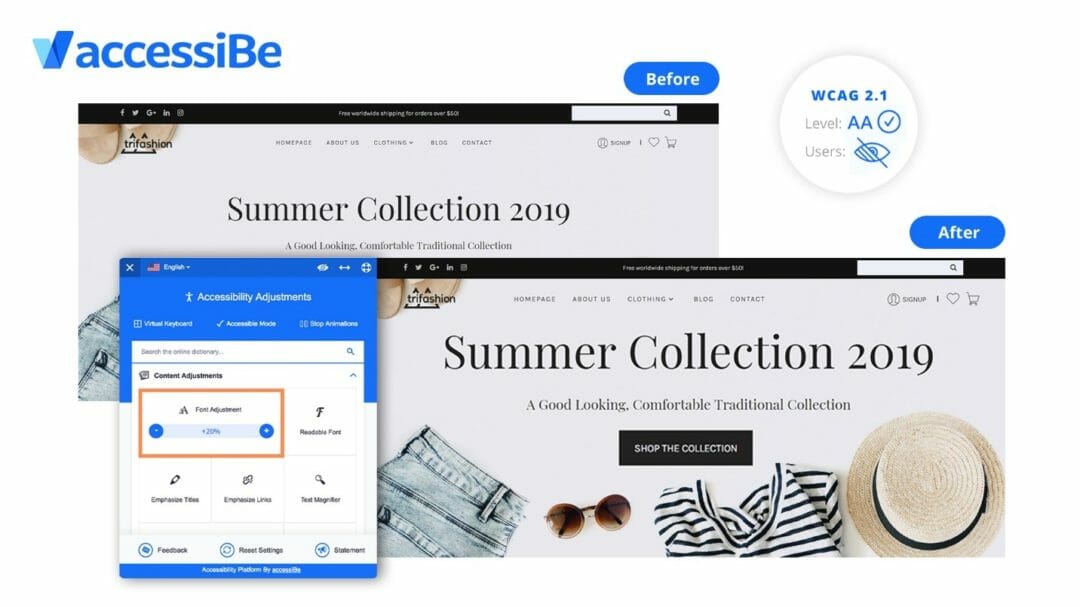 Image recognition. Screen readers depend on alt texts which are found in the HTML code to be able to "read back" descriptions of pictures and images to blind users. Unfortunately, content developers often overlook adding these alt tags. accessiBe scans all of the website's images with IRIS and OCR technologies to understand the objects which the images contain, as well as the text that's embedded within it. For example: A picture of a model posing clothes, with an embedded text box saying "50% OFF winter collection", will be automatically attributed to an alternative text description of "Image contains: Model, Woman, Beautiful, Winter. Text in image: 50% OFF winter collection".
Keyboard navigation. People with motor impairments navigate websites using the keyboard, mainly with the TAB key which is the standard key for keyboard navigation. On, accessiBe-powered websites, the TAB key provides people with motor disabilities the needed functionalities to navigate the site. When tapping the TAB key, a toolbar will be opened on the top portion of the screen. This toolbar enables the challenged user to enter quick navigation mode, or open the accessibility interface, and among other functionalities, navigate the content elements of the current web page of course.
In the image below, you can see accessiBe's TAB-powered keyboard navigation panel on one of BMW's websites.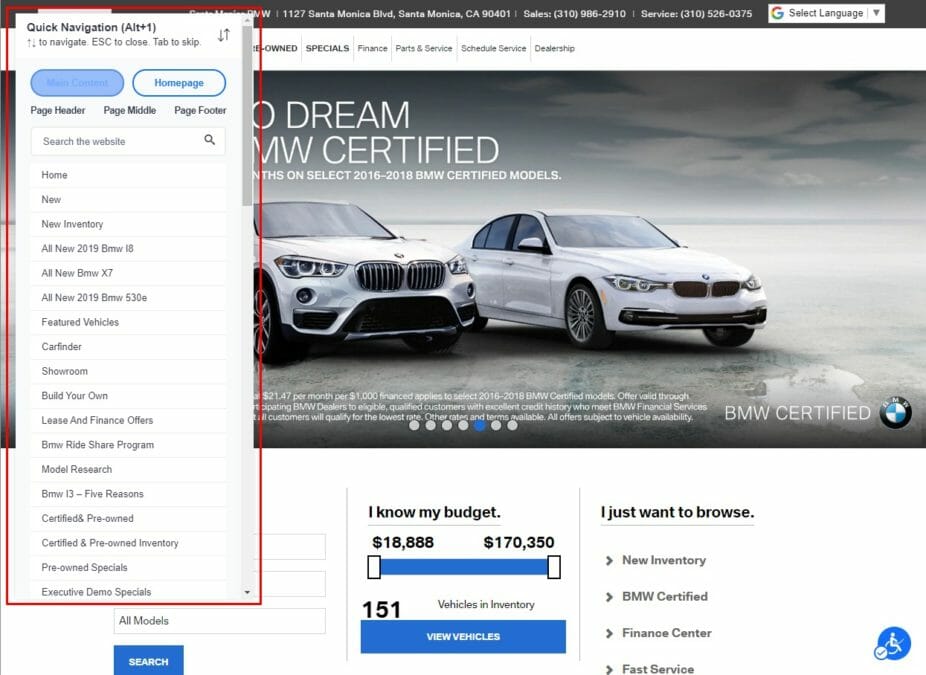 Built-in dictionary. People with cognitive disabilities may find it difficult to understand sophisticated language, jargon, or slang. accessiBe adds a built-in dictionary which can be accessed within the page to allow users to find definitions and descriptions without having to leave the site.
In the example below which is taken from Avon's online shop, imagine a person with a cognitive disability that makes it harder for him to understand what's the meaning of the word "Sweepstakes" which can be found on the homepage. All the user needs to do is open the accessiBe UI, type in the required word or copy-paste it to the dictionary's search box, and immediately see the results.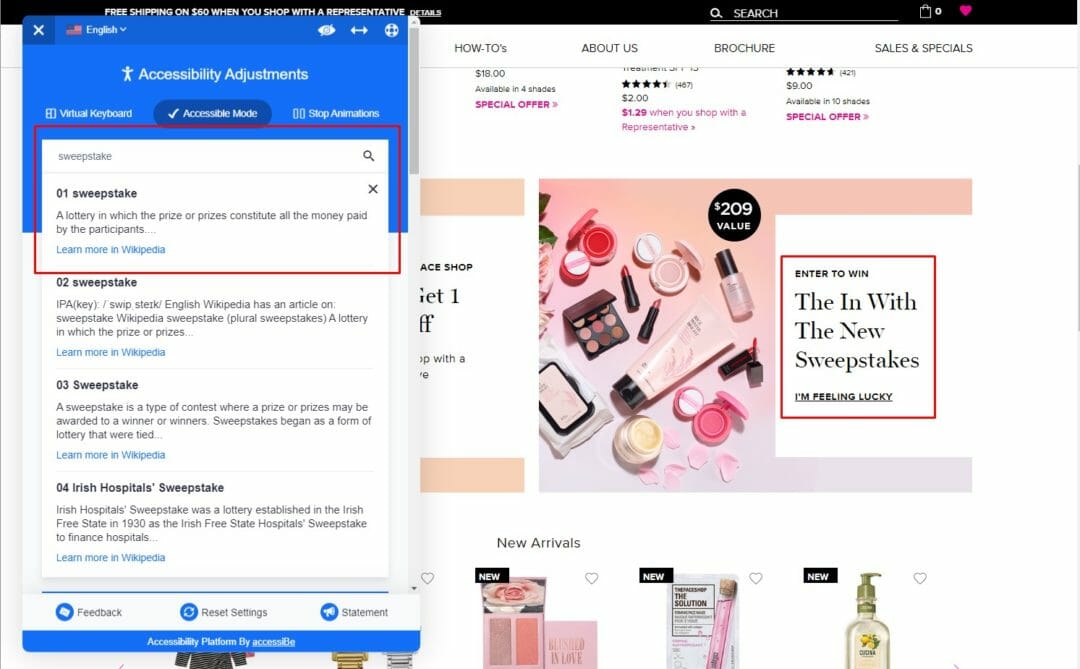 A must have tool for digital agencies
Digital and design agencies would be crucial to bringing widespread web accessibility. Agencies are typically responsible for developing and managing hundreds or even thousands of websites so they are in an ideal position to enact the positive changes needed to promote inclusion.
Unfortunately, working on the accessibility of a large number of websites through conventional means entails much expense and effort. When done manually, accessibility audits and site remediation can easily cost around $15,000 for a single website and weeks to accomplish. These are investments that most site owners, especially smaller businesses, couldn't afford.
Successful digital adoption is now do-or-die for small businesses

For successful digital adoption, small business owners need to understand how technology can impact their business. Read here
Through the adoption of a tool like accessiBe, these agencies can easily and readily implement WCAG compliance to the websites under their care without needing to impose huge burdens upon their clients.
"This is why we launched accessiBe. It provides a simple and cost-effective solution for agencies and site owners to make their content accessible to people with disabilities. We would also like to partner with other stakeholders in the ecosystem such as web design agencies to be able to make a quicker impact across websites," Ekerling continued.
Striving for the win-win
People with disabilities stand to gain the most from widespread web accessibility. The inclusion that it brings will allow them to participate in the digital space in greater numbers and finally enjoy the same services and conveniences that have long been available to everyone else.
Other stakeholders can also benefit from committing to inclusion. Site owners and businesses would not only be contributing to the greater good, they will also be able to engage people with disabilities as a market. Companies can also avoid facing legal issues through proactive compliance with laws and regulations.
The emergence of tools like accessiBe comes as a boost for everyone. Easy and affordable accessibility compliance essentially removes the barriers for site owners so that they can finally serve people with disabilities.