Mark Skelton, CTO at CANCOM, suggests he takes a slightly different approach to his tech strategy compared to some other CTOs. This is because CANCOM is both a supplier of technology and services to its customers, on top of the company's internal tech strategy.
The challenge, he says, is keeping them both in sync — "customers want to use our platform to buy different things and our employees want to use technology in different ways regarding how they consume it," Skelton explains.
An accelerated tech strategy
Before the pandemic hit in March 2020, Skelton describes a slow and steady approach to his tech strategy, which mainly centred around cloud adoption.
"From our perspective, and also our customers perspective, the appetite for change was quite low — people were looking at low risk strategies," he says.
However, the pandemic caused a monumental shift and accelerated Skelton's and many other CIOs and CTOs' appetite for change. The appetite for risk has also gone up.
This is because the demand for IT services has accelerated to levels never seen before and it is now how businesses are operating; in an online, virtual environment.
"Businesses need digital platforms, cloud infrastructures to operate and survive in today's environment," continues Skelton.
The disruption caused by Covid-19 led to an acceleration of Skelton's tech strategy — the move to the cloud and the digitalisation of business apps.
"We rapidly turned business apps into cloud native apps, so that we could deliver a scalable and remote working architecture to them. That's now a primary focus of our tech and go-to-market strategy," he continues.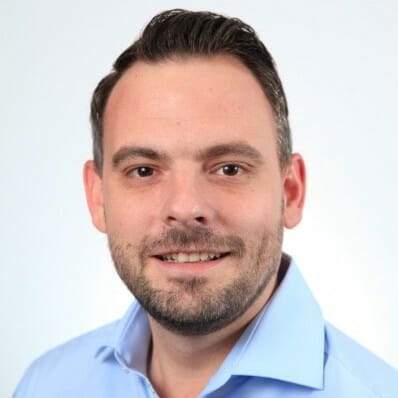 The importance of collaboration platforms
Like many businesses, the use of collaboration platforms has been paramount and CANCOM is no different. Skelton explains this uptake of collaboration platforms has also been a big part of his strategy.
"My job is making sure that they're robust and that they're delivered so people can work in a in a remote working scenario," he says.
A hybrid future
Looking forward, Skelton suggests part of his tech strategy will be focused on delivering IT services to hybrid workforces.
The reality, he points out, is that even after the virus vaccine rollout, businesses will likely champion a hybrid workforce.
"This poses a real challenge for organisations like us — how do we make that remote working work with the people in the office? How do we make that end user experience work between the two," he asks?
Making sure these environments are ready will be the next focus of Skelton's tech strategy.
---
Bringing everyone on the journey
One of the biggest challenges for any CIO or CTO is ensuring that their tech vision or strategy is communicated effectively to everyone in the organisation and that everyone is brought on the tech journey.
To do this, it's important to communicate well and simplify all the jargon. Tech and all the acronyms that come with it can be very confusing at times for those with non-technical background.
The role of a good CTO is to help translate these terms and become an interface between tech language and business language.
Crucially, bringing everyone on the technology journey starts at the board. The CIO or CTO must have a consistent slot in board meetings, and be able to explain what different technologies or tech strategies can deliver for the business. This will then get communicated down through all the business units, providing that consistency is maintained.*
CANCOM has done this internally via its Talking Heads program, which is a way of delivering tech updates to the business.
Explaining the initiative, Skelton says: "It's open to everyone in the organisation and it doesn't matter what role you're in, you can join those sessions. What we try to do is break the tech strategy down into bite-sized chunks.
"I find that it's a really effective way of ensuring everyone is brought on the tech journey."
*On the flip side, it is also important that the team who sits behind the CTO, the tech community of an organisation, fully understands the business' objectives.
---