Those working at L1 and L2 of IT operations, those running the data centres and service desks, are inundated with requests 24/7.
This problem is one CIOs and managed service providers (MSPs) are all to familiar with and was the inspiration behind the genesis of Ayehu — "how can we help individuals and companies with the pain of having to be constantly available," asked Gabby Nizri, the CEO and founder of the company?
It takes time to find the problem and a solution in IT operations, "so the idea was to create a virtual operator to replace live people working at L1 of IT operations, which was inefficient anyway," he answered.
"The vision was to run IT operations autonomously."
Ayehu is a subscription-only automation orchestration company, focused on getting rid of inefficient IT operations. It doesn't work on DevOps or robotic process automation (RPA).
Since early 2016, it has grown 75% and has over 200 customers (mainly enterprises)
Automating IT operations
Humans don't scale, but automation does.
CIOs of enterprise organisations and MSPs both experience the same pain points and inefficiencies with IT operations. Typically, these areas don't have enough people to scale the business and the majority of the IT budget is committed to keeping the system up and running (lights on).
There is tremendous value that can be gained by automating IT operations and addressing these pain points, allowing operations to scale without throwing more bodies at it, which is particularly relevant for MSPs, while helping CIOs improve efficiency.
"We take manual and repetitive tasks that IT does every day (disk clean up, spinning up VMs etcetera) and automate it," explained Nizri.
Automate, innovate, learn: the path for IT service providers and buyers

It is necessary to train employees to handle the evolution of digital technologies within the workplace. Read here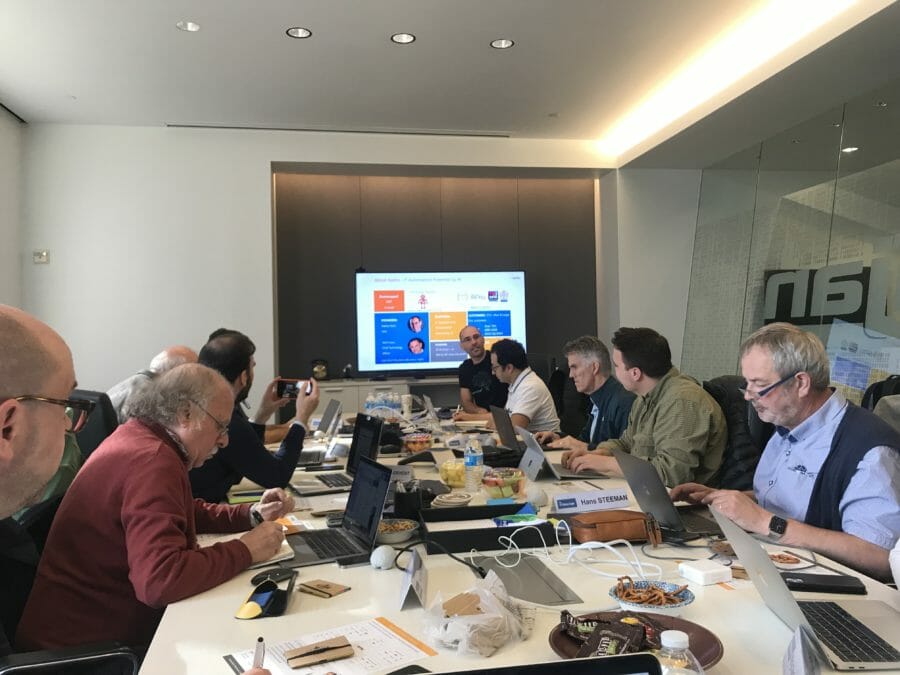 ---
Top 5 IT automation requests
Automatic patching, password reset, onboarding new employees, VM provisioning and server patching — these are big use cases.
Typically, Ayehu lands with these and then extracts more data from the service desk and identifies more niche use cases depending on queries that emerge from the individual businesses.
---
Quickly, intelligently and at scale
How does Ayehu approach automating IT operations?
1. Simplicity
It's codeless, easy to use and has a fast deployment — "other solutions are to complex and sometimes there is no ROI after two years," claimed Nizri.
"This was designed for the IT people on the ground to turn them into automation engineers. Simple means it's more adaptive, scaleable and companies can gain value quickly. It becomes sticky, because automation is hard to rip out once it becomes successful, our customer retention is at 94%."
2. Intelligent
It has machine learning driven support.
3. Scalable
It is highly scalable and supports thousands of scalable workflows.
4. Integrated
There is powerful interoperability across IT and security solutions and services.
Ayehu runs on VMs and the customer needs servers and licenses for operating systems/databases
On-premise
The off-shelf product is light weight in its integration and is delivered on-premise. "We're not a cloud SaaS provider," explained Nizri. "Automation has its own risks without working on the cloud, so we didn't want to add more hesitation.
"The tool works behind the firewall, close to the mainframe and under the policy of the organisation."
More regulations have led to more emphasis on security, which has led to a demand for on-premise solutions, despite the rush to the cloud.
5 challenges of intelligent automation at scale

The second coming of the second machine age is seeing machines take on intelligent tasks as well as physical ones. Read here
Integrating the solution
Without integration, IT automation is limited.
Ayehu integrates with the 'best-of-breed applications and services' (over 72 across IT service management, cyber security, chatbots and AI, operating systems and cloud, monitoring systems, and messaging and notifications) depending on the organisation's choice.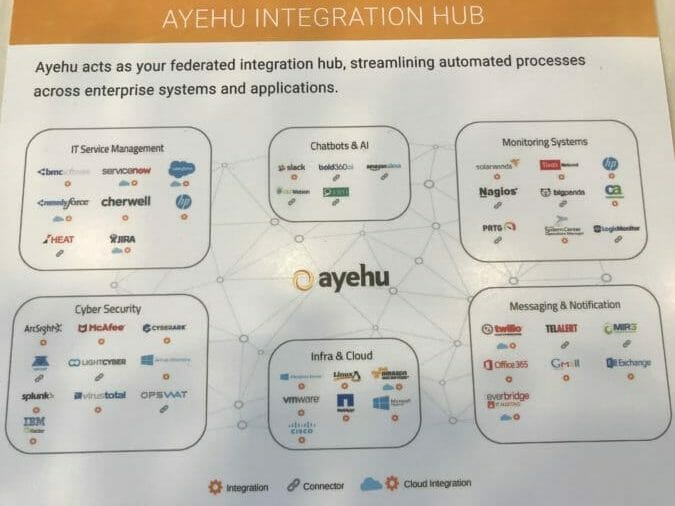 Case study from a leading financial services company
The business challenge:
• High operating cost for monitoring, maintenance and production support.
• Increase in cost due to increased volumes of incidents and events.
• Opportunity identified for tools rationalisation and process optimisation.
The environment:
• 60,000 servers (more servers than 50 customers in Israel).
• 10,000 database installations, 72PB storage and 21,000 middleware incidents.
• 480 applications supported.
Results after 12 months:
• 40% productivity gain with MTTR;
• 15% savings by the end of the first year;
• 90% improved response time;
• 85% improvement in turn around time;
• 10% resource optimisation; and
• 23% demand reduction by reducing 60% alerts.
There are some clear outcomes from automating IT operations at L1 and L2; cost saving, improving efficiencies and innovation. Automation can analyse hundreds of tasks in parallel, including data collection, documentation, validations of applications, actions and real-time solutions.
Complimenting RPA and DevOps: aim for automation
Summing up, Nizri suggested that automating IT operations compliments RPA and DevOps, because "we can't automate everything by ourselves. Organisations need these different tools to try and completely automate."
---
Related articles
Scaling RPA: before automating processes, improve them
The top use cases for AIOps in enterprise IT operations
4 reasons to integrate IT services with IT operations
IT operations analytics: Changing the IT perspective
DevOps: 5 reasons business leaders need to embrace development and operational IT integration
---