High-performance storage solutions can prove bulky and expensive in the long run for businesses, while often being unable to meet all needs in one place. The deployment of two or more different storage cluster systems is a frequent occurrence for addressing spending and capabilities. This challenge comes as organisations from all sectors seek more agility and flexibility.
Brandenburg-headquartered start-up Simplyblock is looking to solve this issue for service providers including infrastructure-as-a-service (IaaS) and data centre providers; as well as businesses in sectors including financial services, healthcare and telecoms. The company, established in 2022, looks to help efficiently offload workloads across clouds.
---
Overcoming data loss from embedded devices — Finland-headquartered data storage start-up Tuxera looks to mitigate embedded device data loss and bottlenecks through file system software.
---
Speaking at the recent IT Press Tour event in Berlin, Simplyblock co-founder and CEO Rob Pankow discussed how the company has been looking to differentiate themselves in the burgeoning software-defined storage space since being established towards the end of 2022.
The platform
Simplyblock's offering looks to go beyond existing software-defined capabilities by unifying storage integrations, allowing cloud builders to more efficiently migrate data workloads in line with evolving business and customer needs.
Based on NVMe-oF — an open, widely used network protocol that is implemented over data fabric to facilitate flash storage performance — the Simplyblock platform is designed to sustainably underpin up-to-date AI and ML innovations and other next-generation workloads. Going forward, users could be aided in overcoming a common challenge of managing unstructured data including images and text, which is increasingly used for training generative AI models.
Operating across cloud environments, data can be scaled vertically without performance deteriorating, and replicated where necessary on the block layer between clouds.
Starting with block storage, the start-up is looking to follow up with integrations for file and object, along with container-based systems, in due course.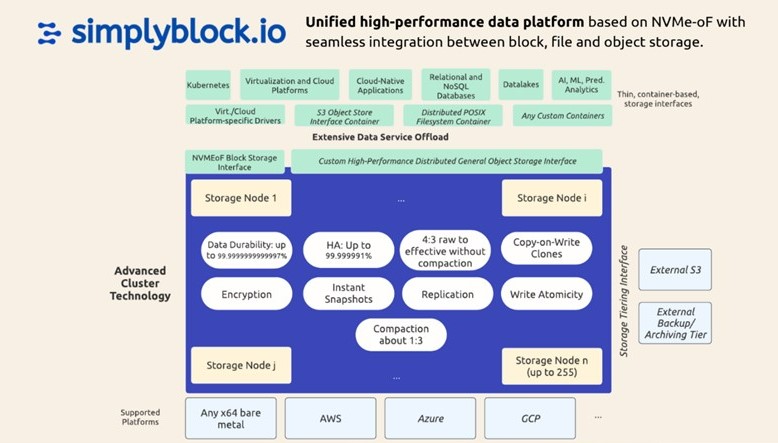 Customers use the platform on a pay-per-use basis (terabytes per month), and are currently able to test capabilities out on a three-month trial before purchasing.
Use cases and market differentiation
Key use cases being explored by Simplyblock include use of hybrid cloud; split workloads between regional and hyperscaler clouds; and container orchestration.
While the big three cloud computing providers — AWS, Microsoft Azure and GCP — demonstrate capability of building in-house data infrastructure that stays up-to-date, third-party platforms remain the choice of thousands of businesses using the cloud. This has brought the challenge of juggling the costs and capabilities of multiple cloud environments, with recent research revealing this to be a common challenge encompassing staff training.
Compared to software-defined storage platform competitors such as open source offering Ceph, the Simplyblock platform is reported to deliver lower costs per capacity unit, while offering a pay-as-you-go payment basis and keeping up-to-date with standard cybersecurity protocols. Security features contained include zero-RPO (recovery point of objective) in response to ransomware attacks.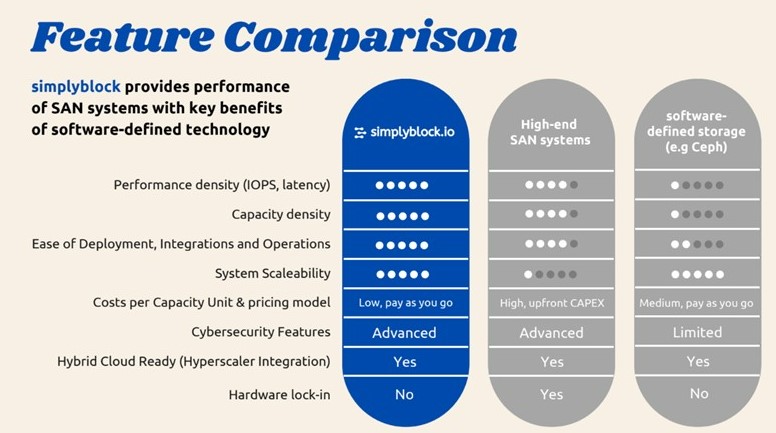 ---
Overcoming SSD performance bottlenecks with software-defined RAID — Data start-up GRAID Technology offers a software-defined solution that helps enterprises leverage RAID technology at scale.
---
Future roadmap
Going forward, the start-up aims to undertake integrations with cloud hyperscalers, as well as Kubernetes environments, before establishing an algorithm for compression, and bolstering disaster recovery in response to ransomware attacks.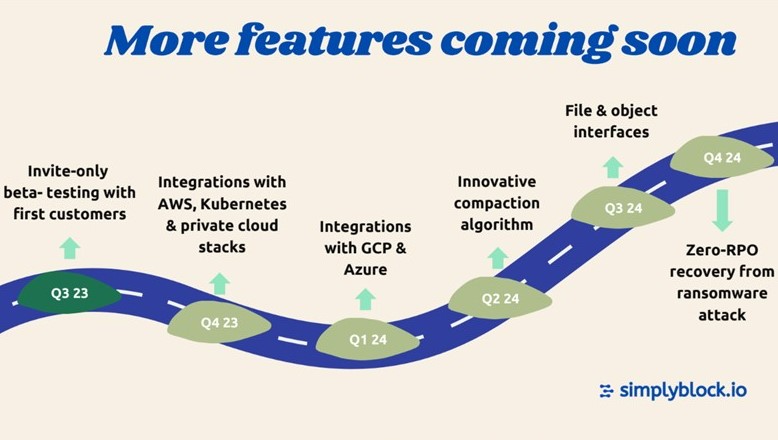 Due to eagerness to meet customers in person, the start-up currently plans to focus on European organisations operating in similar time zones, for continued business. Just over six months on from its formation, Simplyblock expects seed rounds to be undertaken by the end of 2023.
Related:
Why multi-cloud key management is the future of enterprise security — To keep the entire enterprise secure against evolving cyber attacks, multi-cloud key management is essential.