Data startup GRAID Technology offers a software-defined solution that helps enterprises leverage RAID technology at scale
Software-defined storage is proving in high demand across the tech industry, with SSDs bringing storage that's instantly accessible to businesses gradually replacing HDDs for greater scalability and flexibility. Gartner predicts this trend to continue, with enterprise SSDs making up almost a third (32 per cent) of the overall HDD/SSD space by 2026.
SSDs are often implemented with RAID (redundant array of independent disks) — data storage virtualisation technology combining multiple physical disk drive components into one or more logical units, allowing for cost saving and increased performance. This technology's resiliency is known to play a big role in strong data protection.
There are frequent challenges being faced when using such storage technology, however, which are creating bottlenecks and bringing innovation to a halt. Evolution of flash storage performance is leaving existing storage architectures behind — meaning organisations can't take advantage — while software-based RAID competes for computing power with other application, slowing operations down.
What's more, RAID hardware is often limited to less than 10 SSDs, falling short of the full performance potential of the overall application.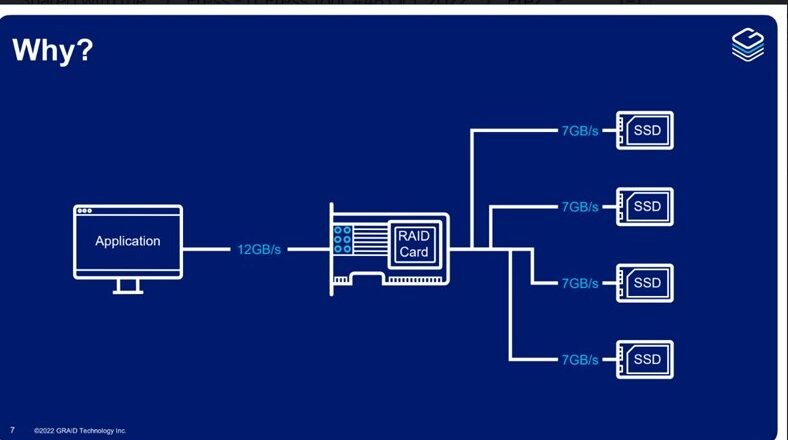 Eradicating the bottleneck
To tackle this challenge, California data startup GRAID Technology — speaking at the most recent edition of the IT Press Tour in Silicon Valley — offers a software-defined solution named SupremeRAID, which can facilitate compute power delivery for up to 32 SSDs.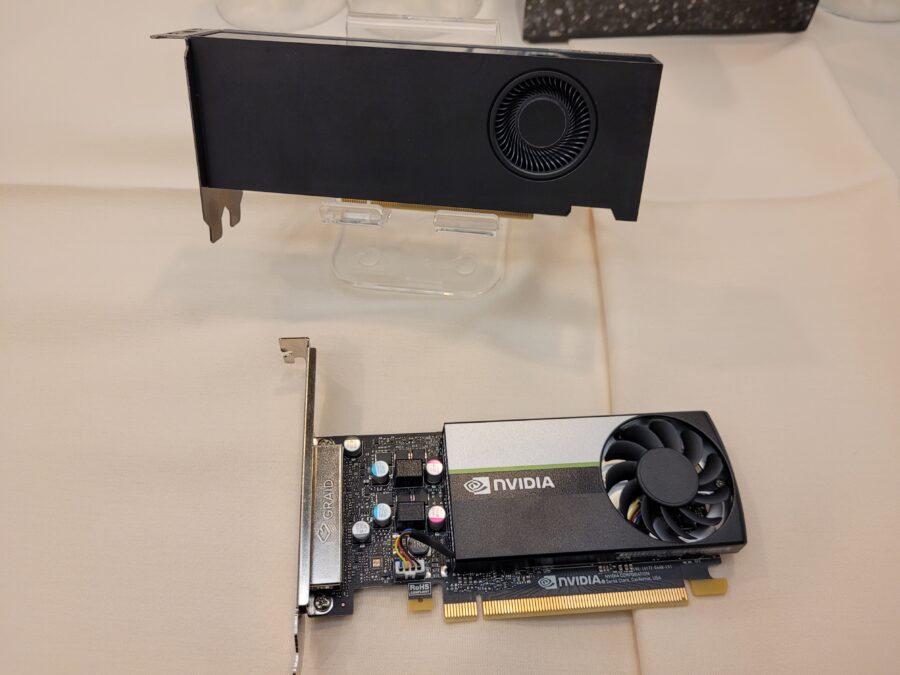 With a composable design, the solution can be implemented out of the box, and sits on the GPU. Out of path protection provided by the solution allows data to travel directly from CPU to storage without passing through the SupremeRAID card. Its AI component, meanwhile, can process 19 million input/output operations per second (IOPS), and 7 GBs per second. All of this helps to solve the flash storage bottleneck often being faced by businesses.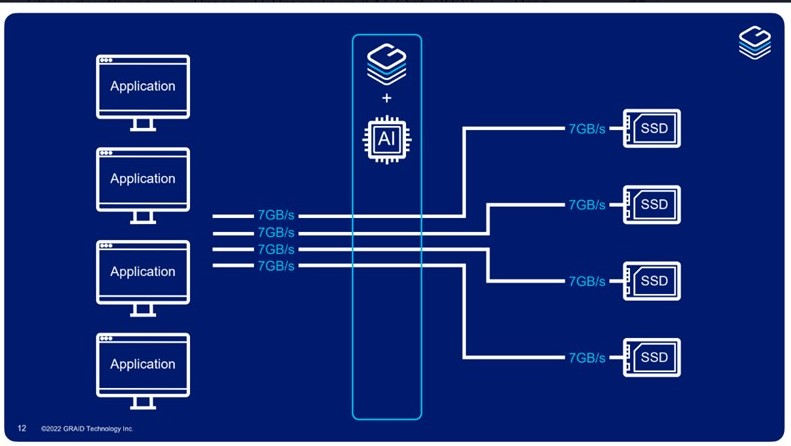 GRAID's product competes with Broadcom's MegaRAID card and Intel's VROC product. MegaRAID has been found to only support four direct-wired NVMe SSDs per card, while the VROC isn't compatible with hardware storage, being a virtual solution.
As well as managing local drives, the product can also operate across data fabric, facilitating end-to-end integration of various data pipelines and cloud environments.
>See also: Becoming "cloud smart" — the path to accelerated digital innovation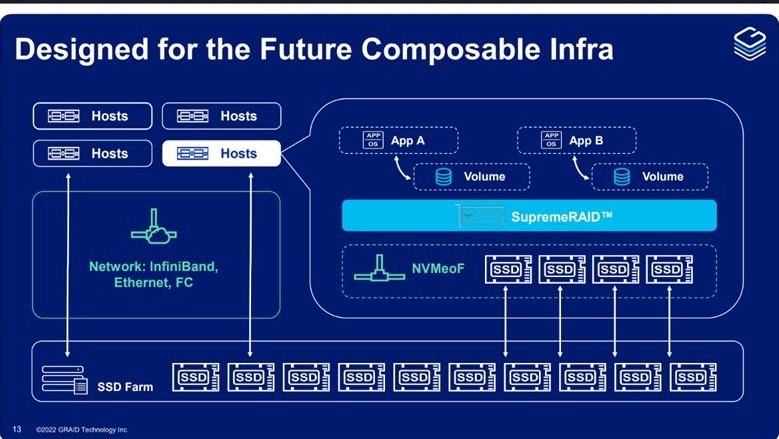 Business use cases
Key use cases for the solution, according to GRAID, include:
Artificial intelligence (AI) training: AI engineers can leverage the card to enable accelerated processing of data, from a usual 12 hours with more traditional solutions to as little as two. This leaves staff with a lot more time to focus on iron out any inaccuracies before taking the algorithm to market.
Automobile and aviation: GRAID has gained business from clients in the automobile and aviation sectors, helping to deliver masses of transport, distance and speed data with urgency. The compact nature of the card allows for more space available to businesses, compared to other RAID products, leading to savings of costs.
Local databases: With businesses frequently coming across latency and performance limitations when operating with local databases, GRAID has helped overcome such obstacles, allowing clients to realise the full benefits of NVMe SSDs.
4K video surveillance: With delivery of 4K-quality video often requiring upwards of 10GB per second of write throughput, the product is proving ideal for delivering processing at speed and scale.
>See also: Best practices for modern enterprise data architecture
The startup roadmap
Established in 2020 with an office in Ontario, California and an R&D centre in Taipei, the startup completed a $15m Series A funding round in January 2022. Currently, four one-time pricing plans are available for generations 3 and 4 of PCIe, between $2,500 and $3,995.
Going forward, GRAID is aiming to further develop its data centre and enterprise editions. For its data centre portfolio, VMWare and Kubernetes support, along with storage code, is planned for 2023, with cloud-native storage infrastructure and erasure code planned for 2024.
As for GRAID for enterprise, an update including further Linux distribution support and sequential read performance improvement is set for release later this year; PCIe Gen 5 support, erasure code and compatibility with GUI for Windows is planned for 2023; and end-to-end data protection and on-the-fly drive extension is planned for 2024.
Related:
StorPool accelerates its Software-Defined Storage capability — Storpool is accelerating its Software-Defined Storage capability by building large scale storage from commodity servers.
Overcoming the chip shortage with extreme data processing — During a recent edition of the IT Press Tour in Tel Aviv, Pliops explained how it is helping its customers overcome chip shortages and scaling issues with extreme data processing.