Having successfully headed up proprietary software businesses, former SAP leader Melissa Di Donato, now CEO of SUSE, thrives on creating high-performing teams, being a legend and helping diverse groups do the same.
Not much keeps this dynamic and fearless tech leader awake at night — apart from the wellbeing of her staff!
Has it always been a lifelong ambition to be a CEO of a tech company?
No. Unlike some CEOs who spend their entire career mapping their route to the top, all I knew was that I loved tech. At no stage, and even when I was approached for the role at SUSE, did I think that one day I'd be leading such a fabulous company. If anything, when the tap on the shoulder came, I had to manage my impostor syndrome.
I'm glad it happened organically and that I didn't spend my life working toward being a CEO. I'm the right person to lead SUSE because of my 25 years of experience in proprietary software – having built many mission-critical complex PRP applications at SAP – my sense of accountability and the mission, and because I can make a real impact.
My mother used to say to me, "Melissa, don't be a lady be a legend", which sparked my drive to make a mark on the world. I believe everything happens for a reason, and there is no place I'd rather be or role I'd rather have right now in this global crisis than to head SUSE.
I believe I'm the right kind of leader with an equal measure of IQ and EQ to take care of the needs of our customers, the business, but more importantly, our employees.
SUSE CEO: avoiding disruption with open source and how her focus has changed

The SUSE CEO explains why an open source model has led to non-existent disruption and how her focus has changed in the wake of coronavirus. Read here
How has COVID-19 impacted your role?
Fortunately, at SUSE, we have a global and distributed workforce that has been able to transition to working from home without disruption.
In fact, when you think about the fact that open-source is created in a virtual community, the ability to continue to develop and innovate rapidly exists with minimal interruption, or no disruption at all. Our ability to serve our customers, contribute to the community and to ensure that we're continually evolving and innovating, lives now just as much as it did five months ago.
Still, while our business plans have not changed, my focus on the health and wellbeing of our employees has.
On waking each day, the first thing on my mind is not what the competition is doing, my commercial model, or whether SUSE is meeting the needs of our customers or shareholders. Front of mind is wondering if everyone in the business is healthy and able to take care of their family and, whether as a company, we are responsive and flexible enough to help them do that.
Second is ensuring we provide our customers with the care they deserve and need.
Now more than ever, my accountability to nearly 2,000 people is more acute than I ever thought it would be in terms of both their physical health and their wellbeing.
You take your role as CEO seriously. What do you love about it the most?
There are so many things to love, but one of the biggest is collaboration. As an open-source company, we develop everything in the community, which means we are naturally more collaborative than a traditional software business can be.
The integration and collaboration of our employees, communities, customers and partners is exciting and extremely high, and I find that incredibley valuable.
You're in an enviable position. Can women truly have it all?
Theoretically, there is no such thing as having it all; you have to give up a little bit of something.
But in my heart, I feel as though I do have it all. I have a wonderful family, amazing career and work for an incredible company solving the world's problems. Is everything perfect? No, but it's about finding that perfect balance and knowing when to prioritise what's truly important.
You also enjoy helping others, especially women, climb the career ladder?
I do. Last year I introduced SUSE's first mentoring scheme for both men and women, comprising of two programmes. In one, on joining SUSE, every new employee gets designated a mentor to help them in their career journey. The second programme is a mentoring match scheme where we match mentors and their skills with mentees who need help with career progression. SUSE also measures diversity, new hires and quite closely, the career progression of women and underrepresented groups in the company.
Externally, I am the Chair of the Technology Group of the 30% Club, a global organisation to ensure that we get more women from schoolrooms all the way through into boardrooms.
I'm also a Stemettes Godmother and mentor, and a Tech London Advocate mentor. I currently mentor eight men and women in the industry outside of SUSE to ensure that diversity and inclusion is the main topic for them.
I've been fortunate to win two Women in Tech awards, a Women of Achievement award and named as one of the top 10 most influential women in UK tech several years in a row. This has enabled me to be visible and a role model for women to see that anything is possible in the tech industry. You can live a great life, a great career and still be a woman. And by the way, you can look good doing it too.
I'm also an advisory board member of Everywoman in the UK which represent women throughout their career lifecycle to ensure they have the right skills and opportunities to accelerate to the boardroom.
Finally, SUSE sponsored the Women in Tech forum in March, of which we've given out awards every year. I've been awarded for the last eight years, so I was extremely fortunate to be able to contribute.
SUSE CEO: 'our strategy in addressing the main customer challenges'

Melissa Di Donato, CEO at SUSE, discusses how the company's strategy of simplify, modernise and accelerate is helping address the main customer challenges. Read here
Why have D&I issues still not been solved in the tech industry?
I only started to realise there was a problem with women in tech nine years ago when I turned around one day and noticed that I was the only woman in the room.
I then became very vocal about the problem, to the point that I became tired of hearing my voice and decided to talk about a different topic.
The minute I and others stopped talking about the lack of women in tech, the statistics from the UK went from 18% of women in technology down to 17%, and 16% the following year.
For us to move the dial, we must consistently and continuously talk about and give rise to the issue, backed up by robust data — as quota-based hiring is not the right way to measure success.
If you could do one thing to improve D&I in tech, what would it be?
We can only bring about change once we understand the pressure points. A lot are centred on old stereotypes: the tech industry is a programmers' club, full of constant change or that women aren't welcome. None of this is true, so I plan to continue to use this incredible platform as a female CEO in tech to share where a career in tech can lead.
I would also like to see boards set mandates and executives take on the responsibility and accountability to ensure that we have a diverse workforce; and that women make up at least 30% of executive teams up to the boardroom.
I think with the right leadership and support the tech industry can make a change in the world. This should not be an issue my daughter, who's now six, will face when she comes into the workforce in 25 years from now.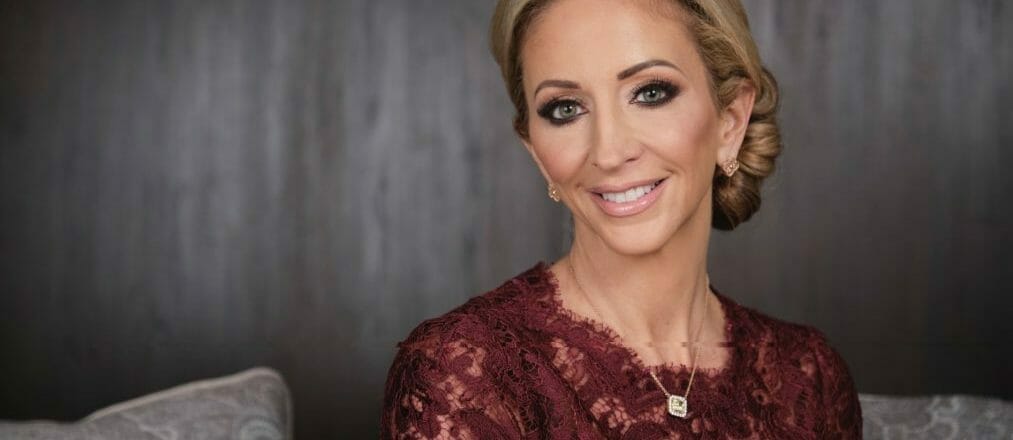 Melissa Di Donato was recently named as The Personality of the Year UK for Cloud Computing.
Named in the Top 10 most influential women in UK technology and has been awarded the Technology Woman of Achievement by Women in the City and endeavours to ensure that more women are represented at the top of leading technology companies across the UK and globally.
She is a Corporate Board member for iDEA (The Duke of York's Charitable Program for digital skills for UK youth), Board Member of The Data Science Institute at Imperial College in London, Trustee for Founders4Schools, Entrepreneur, Executive and mother who believes that we can change the digital world one girl and one person at a time.