At the age of just 46, the tech entrepreneur – Elon Musk – has launched a number of successful companies and is now worth a huge $20 billion.
When considering the names of tech giants who have changed the world, names such as Bill Gates, Mark Zuckerberg and Steve Jobs might come to mind. However, recent advances have added Elon Musk to that list as well.
>See also: The robots are coming: who will come out on top?
To date Musk has been involved in a range of investments: major online payment services, building and launching spacecraft and trying to cover the world with solar panels, to name a few.
This is a man full of unexpected capabilities. Now at the age of 46 he has used his fortune to pursue his dreams of changing the world. So just what has Musk invested in?
SpaceX
His biggest investment goes to SpaceX, the California-based rocket and spacecraft manufacturer founded by Musk himself in 2002. Musk started as CEO, and he remains in that position today. The goal of SpaceX was, and still is, to revolutionise space technology.
>See also: Everything you need to know about the Tesla Model 3
The company, which was started with $100 million from the sale of PayPal, is now worth over $21 billion. Musk still owns a controlling interest, which means his share is worth far more than the $100 million he originally invested. As of December 2017, SpaceX had successfully landed 19 rockets, which they plan to reuse on future missions, and lets not forget Musk's intention to take humans to Mars by 2024.
Tesla
Musk's second biggest investment was towards Tesla, an American automaker, energy storage company and solar panel manufacturer. It's widely assumed Musk was the founder of Tesla, but in fact, the company was founded by engineer Martin Eberhard and computer scientist Marc Tarpenning in July 2003. Musk joined the board in 2004 after leading the company's series A funding, and became CEO in 2008.
By the age of 32, he had invested $70,000,000 into the company in a bid to develop, manufacture and sell high-performance, fully electric vehicles and electric vehicle powertrain components. It's safe to say that Tesla is now easily the global leader in electric car technology.
>See also: Tesla updates its driverless cars' safety features
SolarCity
His third biggest investment went to SolarCity. Musk provided the initial investment for SolarCity, a solar energy company that was started by his cousins in 2006. The company has grown in the last 11 years to become the 2nd largest solar power provider in the country. In 2014, Musk promised to build a bigger and more advanced production facility for the company in upstate New York, and as of 2016, Tesla officially acquired the solar startup for $2.6 billion.
Whether he's launching satellites or working on the Tesla production line, Musk is constantly proving he's a man of unexpected capabilities. Between space rockets, electric cars, solar batteries, research into killer robots and the billions he's made along the way, just what will he invest in next?
Readers can find out more about Musk's investments here.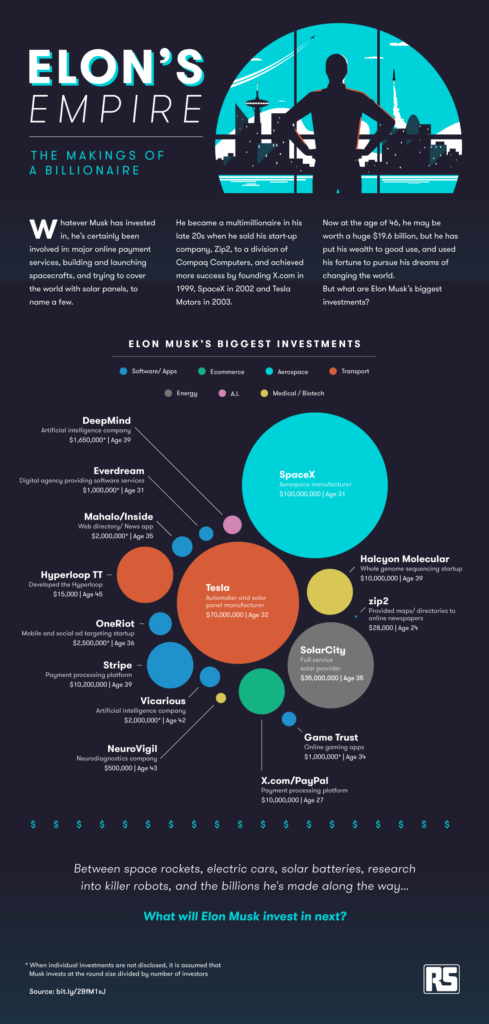 Sourced by RS Components