In its latest study, Emolument.com analysed pay data from 11,500 UK professionals to find out more about gender inequalities within the technology industry. Results show two major kinds of gender gaps, spread across jobs and companies : the pay gap – with women sometimes earning 28% less than men – and the demographic representation gap – only 3 in 10 tech workers are women.

• Small company, big gap: the biggest gender pay gap (28%) is at technology firms with less than 10 employees. Without established salary grids, HR processes and scrutiny from the media and regulators, pay inequalities are not addressed in smaller companies.
>See also: The UK's gender pay gap EXPOSED
• 3 in 10: across all company sizes, the ratio of women to men remains desperately low, with only 3 women out of 10 technology employees.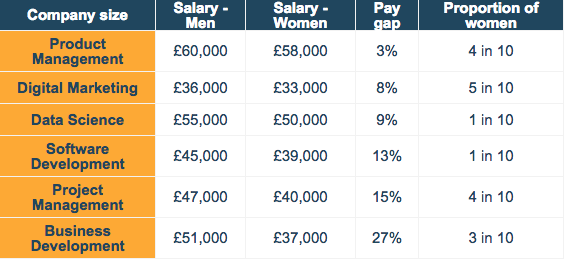 • Product management is leading the way: with the lowest pay gap (3%) in all technology jobs, and the highest median salaries (£58,000), product management roles are currently the best chance of equal pay for women in technology.
>See also: 'Women lose out on significant earnings due to gender pay gap'
• A deeply-rooted issue: Only 1 in 10 data scientists or software developers is a woman. This issue is rooted in universities and schools, where very few women study in the fields leading to these very technical jobs. A far cry from the 1960s where software development was seen as a predominantly female role akin to typing.
Alice Leguay, co-founder and CMO of Emolument.com said: "It is not intuitive that the technology sector, a trailblazing, forward-thinking industry, should be lagging in terms of gender pay gap. The financial sector has shown that regulation and co-ordinated action can make a systemic difference from graduate applications to board of directors ratios. Media pressure may well encourage the technology sector to mind its current discriminatory practices, though there may be blood on the walls as it happens, as with Uber. More transparency is needed when it comes to pay, and not only for companies with more than 250 employees, as currently required; not only either for the financial sector, which is facing up to its failings."