Between now and 2025, it's been predicted by CCS Insight that there will be almost a quarter of a billion 5G connections worldwide by the end of 2020, with this figure being on track to triple in 2021.
The 5G market in China has been found to be a major factor in this rise in connections that's here to stay, at least for the next five years.
Over half of new smartphones sold from China in the past three months featuring 5G support, due to strong promotion from its three main mobile operators.
170 million mobile phones from China have been projected to be connected to 5G networks by the end of 2020.
However, sales of phones globally are expected to be 1.54 billion units, a 15% decrease on 2019, owing to the global Covid-19 pandemic.
How can businesses ensure ROI from 5G services?

James Bristow, SVP EMEA at Cradlepoint, explores how businesses can ensure a return on investment (ROI) from the advent of 5G services. Read here
"Ironically, the weak overall demand for smartphones worldwide has been one of the triggers for 5G's success", said Marina Koytcheva, vice president of forecasting at CCS Insight.
"This has sparked intense competition among manufacturers to get their 5G-enabled phones into the hands of consumers. Prices of phones featuring the latest 5G technology have slid rapidly, with devices from prominent brands already reaching £299 or €349 in Europe.
"We expect prices to drop further before the end of the year."
South Korea remains the leading market for 5G adoption, with the proportion of global 5G connections in the country reaching 12% in August 2020, and approximately a third of all mobile data traffic now on 5G networks.
Meanwhile, in Western Europe and North America, 5G-enabled iPhones are lacking, despite mobile operators managing to continue network roll-outs during the pandemic.
In a recent CCS Insight study surveying over 2,000 mobile phone users in the UK and US, among participants yet to adopt 5G, 44% in the UK and 29% in the US said they do not need the latest technology, a rise in both regions on the same question being asked in 2019.
Paradoxically, another challenge to adoption of 5G connectivity is that people's satisfaction with their existing 4G service remains strong, according to the survey.
However, although consumers may not actively seek 5G, the new phones they will purchase in the future are increasingly likely to be 5G enabled, with 60% of all phones sold in in Western Europe and North America in 2021 expected to support 5G connectivity, growing to 85% in 2024.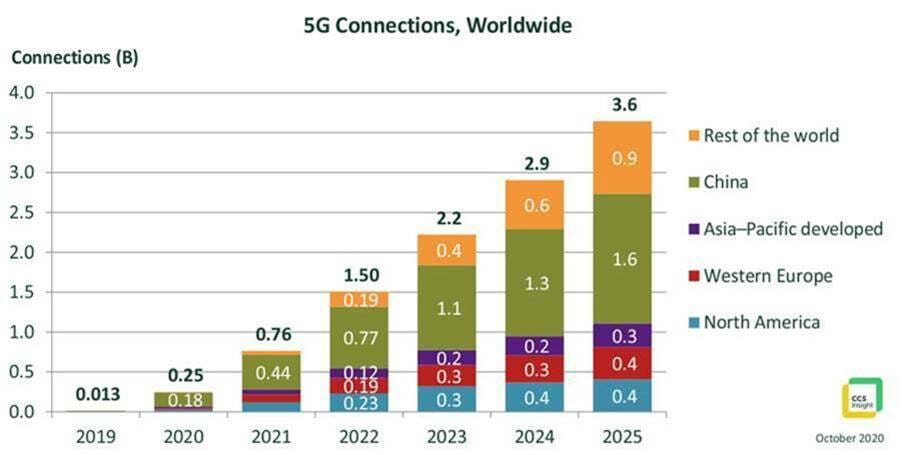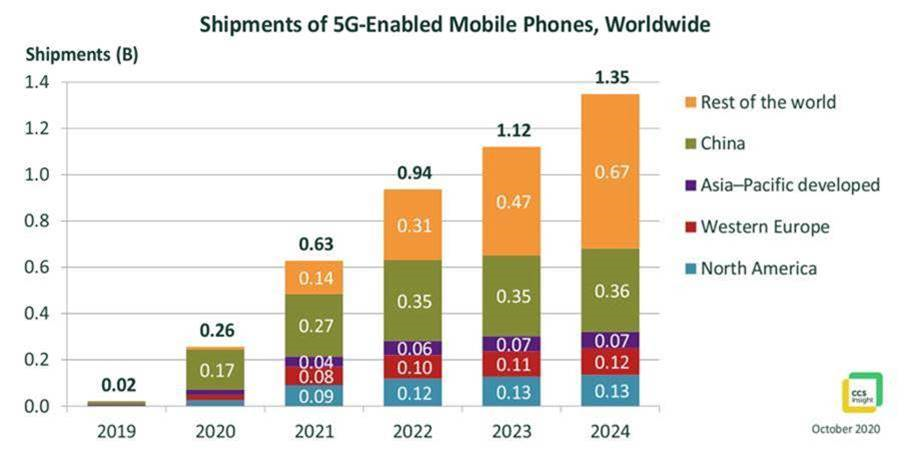 "In the short term, keen pricing and an abundance of device choice will ensure 5G finds the consumer without radically new uses for the technology," said Kester Mann, director of consumer and connectivity at CCS Insight, but Mann went on to cite the need for better explanations of the technology's benefits.
"This is a wake-up call for the industry. Customers need more help to understand how 5G can help them and to overcome some of the clear misconceptions that our research highlighted."
Further details of CCS Insight's research into 5G can be found here.