Commissioner Reynders spoke at Microsoft's EU Innovation Centre about the concerns regarding AI that the European Commission addressed in its whitepaper, as well as how it was trying to gain public trust.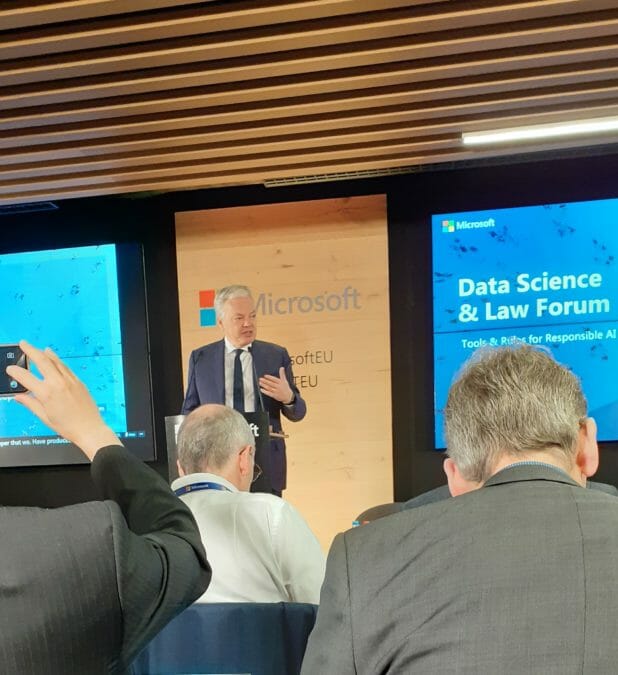 A major concern that has been cited regarding AI is gaining the trust of the public, and Reynders expressed the Commission's goal to have Europe "not only be a digital leader, but also a trusted one."
He continued by stating that "trust is the necessary precondition. As commissioner, my mission is to respect fundamental human rights."
The commissioner explained that the aim was not to amend the EU General Data Protection Regulation (GDPR), but to establish complete understanding of how AI works, and ensure that all member states are on the same page regarding enforcement.
GDPR — How does it impact AI?

Now that GDPR is over one year old, Eric Winston, from Mphasis looks at the interaction between AI and the GDPR. Read here
"The Commission's objective is to ensure the development and proper implementation in the internal market," Commission policy maker Bernd Bertelmann added later on that morning.
Addressing criticism
The EU GDPR in general has been criticised for not being clear about what constitutes adequate security, meaning that some companies have found themselves playing catch-up.
The feeling of uncertainty has also been expressed towards the overall aim of the regulation, and what issues it is trying to address.
However, Reynders insisted that GDPR is not just something that's nice to have, but is "a necessary tool that protects fundamental human rights".
He then went on to state that service providers are chosen based on their data protection.
Facial recognition and authentication
A major focus of EU regulation has been on facial recognition, which has raised concerns of its own regarding privacy of its users.
As well as the use of facial recognition to identify a particular person being banned under GDPR unless that person provides explicit consent, the EU have considered a five-year ban on the technology.
Reynders stated in his speech that, in the wake of the AI whitepaper's release, remote user authentication, including biometrics, will only permitted under GDPR if it's in the public interest.
Facial biometrics: assuring genuine presence of the user

Andrew Bud, founder and CEO of iProov, helps explain how to assure genuine presence when dealing with facial biometrics –– the new standard in security. Read here
Risks to be addressed
The matter of compensation also came up in Reynders' keynote; consumers within the EU are currently at risk of losing out on compensation for AI errors.
However, Reynders said that the Commission will work on directive amendments, product liability directives, and national liability regimes.
The Commission's whitepaper on AI addresses two categories of risk: AI applications that cause harm to personal interests and risking the public at large, and any other AI applications.
What determines what qualifies as 'high-risk' remains to be conclusive, with this still being discussed and tested.
Another notable talking point was that of bias within AI systems; even though discrimination is prohibited under under the European Convention for Human Rights, the complexity that AI, which has often been labelled a 'black box', can provide means that there is difficulty in ensuring complete objectivity without human intervention.
Next steps
The European Commission is set to hold consultations with public stakeholders on AI usage up until the 19th May, as stated by policy maker Bertelmann.
Discussions will be had with member states and the research community, in addition to a planned framework stakeholder conference in the Spring.
In his opening keynote, commissioner Reynders said that building trust with citizens and actors "won't be easy, but it could be the beginning of the process".