When describing the realities of the 'new normal', remote working has a significant role to play, and how to empower a remote workforce in the long term, will become one of the great challenges for business leaders.
In the short term, when coronavirus hit and the resulting lockdown ensued, businesses reacted quickly and put together an amalgamation of different solutions — some that were enterprise ready and some that were not.
Moving forward, organisations will need to embrace enterprise-ready and secure remote working solutions to empower a remote workforce, and evolve their business strategy when it comes to working and productivity.
To find out how to empower a remote workforce in the long term, Information Age spoke to six leaders.
Some discuss the importance of collaboration, communication, tooling, CRM and the cloud, while we begin with how Bloomberg has empowered it's remote engineers during the Covid-19 lockdown.
1. Bloomberg case study
"More than ever, collaboration is critical to productivity and high quality work, inclusion is important to ensuring that our colleagues feel connected and valued, learning is essential to helping us grow, and acting as stewards will ensure that we have accountability for our work," says Wayne Barlow, head of engineering, Market & Community Applications at Bloomberg LP.
To this end, Bloomberg took several proactive measures to support its engineering colleagues around the globe.
Barlow explains: "We've made numerous resiliency and virtual training resources available, including tips on productivity, how to make the most of remote meetings, personal health and mental well-being, as well as recommendations about educational resources for those with children. We've also strongly advised team members to take time away from their laptops and phones to truly decompress.
"Our software engineers are encouraged to use internal collaboration tools, like our Instant Bloomberg (IB) chat function or internal video communications platform, to stay connected to colleagues from home. We've also enhanced knowledge sharing within teams — information they typically get by walking over to someone's desk — by writing down common workflows or examples of common code usage patterns or tests in a shared workspace, in addition to improving software development processes to make projects work-from-home friendly.
"For example, things that are automated, which require a single button press, are easier to explain remotely (or require no explanation) instead of very manual processes. 'Just click this button' is easier to explain than 'First, configure your development environment by running this script in the home directory, then take these complicated steps'."
A remote working guide: how can UK businesses thrive in Covid-19 lockdown?

As the Covid-19 lockdown continues, UK businesses need a remote working guide to prepare them for potential disruption. Read here
2. Communication and tools
Myles Leach, MD at NFON UK, believes that the only way to make remote working work is to empower your employees.
The main way to do this, he suggests, is through communication and tools.
"Business leaders need to make sure that they are communicating effectively with remote workers. This doesn't mean to inundate them with calls that makes them feel they aren't trusted. It's about strategic engagement to ensure they feel supported. A good option for this is a morning kick-off call to identify daily objectives, where employees can ask for help if they need it," he says.
The second factor in empowering the remote workforce is through the right tools.
"We can only be effective when we have the right hardware, like phones and laptops, system passwords and telephony software, so we can seamlessly connect in the same way, as if we were in the office. A reliable and fast home broadband provision is also key — many companies the extra mile by paying for their employee's connection," Leach adds.
3. Collaboration
Thor Olof Philogène, CEO at Stravito, agrees with Leach that communication and tools are important for better collaboration.
He also believes that collaboration should be viewed in a much broader concept.
Philogène explains: "Organisations need to look at technology and processes that enable teams to carry out asynchronous work too. For example, collaboration tools that allow teams to work on projects together without being present at the same time can empower individuals to manage their own schedules.
"The ability to find data and information quickly is also crucial to empowering remote workers. Co-workers can no longer walk to each other's desk to ask where to locate information. To stay productive, inspired and efficient, organisations should look at implementing technology that allows individuals to find research themselves. A move that will ensure everyone can continue making informed decisions, remotely."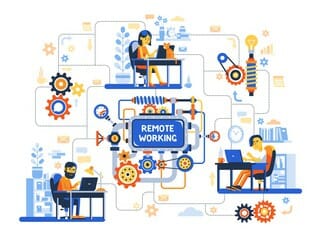 4. The cloud
Pete Braithwaite, chief operating officer at KIT Online, thinks that the cloud represents an opportunity to empower the remote workforce.
Specifically, he refers to the cloud's flexibility, which means that employees can switch to different devices and continue to work on the same project.
"When people tend to be away from their desk, such as those with kids, being able to access their work from a touch device which they can balance and operate with on one hand can be invaluable," he says.
5. CRM
Scott Wallingford, vice president and business unit head for LexisNexis Software Solutions, explains that "with large scale remote working, it's critical to maintain and deliver the data and insights needed for a strategic and collaborative approach across a dispersed workforce."
He believes that empowering a remote workforce, from a CRM standpoint, requires focus on two key areas — "the right infrastructure and governance processes to support data-driven operation; and delivery of data at users' 'point of need'."
From an infrastructure standpoint, Wallingford says that "data quality management and governance must be 'business-as-usual', embedding data change management processes directly in the CRM system. This will ensure that the information held in the system is always accurate and there's 'only one version of the truth'. As the data grows and improves, organisations will find that they can discover patterns in their business, better manage new business pipeline and even leverage the insight for strategic decisions such as entering a new market or industry or launching a new product or service."
The next step, according to Wallingford, is embedding the data into users' day-to-day workflow, so that they have access to it at their point of need.
To illustrate the point, he says; "if professionals in an organisation are able to easily draw latest insights on key clients and prospects based on information existing in the organisation, news articles and activity alerts, intuitively within their workflow – i.e. Microsoft Office or another such application – instantly they are empowered by that data for informed decision-making.
"This approach is immensely possible today with technologies such as AI and cloud computing, coupled with CRM."
How CIOs can overcome remote working issues during the UK lockdown

Chris Conry, CIO of Fuze, discusses how CIOs can overcome the challenges that come with remote working during the UK lockdown. Read here
6. Changing business strategy and attitudes
Stuart Templeton, head of UK at Slack, says that "the sudden shift to remote work has brought into focus two essential factors that employees desire and need to be successful."
He highlights the first as "clarity around team goals and each individual's contribution, and the second is a sense of connection with others. Post-pandemic, these aspects are going to remain critical, with the tools that deliver them underpinning the way we work."
Concluding, Templeton emphasises the importance of change and adaptability when it comes to empowering the remote workforce in the longterm.
"Broadly, our working behaviours aren't the same when working remotely. We've been forced into an asynchronous work mode, and people are finally getting ownership over their time but, in order for this to be long lasting, it requires changes on the part of workers and leaders. Colleagues, managers and teammates need to have trust. We're going to need to move to a mode where people are looking at output and outcomes rather than monitoring as a way to equate presence with productivity."