This week, Red Hat – the open source software giant – is hosting its 14th annual Red Hat Summit in its 25th year, at San Francisco's Moscone Center.
The event has attracted a record number 7,000 attendees, made up of enterprise customers from around the world.
Jim Whitehurst, CEO of Red Hat, opened the summit this morning, stating that "enterprises are now seeing the power of open source like never before, because of the challenges they are facing with digital transformation efforts".
>See also: The value of open source software
The main theme of this year's event is exploration. It is clear that no one person or company has all the answers to the growing challenge presented by digital disruption – a culture change and open approach is required to overcome these hurdles. Companies need to work together and explore ideas and innovations in an open, collaborative way.
"We don't have the answers," said Whitehurst. "We're here to convene the conversation, and act as a catalyst for great ideas," which will help the enterprise innovate and thrive.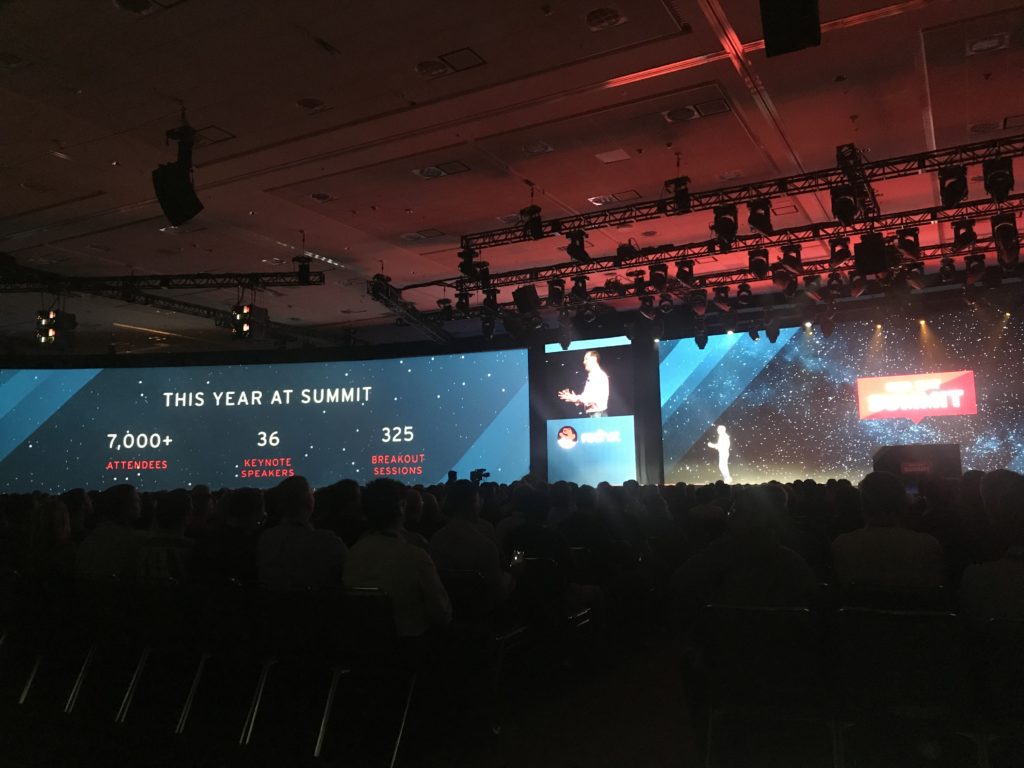 Open spurs innovation
Single company innovation can only scale so far. At the beginning of the internet era a handful of companies were working on hardware and software innovation, like IBM, HP and Sun Microsystems. But this was, inevitably, limited.
Not until Intel came along with its hardware innovation and new ecosystem, combined with Linux – the open-source operating system modeled on UNIX – did things start to change. This was the start of software platforms being built around hardware, a coupling of hardware and software innovation.
>See also: The US Pentagon ready to embrace open source software
This revolution sparked enterprises to bring their own Linux based cloud platforms on-premise to make the most of their existing infrastructure.
The subsequent open and ubiquitous system-level innovation was only possible because it was built on an open framework, and this "is what drove the pace of innovation seen today," according to Paul Cormier, president, products and technologies, Red Hat
 during his keynote this morning.
"The future is open," he said.
Solving real world enterprise problems
This evolving era of openness is fast-becoming the only way to solve real world enterprise problems.
Part of this relates to cost. Companies can't afford siloed technology investments from individual vendors, and need a range of products and offers from multiple vendors, in a cost-effective model. Open hybrid cloud facilitates this.
>See also: Disrupt or die is the new battle cry for software innovation
"Hybrid cloud is the only practical way forward," explained Cormier. And it is "as impactful as anything we've ever seen before".
Businesses are at a stage now where open source/Linux, and everything built around it, is what's driving the enterprise today.
Real enteprise adoption
One of Red Hat's customers – Citigroup Inc. – explained during the opening keynote sessions about the merits and necessity of adopting hybrid cloud into enterprise operations.
Motti Finkelstein, chief technology officer, global strategy and planning and the Americas at Citigroup Inc. said that the financial services industry was now striving to embrace the open, hybrid format of cloud. It will become the defacto for enterprise.
In Citigroup's case, implementing a hybrid cloud strategy was necessary in creating a more elastic and scalable environment, necessary to improve operations and deliver better services for customers.
>See also: Software defined storage: debunking the myths
Many companies are making the decision to work on both public and on-premise clouds. But a significant question remains: how to decide to work on-premise and facilitate this move?
Finkelstein said that there are "multiple dimensions" to consider. One factor relates to risk based on data classification (what that data is and what risk level it is). The other factors focus on demand volatility and responsiveness sensitivity.
Crucially, any decision should rest on whether this new way of working ensures customer benefits and complies with regulatory frameworks.
Open revolution
Innovation is driven by open source development, and now there are over 1 million open source projects. These commercial products run many mission critical applications in business today. "They run the world," said Cormier.
Legacy systems present in pretty much all of the established enterprises are holding back the potential of open innovation. Thousands of computers need to be modernised, containerised and optimised, which is a huge migration task.
>See also: Digital transformation is now a matter of survival
Overcoming this challenge is more sophisticated than any one company can do. But open source – the "centre of gravity for enterprise computing," according to Cormier – will accelerate the necessary innovation and help in the adoption of technology into the enterprise.
Red Hat's acquisition of CoreOS will enable this acceleration and adoption, helping customers build, run and manage containerised applications in hybrid and multi-cloud environments.
(Application) developers have a really important role to play in this new enterprise model. They are piece that's giving businesses their competitive edge, by developing applications that run the business.
"Open hybrid cloud is the driving model of enterprise innovation today," said Cormier in his closing remarks. "The best is yet to come, now Linux and open source software is driving innovation in the enterprise."
Information Age will be at Red Hat Summit all week, covering all the latest news and trends surrounding open source and digital transformation for the enterprise