Increasingly retailers are relying on technology to drive business and remain competitive.
According to Internet Retailer 2016 Europe 500, leading web merchants increased their collective web sales by 16.8% to $165.1 billion (€ 145.01 billion).
UK e-Tailers – those who sell products and services over the Internet – earned £29.53 billion in web sales in 2015 — more than a quarter of Europe's total £114.23 billion online and mobile sales, according to a report carried out Application Resource Centre (ARC), the editorial and research arm of digital experience testing company, Applause.
Nearly 60% of mobile shoppers in the U.K. who made purchases online did so via a mobile app, according to comScore.
Based on these figures the use of the app is vital in retail success in the digital future. By not embracing the app trend large retailers face diminishing potential based on not having an app.
>See also: Internet of Things: a retail perspective
Indeed, the report analysed all the 3.5 million UK app store reviews of the 50 most downloaded retail apps over the previous six months, and concluded that it is imperative for retailers to embrace digital-first strategies that raise the bar for quality in delivering rich customer experiences that accelerate growth.
As part of the extensive study it revealed the features in the apps that shoppers most desire. These include: sales alerts, in-app push notifications, simple transaction flows, elegantly-designed product discoverability, personalised experiences, social engagement, rewards programs, location-based services, flash deals, and boot sales.
The report also includes a graph of the most popular and least popular apps.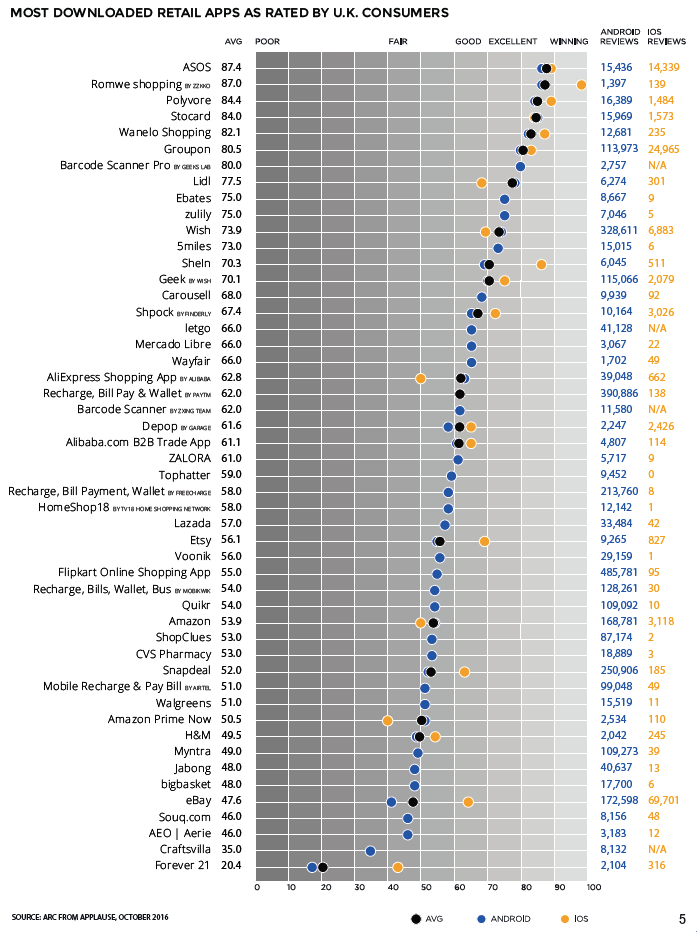 However, ABI Research suggests that retailers may in fact be hindering themselves by putting all their resources into traditional retail apps.
"Retailers remain trapped between the need for an effective mobile strategy and a failure to drive app adoption, with in-store app usage remaining below 10% for many," said Patrick Connolly, Principal Analyst at ABI Research.
"App fatigue is a reality for many consumers; the last thing they need is a separate, unhelpful app for every store they visit. As a result, some retailers are reconsidering the viability of mobile apps altogether."
>See also: Driving retail possibilities and e-commerce with data
The research firm predicts that moving away from these so-called traditional retail apps will unlock the future potential of app technology. That is, grounding app experience in location-based technology, like that implemented by Google Nearby.
"Google Nearby enables retailers to embrace highly focused, task-based micro-apps and web URLs, both of which prompt the user to access hyper-relevant content based on proximity and relevance," said Connolly. "Another approach is to centralise engagement in a commonly used app like Facebook or WeChat."
Retail apps are vital for continuing retail business success. However, as markets begin to stagnate it will be necessary to explore solutions like that of location-based app technology, where there is no need to download apps. Instead they will appear based on your location to any given store.