According to global research body Gartner, the top 10 global original equipment manufacturers (OEMs) accounted for 37.2 per cent of the total market in 2022, but global inflation and recession pressures have sharply weakened demand.
When it comes to purchasing chips for PCs and smartphones in the last calendar year, all of the top ten companies in 2021 remained in 2022, with Apple and Samsung retaining the top two spots.
1st placed Apple decreased spending on computing microprocessing units (MPUs) by 11.7 per cent due to the continuous shift to having its own in-house-designed application processors, but increased spending on non-memory chips by 2.8 per cent.
Only Samsung (2.2 per cent) and 9th placed Sony (16.5 per cent) increased their semiconductor spending in 2022, with the former benefiting from the zero-COVID policy in China, which affected its competitors.
Meanwhile, Sony showed the fastest growth in chip spending in 2022 with sustained global interest in PlayStation 5 video game consoles playing a key role, but chip shortages and logistic network disruption throughout the year proved a barrier that hindered production volume.
"As a result, a sharp drop in consumer demand for PCs and smartphones prevented the top OEMs from increasing unit production and shipments," said Masatsune Yamaji, senior director analyst at Gartner.
"The zero-COVID policy in China also caused serious material shortages and short-term disruptions to the electronics supply chain. A lingering semiconductor shortage in the automotive, networking and industrial electronics markets, raised chip average selling prices (ASPs) and accelerated semiconductor revenue increases in these markets.
"Consequently, these factors resulted in the top OEMs decreasing their share of overall semiconductor spending in 2022 from that in 2021."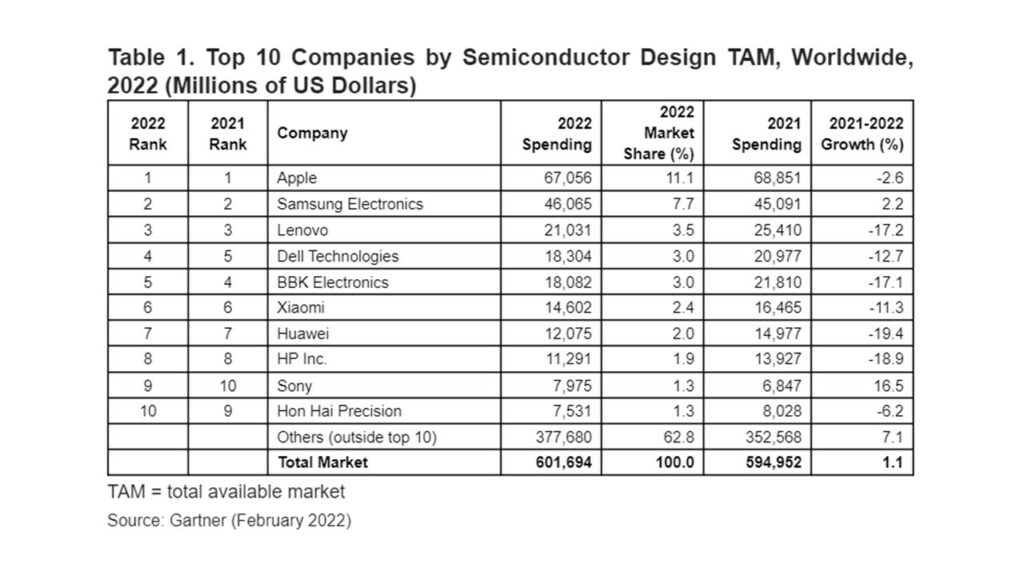 Accounting for approximately 25 per cent of semiconductor sales in 2022, memory was the worst performing device category, experiencing a 10 per cent revenue decrease due to plummeting prices in the second half of 2022 amid tepid demand.
Yamaji added: "The top 10 OEMs accounted for 49.2% of memory spend and consequently saw a significant decline in memory spending."
Related:
Worldwide IT spending to grow 2.4 per cent in 2023, forecasts Gartner — Today's worldwide IT spending forecast from global research and advisory body Gartner has projected a 2.4 per cent increase year-on-year.
UK semiconductor strategy delay criticised by MPs — A committee of MPs has referred to the UK government's delay in publishing a national semiconductor strategy as an "act of self harm".