On 25 January this year at the Grosvenor House Hotel, Information Age in partnership with RBS hosted the biggest technology careers fair for women in the UK: Tomorrow's Tech Leaders Today. There are not enough women in the technology industry because, in part, women are not endeared to the industry.
This stems from multiple factors. The sector is male dominated, which can be off putting and historically not enough has been done to encourage young women to pursue STEM subjects and a possible career in IT and tech.
Angela Alexander, NUS Scotland women's officer addressed this during the leadership panel towards the end of the day, explaining that there are many opportunities and possibilities, but for women it is limited because of perceptions from school.
>See also: Women in IT Awards 2017: winners revealed
Ultimately, socially engineered stereotypes of the tech industry, its history of male dominance and women's perceived place within it have been amplified to significantly dampen diversity and belief.
This notion was sincerely echoed by a number of female graduates who attended Tomorrow's Tech Leaders Today, with one tweeting after the fair: 'Genuinely never thought of a future within tech. The talks totally changed my mind. Hope to even be a future panelist!'. Raising awareness through this medium is crucial, but it is also evident more has to be done to breakdown stereotypes from within educational establishments.
Genuinely never thought of a future within tech. The talks have put a 180 on my mindset. Hope to even be a future panelist! #womentechfair

— Catherine Nicholas (@Cathsn) January 25, 2017
The fair
The day started in frantic fashion with a host of exhibitors from River Island to Google setting up their areas before hundreds of graduates descended on The Great Room in the heart of the hotel.
The first hour was spent networking, which was highlighted throughout the day by speakers and panelists as an essential part of gaining accurate insight into the industry.
The keynote speech shortly followed and was delivered by Cyndy Yap, the chief information officer for commercial and private banking at RBS. Her address largely focused on false perceptions: "women don't aspire to senior roles, women are not concerned with networking, women lose interest in pursuing a career to start a family". She suggested that this was a societal precondition instilled in women and needed to be addressed. Yap called the female graduates in attendance 'to arms, to consciously break this preconception'.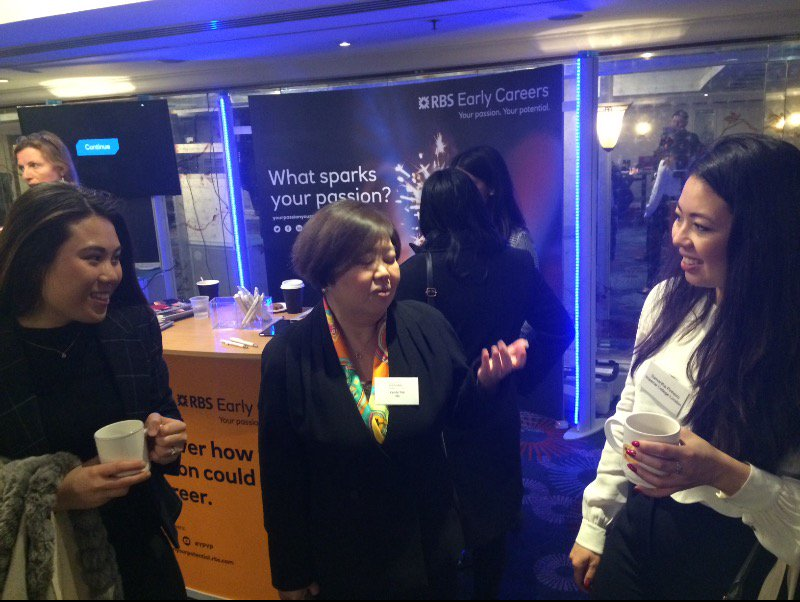 She stated that women do think differently and that this diverse way of thinking was needed in the technology industry to drive innovation. Her closing remarks encouraged the students to be up for the challenge, and that 'the roles are there for you to define'.
What this means was elaborated on by Dawn Graham, head of IT, digital and nuclear at Rolls Royce during the leadership panel. Because the industry is rapidly changing at such an explosive rate of innovation job roles are not fixed, they are flexible and as Graham suggested, might not have been invented yet. 'You could make a new role for yourself in an ever-expanding industry.'
>See also: Addressing the gender gap
Other leadership panelists, made clear that the roles in technology industry were not just the generally scary perceived ones drowned in cables and wires.
Nikol Nacheva, associate consultant at Capgemini said her perceptions instantly changed once she had entered the industry. Before it was 'scary and complex' but after she realised the important role technology would play in 'the future', for both men and women. 'Women have a lot to say,' she said and it is a shared future after all.
The graduate panel preceded Yap's keynote speech and provided some different context for those attending the careers fair – perhaps a more relatable view. Natasha Thirsk, sales programs manager, EMEA clouds at Salesforce explained that she didn't have a technology background and was more business focused within her organisation.
The point, she suggested, was that to enter the industry graduates do not have to be super 'techy' and that, if required, it is possible to learn on the go if a strong knowledge base is provided.
Until the stigma surrounding STEM skills is removed this philosophy of learning on the go appealed to the graduates who might have been worried their skills didn't match up.
This was confirmed by an attendee on Twitter during the event: 'More career driven than ever! So comforting to learn you don't have to have a tech specialised degree to go into the field'.
>See also: Breaking up the old boys club: female IT leaders address the gender gap
Panelists from Vodafone (Heather Simmons, global data centre, project manager) and RBS (Jetmira Limani, business technology graduate) expressed to the graduates the level of inclusion they felt in their organisations, suggesting a friendly environment that promotes diversity.
Noelia Lopez, IT and cloud solution architect at Ericsson highlighted this by stating her organisation had targeted to have 30% women by 2020, with more women in management roles. Other discussions throughout the day included workshops from Rolls Royce and Salesforce, where the speakers demystified the grad scheme process.
Events like Tomorrow's Tech Leaders Today are fundamental for motivating and inspiring women into the technology sector. It helps break down stereotypes, boost confidence and provides a platform for networking where real opportunities to enter the industry materialise. For future generations even more has to be done, starting by ripping down preconceptions at school.