The world, in both a business and personal setting, continues to be disrupted by digital trends that are driving innovation across industries and sectors.
Digital trends continue to create richer, more personal customer relationships, while enhancing operations and processes across the board. These trends are ultimately helping organisations reimagine their capabilities and stave off elimination in the era of disruption.
Information Age asked ten experts for their views on what are some of the key current digital trends, and how they will shape future endeavours.
1. 5G
Chris Dixon, technical consultant at Axians UK, explains the benefits that 5G will bring in an increasingly connected era. 'The benefits of 5G, if it is deployed well, will extend far beyond just increased bandwidth.
'Specifically, with the massive interest in the Internet of Things (IoT), the increase of capacity will be of most importance to users. With this increased capacity, the ability to provide low-latency and high-availability connections to certain IoT device types will be crucial.'
He continues, 'A good example of this high-capacity, low-latency, high-availability set of requirements can be seen in the context of Vehicle-
to-Everything (V2X) architectures. This goes beyond the requirements of smart navigation that exists in many cars today, signalling the road towards automated driving as well as road safety and traffic efficiency services.'
>See also: 5G will be transformative for the UK
However, the potential 5G offers must be managed, notes Dixon. The energy use from both the operator's side and the device's side must be monitored, and 'the 5G standard will have to be efficient in its energy usage, especially in the case of battery-powered devices'.
Dixon adds, 'In terms of challenges, 5G looks to be the catalyst for wide-scale IoT deployment. Therefore, naturally large-scale capacity and geographical penetration will be the key technical and delivery difficulties.
'Another notable challenge is that there has been no formal standard for 5G agreed. However, this task is being tackled by the 3rd Generation Partnership Project (3GPP), an international collaboration between telecommunications associations that has previously released standards for 3G and 4G.'
2. Voice search
Matt Bush, The UK director of agencies at internet giant Google, believes that voice search is a digital trend that will become more prevalent in everyday life. 'Voice search,' he says, 'is a fundamental trend impacting digital, and is something more frequently being used by consumers.'
He points to Google research into search and voice which highlights that 75% of consumers search more often now that they have access to voice search, while 45% believe voice to be the search tool of the future. Finally, the report found that 89% believe that voice search will enable people to search for anything far more efficiently.
'This research is proof that a classic adoption curve is bearing out when it comes to usage of voice, as those who have taken up using voice in the past six months use it far more regularly than those who took it up years ago,' comments Bush. 'As natural language processes become more advanced, this digital trend will be fully embraced by the consumers of the future. And, as voice becomes more commonly used among consumers, we can only expect interest in this tool to peak.
>See also: Taking voice interaction to the next level
'Businesses that start to incorporate voice search into their digital strategies today will be the winners of the future. They will be able to communicate easily with customers in a way that engages them, and this will have a profound impact on customer satisfaction, loyalty and overall brand success.'
3. Intelligent assistant
The intelligent assistant – think Amazon's Alexa or Google Home – has made waves in the commercial setting this year. The rise of this digital trend perhaps represents the greatest impact on consumers in 2017 in terms of adoption.
Stephen Parker, CEO of Parker Software, agrees and suggests, 'One of the most notable applications of AI from the past few years is the creation of intelligent assistants.
'They are interactive systems that can communicate with humans to help them access information or complete tasks. This is usually accomplished with speech recognition technology, such as Apple's Siri, Microsoft's Cortana or Amazon's Alexa.'
>See also: When will AI bots replace virtual assistants?
However, he believes that most intelligent assistants are not reaching their potential: 'Today, intelligent assistants are simply consumer facing and are somewhat general in the tasks they can complete. However, these applications are now making their way into more advanced customer service settings.'
4. Apps
Michael Brown, systems engineering manager at F5 Networks, believes that 'apps sit at the heart of our rapidly evolving digital landscape'. He adds, 'At one level, they are time-saving functions for consumers that sit as clustered icons on the home screen of their smartphones.
At another level, they underpin crucial functions in enterprise processes. In line with the wider digital revolution, apps are undergoing a remarkable change.' The integration of artificial intelligence will define the next generation of cognitive apps, suggests Brown: 'These will not only provide users with highly personalised, real-time service, but offer predictive and preventative capabilities.
>See also: WeChat: China's app that will shape the mobile's future
Combining multiple sensors with real-time data analytics, they are set to provide insight, and even foresight, to optimise our decision-
making capabilities.'
Looking to the future, Brown believes that these cognitive apps will make better decisions than people, but that this capability will depend on 'rich new data sets'.
5. VR (and AR)
'The VR market is primed for widespread adoption,' explains Gary Radburn, director of virtual and augmented reality at Dell. This statement comes with the expectation that by 2025 there will be 216 million active users engaged with VR in a $45 billion hardware market.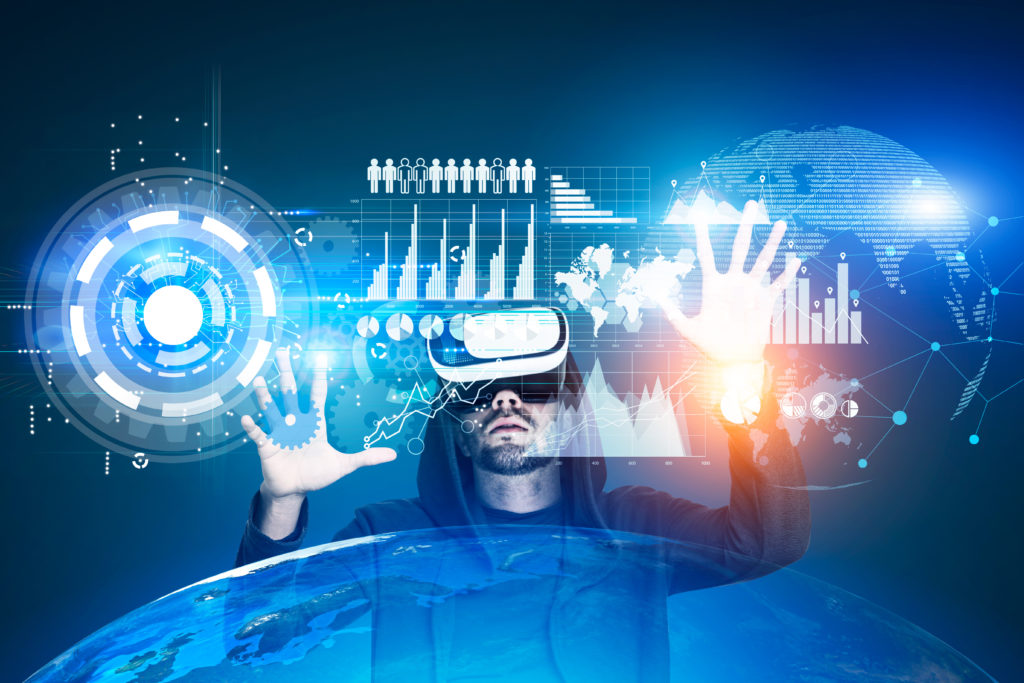 'Perhaps the most exciting thing about virtual reality is that there really is no cap on the creative ways that organisations across every industry can use it,' remarks Radburn. 'From oil and gas, media and entertainment, construction, engineering and manufacturing to healthcare, VR is set to digitise businesses to improve customer experiences, train employees, enhance collaboration, improve product design and speed time to market.
>See also: Reality bites: VR, AR and the enterprise network
'While still some way off mainstream adoption at work, it is clear that both AR and VR are already playing a pivotal role in helping organisations attract and retain top industry talent.'
Indeed, Phillip Blaydes, co-founder of Talentful, says 'Virtual reality has the potential to be a game changer in the hiring process, helping people and companies make better recruitment decisions.'
6. Chatbots
Chatbots will be popping up everywhere, according to Hayden Allen-Vercoe, COO of Orbital Media.
'Expect to see more chatbots appearing as companies integrate a social chatbot for the benefit of 24-hour real-time engagement with consumers, especially in relation to consumer services and product sales funnels.
>See also: A CIO's guide to chatbots: Everything you need to know
'Rapid developments in artificial intelligence will see bots become central to the marketing mix. Consumers will become more reliant on bots for things like ordering shopping and breaking news. Expect chatbots to look and feel human while reflecting the brand image.'
7. Digital media
The impact of various digital trends will extend to the media, suggests Jon Carney, chief digital officer at McCann Worldgroup EMEA, in what he calls 'the rise of the dynamic creative for programmatic'.
'According to IAB, 80% of UK digital media will be traded programmatically in 2018,' says Carney. 'This presents a massive opportunity to drive new levels of precision, efficiency and highly personalised one-to-one messaging at scale.
>See also: How the next generation is shaping its digital future 
'Dynamic creative will be one of the transformative trends of the coming years, but the challenge remains the same – how can we tell better stories, with greater meaning, using technology?'
8. Mobile device management
Todd Carothers, executive VP of sales and marketing at CounterPath, suggests that as BYOD and remote working – enabled by digital technology – continues to surge in popularity, MDM vendors will need to adjust their operations:
'They will need to develop as much device control as technically possible, and develop repositories to hold secure data that can be mined for security and auditing purposes.
>See also: Enterprise mobility management: the mobile device at work solution?
'Additionally, we'll see more real-time alerts and triggers being developed to enable monitoring to be enhanced and integrated into business proprietary IT applications.'
9. Security
Security is the biggest issue facing organisations, governments and populations across the world – from the cyber world to the physical one.
In terms of digital threats, the number of cyber attacks proliferated in 2017 has never been greater. Recent ransomware attacks exploited by the WannaCry and Petya strains have affected firms around the world.
>See also: 10 cyber security trends to look out for in 2017
However, this trend can be reversed, and cyber security solutions will have to evolve, according to Sanjeev Shukla, managing director of Accenture Security: 'For example, we will start to see the use of AI and machine learning to make security safer, cheaper and more efficient.'
10. Integration
The digital revolution provides organisations with opportunities unlike ever before. Digital trends – like those mentioned by experts above – will help realise these opportunities, and integration of these digital platforms will be at the forefront of business transformation.
'There are now more opportunities for organisations to integrate multiple public and private cloud services into their legacy systems,'  for example, suggests Mike Sewart, director of strategy, portfolio and innovation, EMEIA at Fujitsu. 'The challenge will come in seamlessly integrating the legacy estate into an ecosystem of third-party public cloud platforms that all provide "best of breed" business services.'
>See also: Cloud growth brings ERP integration challenges
Now, it is more important than ever to embrace digital as disruption impacts every organisation. 'Key to organisations' success when
navigating the digital trend will be to leverage the partner ecosystem to work more collaboratively, driving a new culture of collaboration,' concludes Sewart.
The UK's largest conference for tech leadership, Tech Leaders Summit, returns on 14 September with 40+ top execs signed up to speak about the challenges and opportunities surrounding the most disruptive innovations facing the enterprise today. Secure your place at this prestigious summit by registering here