It's easy to moan about mobile apps. Is this just another thing distracting you from your conversation? Why don't we put the phone away, at least for a dinner? Do you need to track sugar levels now? Do you really want Google to know your blood pressure?
But criticism does not measure up to the immense interest and usefulness of such apps. Patients around the world are trusting mobile helpers more and more every day.
>See also: The future of tech in healthcare: wearables?
Healthcare app development companies have even more to offer than consumers are ready to buy. Feels weird? Let's look at the numbers:
• 66% of Americans use mobile platforms to manage their health issues. 79% would use a wearable device (Pulse of Online Health, 2015).
• Almost 100K health-related apps have been added by 13K new publishers to the market since 2015. At that moment, there had already been 259,000 medical apps in major app stores (Research2Guidance Annual mHealth Report, 2016).
• The growth of downloads slowed down in 2016 as compared to 2015 (35% to 7%) (Research2Guidance Annual mHealth Report, 2016).
• The graph below demonstrates who are the users of these platforms and what exactly those users want.
The market opportunity seems to be evident. But how to make apps that will really be downloaded? It is important to look at the forefront of mHealth R&D. Here is what we found out about top 7 trends in healthcare app development.
Trends and functions
Trends emerge where new customer needs appear (or new technologies that suit those needs). So, before we get down to the technical mHealth issues, it is useful to look at the healthcare industry as a whole.
>See also: The future of the Internet of Things in the healthcare sector
In the previous infographic, we've seen who and why uses apps in this business. Now, let's talk about 'how' they use it, and the functions of software inside and outside of clinics.
Here is how patients use mobile services to manage their health:
1. as reference books and tutorials (first aid kits and databases like Epocrates or WebMD);
2. as tools to quickly share their data with doctors and get feedback (ShareSmart);
3. for comparing prices, locations, and specialists (aggregators like GoodRx);
4. for tracking all kinds of biological data (Eve tracks menstrual cycle, AsthmaMD helps with asthma, SugarSense monitors sugar level);
5. as journals and reminders (ZocDoc, RoundHealth);
6. for training (Glasses off, Motion Traxx etc.);
7. to find donors, clinicians, and nurses (networking applications like Doctor on Demand or Red Cross Blood Donor).
In a graph below, we show where new technologies meet these needs.
7 key trends in healthcare mobile app development
1. Corporate apps
When people hear about health app design, they tend to think of fitness trackers. In reality, 66 out of 100 largest hospitals in the US design and develop their own applications (Accenture Technology).
>See also: The next necessary step in healthcare: remote mobile solutions
The institutions like hospitals and insurance companies can build a healthcare app and profit from it. It also makes sense to develop a mobile app for a healthcare consulting firm. The only thing to keep in mind is that the app should have great UX for the consumers, and the hospital staff alike.
2. Encryption
Many internet users already feel uncomfortable about Facebook tracking their coffee drinking patterns. But if the records about pregnancy or antidepressant consumption suddenly become public… Well, the scandal is guaranteed.
The companies like Morpheo use blockchain to protect their data. Google's DeepMind encrypts all of its texts and images. It logs in all the data use and audits it according to the best standards.
3. Artificial intelligence
AI has two main uses:
It is an ideal way to personalise customer care, especially with speech recognition.
Health assistants like Babylon help people identify their diseases. AI can also act as a reminder to take pills or do health-related procedures, building a custom plan for every user.
NHS and other institutions use deep learning to prevent lethal diseases at early stages. Watson for Oncology (currently tested by IBM developers) makes predictions about cancer.
>See also: Beware of hackers: people deserve a more secure healthcare system
An algorithm from Stanford is studying over 100 pictures of skin formations to indicate skin cancer. DeepMind is also learning from eye scans.
4. Video chats
Robots have not replaced humans completely. People still need doctors, and the best way to connect with them is by video calls. Ada, a very stable solution for a startup, and offers both reference information and video chats with healthcare experts.
There is a special cost to make a healthcare application of this kind: the content from the chosen professionals should be peer-reviewed. Ideally, there must be a set of requirements for the doctors, too.
5. Geolocation
How much does it take to get to the nearest emergency care unit? Where can I get this antibiotic? Apps like Your.MD give location-based answers. Other apps use GPS to find out where you are, what you are doing, and whether this activity is against the doctors's advice.
6. Wearable tech
The healthcare industry has much to gain aside from the classic iOS or Android apps for smartphones.
>See also: Safeguarding data: the rising challenge in the world of healthcare IT?
The market of smart fitness trackers, pulse oximeters, sugar, blood pressure, and heart rate monitors is predicted to grow by 35% in 2021 (ABI). Lumify, for example, that is one of 2016 Webby winners, works as a smart ultrasound scanner.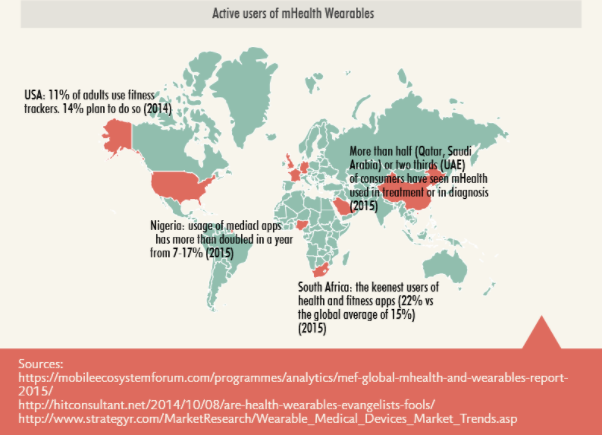 7. Gamification
Medical routines are stressful. Working on healthy habits drives customers crazy. The answer? Play a game with them. Why just run if you can run from zombies? (the app using this insight is called 'Zombies, Run!').
WebMD offers women pregnancy quizzes. If you want to create an app for a healthcare industry, gamification will help you stand out from the crowd.
Best practices
Surely, getting to know the basics of latest trends is not enough. To develop an in-demand healthcare app that is hype requires more in depth knowledge.
>See also: What is the healthcare approach to IoT security?
To sum it up, here are three best practices to use to make your future medical app better:
• Know your target audience. Apps for clinicians differ from those designed for individual consumers.
• Care for customer experience. When the price of high-quality solutions seems too high, consider other ideas.
• Use apps as part of the overall client-oriented process. End users have many other ways to connect with you rather than apps. Those ways should not to be neglected.
Sourced by softermii.com