A renaissance is happening with open source software. IT managers are constantly searching for new ways to harness the power of open code, especially as more companies move to the cloud.
With Netflix's goal of making entertainment streaming ubiquitous, to NASA's ongoing exploration of the great unknown, it is no surprise that a recent Linux Foundation report asserted that open source professionals are in more demand than ever.
Open source is expected to play a large role in the next big wave of evolution in the tech world. The future includes AI, machine learning, and big data analytics, which will not only make our systems smarter, but more valuable than ever.
>See also: Open source security challenges in cars
New open specifications make it easy to build upon old material with new functionality as such technologies evolve. This enables the creation of new and innovative operability that meets specific business needs.
Open thinking operates at multiple levels within the open source community. It's a large and passionate society that enables open collaboration and sharing, which results in added value to existing products and creates new ones.
Anyone can freely use, change, and share open source software in modified or unmodified form. While companies working in commercial open source add value by turning what may appear as raw material to other enterprises into whole products. Embracing an open source mindset is an invitation for innovation, and enables organisations to break free from proprietary vendors.
There are commercial benefits across the board when vendors employ open thinking at all levels (open source, open standards, open APIs). The enterprise customer doesn't have to be locked in, can access innovation across the community, and most importantly is able to quickly, and nimbly respond to ever changing market conditions.
>See also: Open source technology in enterprise
Pentaho Founder and CTO, James Dixon, compares the approach of commercial open source to the functionalities of a Bee Farm. Of course bees produce honey on their own in the wild and one could gather it directly, but most people buy honey that comes from a farm. A beekeeper's role in this supply chain therefore is essential, as they must first create conditions that attract bees and then collect the resulting honey before refining, packaging, and distributing it in a way that appeals to consumers. This open ecosystem adds value throughout the chain, from the bee to the beekeeper, to the customer.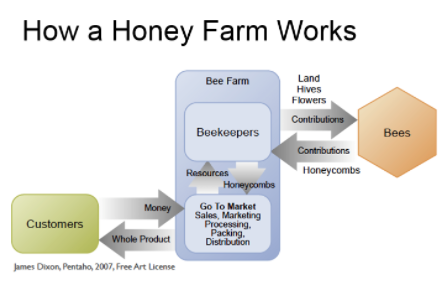 In commercial open source, the vendor takes on the role of the beekeeper by first creating conditions in a community that attract, and retain contributors. It then applies resources to further refine, enhance and support the software to create a better product for all:
• The community gains from software that has more functionality and resources than a 'pure' open source project could provide.
• The customers gain higher quality software at a better price than proprietary alternatives.
• The commercial open source vendor gains by growing and increasing its valuation through keeping both contributors and consumers content.
>See also: What lies ahead for open source technology in 2017?
Beyond open source, open standards and open APIs additionally allow for others to innovate on top of a platform such as the one we offer from Alfresco. International IT Company, Tech Mahindra, has shown how open thinking begets an ecosystem where we all win.
The company has developed a machine learning algorithm to make the content within an Alfresco repository smarter. Once trained, the algorithm can automate the time consuming, error-prone task of adding appropriate metadata tags to unstructured content. When conducted by humans, this step is often overlooked when new objects are added, even though the process is key to quickly and accurately retrieving content later.
Automating processes enables employees to spend more time on value added tasks and minimises inefficiency business-wide. With relevant content no longer locked away behind layers of irrelevant or uncategorised information, so that responses to partners or customers can be optimally delivered.
>See also: Apache: 17 years on in the open source community 
In today's digital age, agile and flexible organisations are gaining a competitive edge, continually learning, adopting, and re-engineering to constantly evolve the business.
Whether your organisation is just dipping its toes in digital transformation, or your business is well on its way to streamlining process, content and governance services, open source is an essential consideration. And an open architecture enables the development of new and compelling business solutions that are adaptable to whatever the future may hold.
Sourced by Chris Wiborg, vice president, Product Marketing at ‎Alfresco
The Women in IT Awards is the technology world's most prominent and influential diversity program. On 22 March 2018, the event will come to the US for the first time, taking place in one of the world's most prominent business cities: New York. Nominations are now open for the Women in IT USA Awards 2018. Click here to nominate