As more and more people are learning about the blockchain and its potential, we're seeing more opportunities than ever in almost every industry. A previously hidden-away, largely unknown opportunity that was limited to computer buffs has now been opened up and made available to the whole world.
One of the first major industries that are likely to be interrupted by these new technologies is one you probably hadn't even thought of: freelancing.
The rise of cryptocurrencies
Cryptocurrency is digital money. It is created from code and is free from all governmental oversight. The economy is completely decentralized and is instead monitored by a peer-to-peer internet protocol.
>See also: A how-to-guide: payment for development services with cryptocurrency
Using cryptocurrencies has many benefits over regular currencies. The main advantages include:
It reduces fraud

– once a cryptocurrency has been transferred, it cannot be counterfeited or reversed by the sender. This is not the case with credit card transfers.

Lower fees –

the middleman is completely cut out due to the centralization of the blockchain, and there are no transaction fees.



Universal recognition

– cryptocurrencies are not bound by the exchange rates, interest rates, or transaction charges of any particular country. They have been designed to be used at an international level without any problems – making it a great option for our increasingly global economy.
CanYa brings cryptocurrencies to the gig economy
One up-and-coming platform that has already received a lot of positive attention in Australia is CanYa. It aims to become the world's best blockchain-powered service marketplace.
The platform is a fully featured marketplace of peer-to-peer services that includes inbuilt chat, VoIP, calendar, alerts, payments, listing management, reviews, quotes, direct bookings, detailed pricing, job broadcasts, and more.
>See also: What is bitcoin?
CanYa's payment system is a decentralized, trustless escrow system. It is powered by the CanYaCoin (CAN) – an ERC20-based coin.
Users store their CAN in their CanYa wallet, and they can use it to pay for local and global services. Service providers will earn CAN in exchange for their skills and services.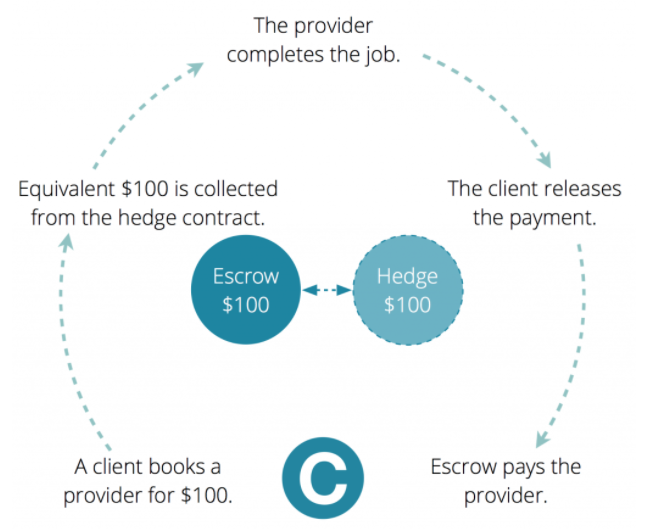 There is also no need for users to worry about price fluctuations, as CanYa uses a hedged escrow contract to protect its users from the volatility of cryptocurrencies. This means that even if the value of a cryptocurrency changes while a contract is in place, the user will still receive the amount agreed on at the start of the contract. This guarantees that freelancers receive a fair price for their work, and that clients don't have to worry about being overcharged.
Users can either spend their CAN in the app, or they can exchange them into Bitcoin or Ethereum for free and send them immediately to their wallet.
CanYa changes the way we freelance
The freelance industry is growing massively. By 2020, it is expected that 40% of America's workforce will be freelancers.
When it comes to hiring freelancers, websites like Upwork and Fiverr have worked hard and spent millions of dollars to etch themselves into our minds as the 'go-to' platforms for hiring freelancers. In fact, they've completely dominated the market.
The main problem with these websites is that they essentially act as middlemen, and take a huge cut from their freelancers in exchange for allowing them to use their platform. In most cases, the cut is as high as 20%. When users are relying on these websites as a full-time source of income, this is a very significant amount.
>See also: The best Bitcoin apps
But CanYa could be just what it takes to disrupt the system.
The platform will be especially effective for digital freelancers who live in countries with volatile systems, for freelancers who want to bypass the high commissions associated with international trading, and also for cryptocurrency holders who wish to digitize all of their transactions without cutting off potential business opportunities.
Users will also have the opportunity to make money using CanYa's referral program. Right now, CanYa incentivizes people to refer their friends to the platform by rewarding them with $10 credit. In the future, the reward will be issued in CanYaCoins. It is hoped that this will help to incentivize users to try out the platform.
The team behind CanYa have designed this model with the aim to give the best providers the most exposure, and therefore the best work.
For more information on how CanYa works, you can take a look at their white paper.
The mainstream adoption of cryptocurrencies
There's no doubt that cryptocurrencies are quickly picking up traction. They haven't been fully adapted yet – there are definitely still a lot of skeptics out there. But they could become mainstream faster than we'd thought.
>See also: Ransomware, cyber insurance and cryptocurrency: are you covered?
Platforms like CanYa are exactly what we need to accelerate the mainstream adoption of cryptocurrencies.
CanYa's ICO will officially start on the 26th November and will run until 26th December, or until the total supply of 100,000,000 tokens has been claimed.
For more information, you can visit their website.