The winners will be announced at an awards ceremony at the Grand Hyatt Hotel, 109 E 42nd St, New York, on 25 March 2020.
The awards, organised by Information Age (a Bonhill Group plc publication), with headline sponsor AWS, serve to showcase the achievements and innovation of women in technology and identify new role models in a sector where female representation stands at only 25% in computing jobs.
"The Women in IT Awards Series has grown significantly since its inception six years ago. We have been blown away by people's passion and enthusiasm for this cause. Last year's event in New York was spectacular and this year's event will dazzle," said Nick Ismail, content editor, Information Age.
"This year we received 500 nominations, showcasing an amazing array of talent across North America's technology industry. All of the finalists deserve a massive congratulations for the achievements that have resulted in them being shortlisted for an award. We can't wait to welcome everyone for one of the biggest nights in technology on 25 March."
Joining our headline sponsor are premium sponsors — J.P. Morgan and Frank Recruitment Group — award sponsors — Accenture Security, BP, Google Cloud, IBM, Red Hat and Rolls Royce and Syncsort — and our media partner: Wall Street Technology Association.
"A massive thank you to all our sponsors and partners, without whom these events would not be possible. Your continued support and advice have been integral to the event's success and we hope to work with you until the gender gap is closed in the technology industry," added Ismail.
Preceding the awards, we are hosting the second annual Women in IT New York Summit at the Grand Hyatt Hotel, headline sponsored by Accenture Security.
To book tickets for the awards, visit the event website.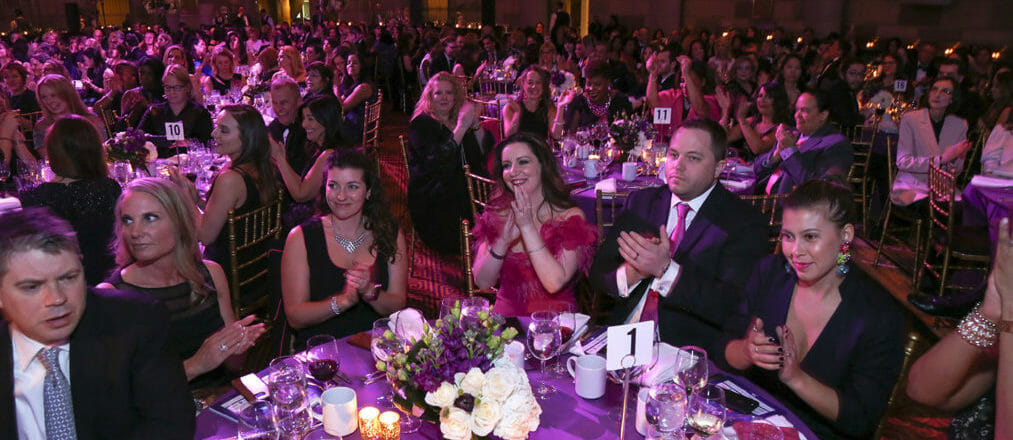 Our diversity campaign
In 2017, the Women in IT Awards New York was the first time Information Age took our diversity campaign global.
Since then, we have launched events in Dublin, Silicon Valley, Singapore, Berlin, Bucharest and Toronto, to add to our events in London and New York — "the Women in IT Awards is now a global phenomenon and the leading technology diversity series in the world," continued Information Age's content editor.
"The lack of diversity in tech is not a problem isolated to the UK, which is why we have made it our mission to recognise women in tech across the world."
We run a further diversity event in the UK: Future Stars of Tech, which identifies and promotes the industry's top female career climbers.
Women in IT Awards New York 2020 shortlist
Advocate of the Year
Netta Gaye-Jenkins, Mosaic Group & Ask Applications (IAC)
Sharon Harvey, NTT DATA Services
Michele Malejki, HP Inc.
Lydia Martin, Yale
Victoria Pelletier, IBM
Alicia Staley, Medidata
Angela Tolliver, Cox Enterprises, Inc.
Tracey Welson-Rossman, TechGirlz
Diya Wynn, AWS
Business Role Model of the Year
Jennifer Bonner, Solutions By Design II, LLC
Claudia Franco, Rocket Software
Amy Johnson, dv01
Neha Joshi, Accenture Security
Angela McVeigh, RAI Services Company
Sydney, Pat V. Mack, Inc.
Amy Radin, Daily Innovator LLC
Sowmya Rajagopalan, Tata Consultancy Services
Georgina Smallwood, N26 GmbH
CIO of the Year
Angelic Gibson, AvidXchange
Teri Green, Lite Technology Solutions
Mary Kotch, Apollo/Aspen Insurance
Karen MacKay, Rolls-Royce
Tenna Piccione, RTI International
Anna Ransley, Heineken USA
Michelle Trupp, Tower Health
Marykay Wells, Pearson
CTO of the Year
Kelly Bell, Gotham City Drupal LLC
Chandra Dandapani, CBRE
Barbara Morgan, FIS
Neetu Rajpal, Lilac Software
Pamela Rice, Earnest
Heather Rivers, Mode
Ulku Rowe, Google
Minerva Tantoco, City Strategies LLC
Data Leader of the Year
Jennifer Clevenger, Etsy
Lauren Dillard, Nasdaq
Victoria Gamerman, Boehringer Ingelheim Pharmaceuticals, Inc.
Karen Hyman, Rolls-Royce North America
Adita Karkera, Arkansas Division of Information Systems
Mihaela Nistor, Bloomberg LP
Tiffany Perkins-Munn, BlackRock
Tara Raafat, Mphasis
Barkha Saxena, Poshmark
Aimee Webster, S&P Global
Digital Leader of the Year 
Falguni Desai, Equities Technology Credit Suisse
Linda Dotts, Blue Prism
Brooke Forbes, Fidelity Investments
Lindsay Lockhart, Neocova
Smitha Murthy, Axtria — Ingenious Insights
Denise Russell, The Boeing Company
Melissa Stevens, Fifth Third Bank
Jessica Wong, American Dream
Lisa Woodley, NTT DATA
Diversity Initiative of the Year
ACF Women's Council, Accenture Security
Women in Technology Initiative, T-Mobile
Women in Technology Chapter North Carolina, Pearson
Unity Week, IHS Markit
Women@eBay, eBay
SheWorks!
Women Who Succeed, Atos
IGNITE, Dow Jones
Colors of Stem, A Cloud Guru
Employer of the Year
AvidXchange
T-Mobile
Growth Acceleration Partners
CircleUp
Beyond
HP Inc.
IHS Markit
Atos
Entrepreneur of the Year
Sahar Arshad, CloudMedx Inc.
Kirsten Bay, Cysurance
Jennifer Bisceglie, Interos
Clare Flynn Levy, Essentia Analytics
Ruby Kandah, CloudX
Vicki Mayo, The Touchpoint Solution
Suuchi Ramesh, Suuchi Inc.
e-Skills Initiative of the Year
CO.LAB, Red Hat
Georgia Blockchain Coalition
TechUp Women
Innovator of the Year
Debra Barta, Mastercard
Mariesa Coughanour, Cognizant
Sowmya Gottipati, Estee Lauder Companies
Sinem Guven, IBM T. J. Watson Research Center
Tara Khanna, Accenture Security
Heidi Messer, Collective[i]
Kavya Pearlman, Wallarm
Sheela Ramamurthy, VirtualHealth
Bernadette Rotolo, Warner Music Group
IT Team of the Year
Red Hat, Stefanie Chiras
J.P. Morgan Asset Management, Sheetal Gandhi
BP, Keisha Garcia
J.P. Morgan Asset & Wealth Management, Ebele Kemery
Tech Data, Cheryl Neal
School District of Palm Beach County, Dawn Pumphrey
NTT DATA Services, Lisa Talcott
Pearson, Marykay Wells
Male Ally of the Year
Kelly Bissell, Accenture Security
Devon Bryan, KPMG
Mark Goldin, Cornerstone OnDemand
James Heighington, Google
Michael Pass, Scivantage
Fletcher Previn, IBM
Rob Suarez, BD (Becton Dickinson and Company)
Rising Star of the Year
Jigyasa Grover, Twitter, Inc.
Ceena Jacob, BP
Ana Oromendia, Medidata
Aditi Roy, Siemens
Anne Solmssen, Ethena
Indira Soodeen, JOLT Advantage Group
Julie Vietmeier, Bayer
Security Champion of the Year
Chitra Elango, FannieMae
Patricia Hinerman, Interpublic Group
Octavia Howell, Equifax
Virginia Mayo, IBM
Kavya Pearlman, Wallarm
Lena Smart, MongoDB
Jennifer Steffens, IOActive
Rebecca Wynn, [24]7.ai
Tech Evangelist of the Year
Melanie de Vigan, Atos
Cathy Hackl, The VR/AR Association
Rebecca Kelly, Kx
Jeanne Meister, Future Workplace
Laura Miller, IHS Markit
Jill Sacco, Microsoft
Nora Swanson, AKF Group
Sadia Tahseen, UL LLC
Tech for Good
Barbara Bickham, Trailyn Ventures, LLC
Happiness Kisoso, The City of Austin
Lisa Lescroart, J.P. Morgan Chase & Co.
Lisa McLaughlin, Workit Health
Jennifer Rivera, Moodys Corporation
Faye Sahai, Vinaj Ventures and Telosity (Vinaj parent company)
Transformation Leader of the Year
Suzi Connor, Centers for Disease Control and Prevention
Debbie Conway, PBF Energy
Michelle DeCarlo, Lincoln Financial Group
Anchal Gupta, Barclays
Dorothy Helfenstein, Booz Allen Hamilton
Purvee Kondal, Globality
Cheryl Orange, FedEx
Wendi Runyon, Schneider Electric
Woman of the Year
Heather Ames, Neurala
Rhonda Childress, IBM
Karina Costa, LynQ
Ana Damnjanovic, IHS Markit
Nicole Eagan, Darktrace
Pamela Gupta, OutSecure
Eileen Mahoney, PVH Corp
Yasha Sterling, Yasha Sterling Management Agency
Young Leader of the Year
Agnes Chrakowiecka, IHS Markit
Karla Clarke, KPMG LLP
Alexa Elias, Alphadyne Asset Management LP
Katoria Henry, Zermount Cybersecurity Consulting, Inc.
Nishtha Jain, GlaxoSmith Kline
Luiza Helena Santos Nunes, Thoughtworks
Ali Urman, Urman Consulting
Iris Yung, Bank of America
Lauren Zink, Oportun