With the coming United Nations Climate Change Conference (COP26) in Glasgow scheduled next week, the goal of an efficient green data centre has become a mandatory trajectory. But with the growing number of data centres, their density, the volume of data we all generate, and above all the vast choice of mobile applications that produce data, is this a realistic prospect, or a utopia?
To address these energy and associated power/performance challenges, the industry launched the RISC architecture processor, and more recently ARM architecture boosted this wave. We saw the Nvidia acquisition of ARM for $40 billion, and the decision from Microsoft to adopt 50% of ARM-based servers for Azure in the next few years. This move has been accepted, and is on its way towards controlling energy consumption.
One of the key players of this dynamic sector is Bamboo Systems, which shared its strategy during a recent IT Press Tour session.
Edge and data centres seem to be the preferred segment for the adoption of the ARM model, pushed by several leading open source solutions, such as Linux distributions, various Kubernetes providers including Ceph, MySQL, MariaDB, MongoDB, Elastic and many Apache projects. And, it's anticipated that this list will grow, fast aligned with the adoption of the computing platform.
Bamboo develops a very dense processing server model with its B1000N, with eight compute nodes with a 1U server chassis developing 128 NXP Cortex ARM cores, 512GB of memory, 64TB of NVMe SSD, and four 40GbE ports. The image below shows a very dense rack, with 40 1U servers offering 5120 cores. The company shares its roadmap rapidly with two new server models: the B1000A/B2000A; and B1000AX/B2000AX, both powered by Ampere Altra chips.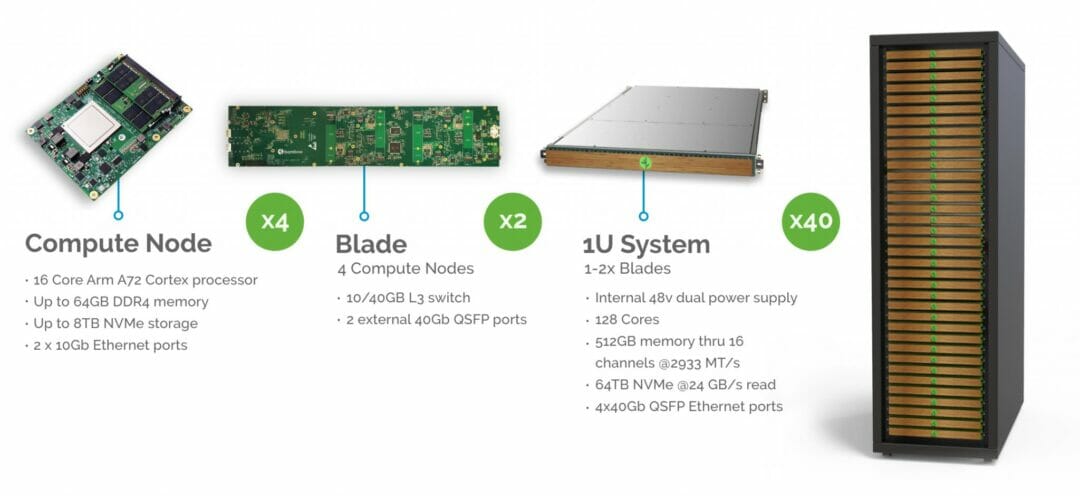 As a final note, Bamboo delivers a reduced TCO by 50% versus traditional server architecture, and thanks to the commercial off-the-shelf (COTS) approach, the energy consumed is cut by 75%, and offers a better density with five times at a rack level. We expect more details on the new models to be released soon.