As file data storage systems become increasingly complex, often encompassing an array of applications, businesses need to balance continued data innovations with minimising strain on resources. This includes ensuring that data is efficiently backed up — a challenge that many firms struggle to overcome with the right integrations in place. Backup and recovery systems, in some cases, may appear bulky and difficult to manage, while in others they may simply be too slow.
Yuzuy, a data management start-up specialising in toolbox and automation capabilities for Qumulo workloads, is looking to mitigate such innovation barriers. Established in December 2022 and based in Hamburg, the Yuzuy founding team found, while working for a systems integrator specialising in Qumulo integration, that long-term success from backup of large-scale file data called for a multi-cluster system assisted by open source.
Now putting its relationship with Qumulo to good use, the start-up primarily works with Qumulo's Global Solution Team, as well as sales engineers and consultants who design Qumulo solutions for organisations.
---
Combining block, file and object storage in one cluster technology — Software-defined data storage from start-up Simplyblock brings together three main storage types in one platform, saving time for businesses.
---
Martin Kohl, CEO of Yuzuy, spoke at the most recent edition of The IT Press Tour in Berlin about how the start-up is looking to disrupt the data management space in Europe.
Platform and use cases
The Yuzuy appliance looks to bolster backup in the form of automated continuous replication, provided by Qumulo, by allowing for replication between two or more Qumulo clusters. All file copies can be created and synchronised across multiple clusters, ensuring that they are efficiently backed up. Where Yuzuy in particular looks to differentiate from Qumulo's offering is through replication of NFS exports, SMB shares and quotas between clusters, in real-time — a capability not currently offered by Qumulo.
Failover and failback functions are delivered in one interface, with Kohl describing the functions as switches that can be activated in the event of a data disaster, allowing all IT managers to take action. All changes made on secondary copies of files are replicated on the primary cluster.
A key benefit of open source-facing platforms like Yuzuy is the minimising of lock-in to one particular vendor, which can limit the results of data management strategies.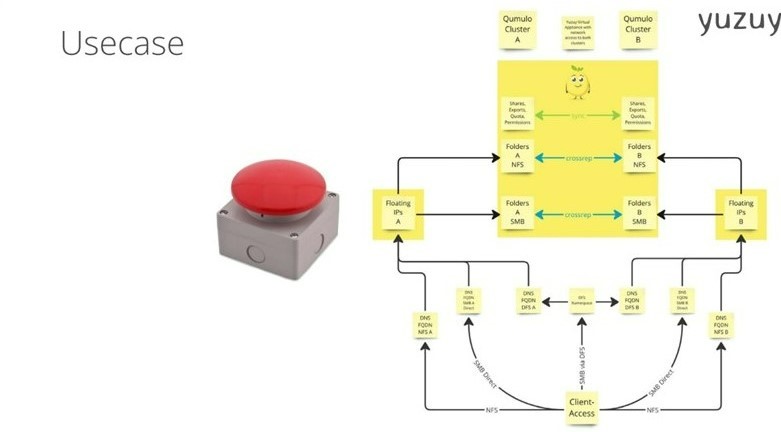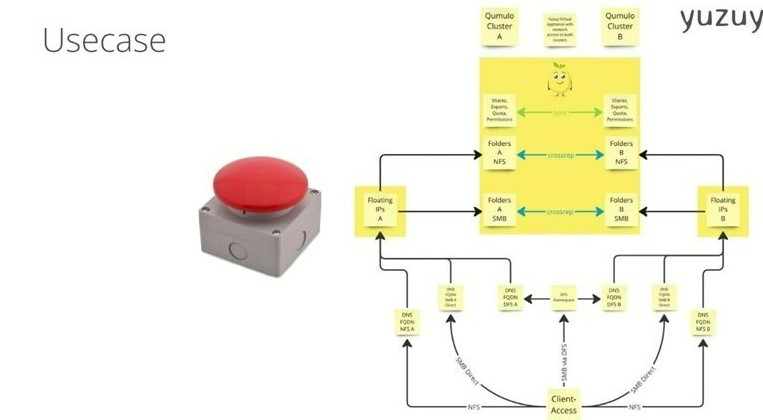 Current key customers identified by Kohl include the national transport provider Deutsche Bahn, and the University Hospital of Basel.
Plugin partnership with BareOS
A key customer cited by Kohl was open source backup and recovery vendor BareOS. Together, Yuzuy, BareOS and Qumulo have established their integration plugin for Qumulo and an open source backup software — a second product from Yuzuy that serves separately from the core appliance. This new partnership, which also involves another key partner in Fujitsu, aims to bring further flexibility to backup, while helping business customers cut costs.
Claimed to be the first officially supported integration for Qumulo and an open source backup software, backup windows are reported to shrink by as much time as weeks, via the plugin.
Frank Kohler, BareOS's vice-president of business development, was on hand to explain how the partnership is looking to further bolster backup operations for businesses using Qumulo.
Early trialists of the plugin include Deutsche Bahn, which has been using the solution to bolster management of data for IoT, autonomous vehicle driving and AI. As part of its 'Digital Rail Germany' project, AI models trained on sensor data are calculated in a high-performance computing (HPC) data centre, allowing trains to recognise their environment independently, with a view to operating fully automatically in the future.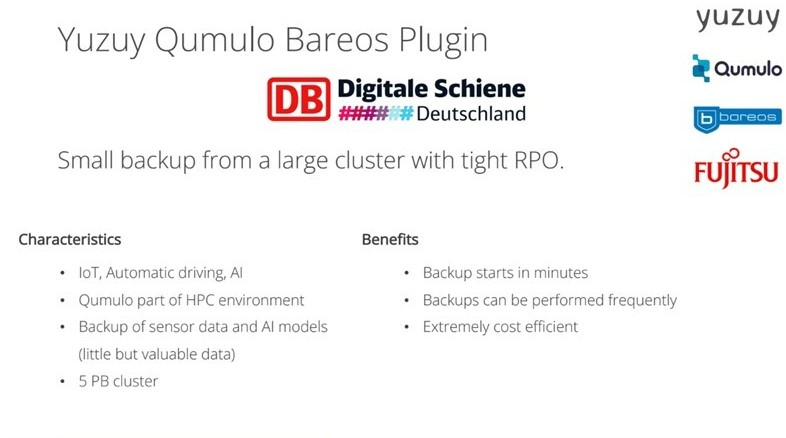 Subscription for the plugin and the core Yuzuy appliance — available to purchase worldwide — includes all current and all future capabilities and support.
Going forward, the company-wide goal for Yuzuy is to have its appliance implemented into all OEMs that use Qumulo.
Related:
The importance of disaster recovery and backup in your cybersecurity strategy — A strong disaster recovery as-a-service (DRaaS) solution can prove the difference between success and failure when it comes to keeping data protected.