A global survey of over 550 senior executives across 30 markets reveals that 'iconic' firms – those that both maintain the highest levels of customer experience (CX) satisfaction, and have world-leading brand recognition – are more than twice as likely than others to employ comprehensive, leading-edge technology solutions in such areas as next generation self-service, loyalty program management and 'voice of the customer' survey analytics.
The study, sponsored by Genesys, found that these iconic firms are nearly three times as likely to consider leadership in technology adoption crucial for maintaining CX excellence. These firms are also far ahead in the deployment of AI in their CX operations: 91% currently deploy AI solutions to increase customer satisfaction, as compared to 42% overall.
Mastering customer experience (CX) — optimising tools, applications and operational processes to engage with customers across every stage of their shared journey — has always been a core growth strategy for successful global firms.
>See also: How to improve customer experience with the internet of things
This has only accelerated with the advance of technologies, such as 'big data' analytics, which turns customer information into predictive assets, and virtual assistants (or 'chatbots') which help firms more efficiently manage customer inquiries.
But technology adoption is only part of the CX strategy. This is the conclusion of the report from MIT Technology Review that explores how do these iconic firms define their CX management strategies? And how do they introduce new technologies and optimise human capital as they seek to improve it?
The survey asked the executives to provide a detailed audit of their use of technology and technology-enabled processes in their CX operations, particularly in their current and planned usage of AI-enhanced tools and analytics (see Figure 1).
>See also: AI's impact on customer experience
Respondents were also asked to evaluate how well they executed on technology planning and implementation in the service of CX objectives. In the survey, the respondents analysed their own level of 'true' omnichannel experience management, their ability to manage their surrounding ecosystem in support of their customers and the role that broader objectives, specifically Corporate Social Responsibility, played in achieving CX goals.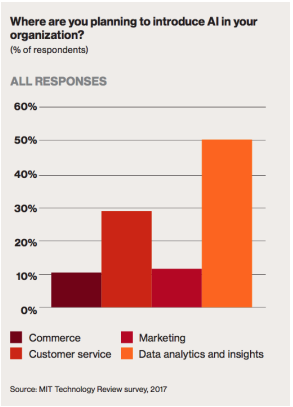 The survey also revealed distinct differences between the responses of the iconic firms – those which maintain industry-leading levels of customer satisfaction and brand recognition–and others, both in terms of their current level of technology deployment in their CX operations, and in the way they blend their technology and customer satisfaction strategies.
>See also: 3 ways to transform the customer experience
Overall, iconic firms are much more advanced in their deployment of leading-edge CX technologies, including the use of emerging AI applications (see Figure 2).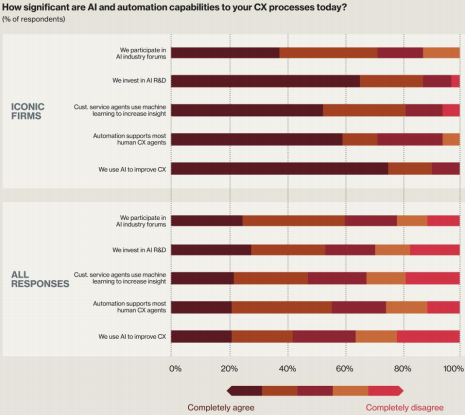 "The leaders of Iconic companies know that they also have to be leaders in customer experience technology investment," says Elizabeth Bramson-Boudreau, CEO and Publisher at MIT Technology Review.
"But they also know that over-reliance on technology in search for efficiency gains can reduce, rather than increase, the levels of customer intimacy required for success."
>See also: 4 factors set to impact customer experience management
"Iconic firms, realising the limitations of a technology-centric approach to maintaining desired customer management levels, place a high value on human capital investment, and are keen to strike the right balance between human and automated customer channels."
Ultimately, these iconic firms use technology to improve customer experience with artificial intelligence among others. But, despite its advancement, is not likely to replace human's roles in customer service.