We're not quite past the post with Brexit, but thankfully, we have moved beyond the Brexit hiatus. And, it's time we did. Whatever your views on the merits of Brexit, as the UK's Prime Minister has stressed, it's time to move on and move forward.
In fact, there may be no better time to spread the word about being open for business by highlighting the benefits of open technology. It is a task that all business leaders in the UK need to embrace. By seizing the moment to "get open done", we can not only develop and sustain the UK's leadership in open technology, but also carve out our status on the world stage for many years to come.
The timing couldn't be better. It's a pivotal moment to demonstrate how declaring our independence of European markets does not equate with a lack of collaboration or creativity.
Brexit offers us a convenient pause; a time for us to take stock and reflect on who we are as a nation and what we can offer global markets. We've had our fair share of inventors and game-changers in the past. Now, we have an opportunity to show the UK can lead in technology.
How open source can live up to its name in a post-Brexit world

Amanda Brock, CEO at OpenUK and keynote speaker at Tech Leaders Summit, explores how open source can thrive in a post-Brexit world. Read here
Open for business
So how can we get there? Well, we have a huge talent pool based right here "on this sceptred isle". Many of the world's thought leaders and contributors to open technology operate from the UK — and beyond — with prominent expats supportive of the UK's position as a leading player.
And the excitement is building in terms of influencers of this shift. Take the "new broom" recent appointments for OpenUK's new board of directors. The new recruits represent the face of leadership in the Roaring 2020's. It's not just the casual attire of jeans and t-shirts and more ponytails on the men than the women that are different, either.
There's a fresh and raw talent and experience in open technology on the new board. They represent a broad community of skills and experience and are joined in the call to action by other leaders forming influential committees covering areas from Legal and Policy to Learning.
OpenUK, has brought together a group of experts in open technology, ready to support enterprise and public sector as the UK moves into a new phase in managing the digital era. After all, there's no group more practised in the art of collaboration.
Board member John Laban of the OpenCompute project sums it up beautifully as "a great new team of action-focused visionaries bringing together the "three opens" of open software, open hardware and open data to create synergies and accelerate innovation through open collaboration ……. me thinks that when the history books look back at the 2020's ,and the integration of the "three opens", OpenUK will be seen as the catalyst for the Novacene."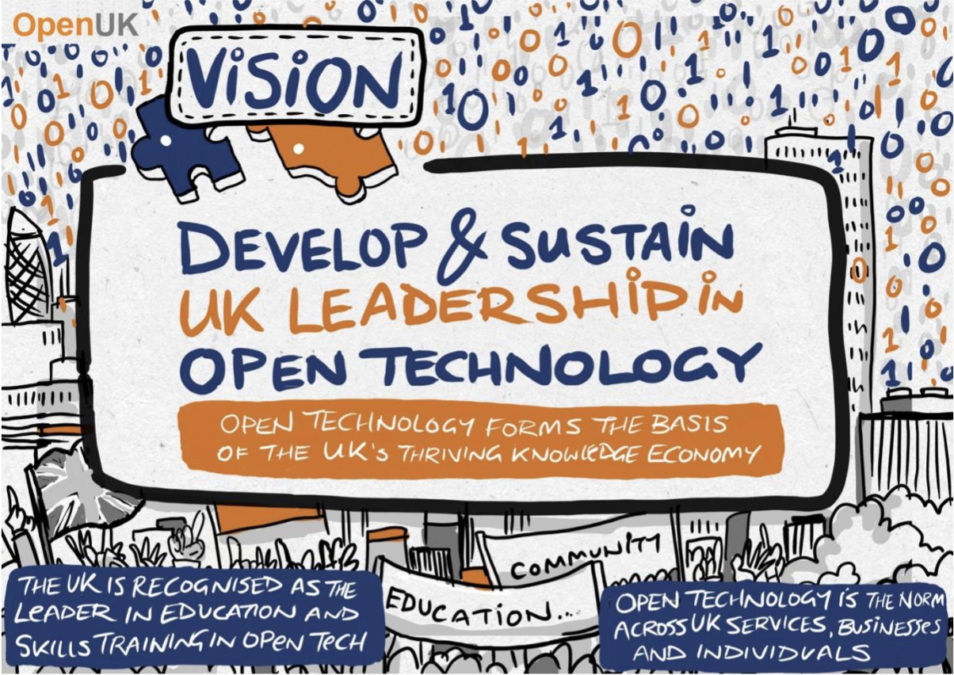 The road the UK has followed to open technology so far has been long and winding through decades of fear, uncertainty and doubt. We have now reached a point where the benefits of open source software, or the "total cost to the enterprise" of not using it, makes it invaluable to business.
7 game-changing moments for open source technologies in 2019

Amanda Brock, CEO of OpenUK, takes us on an end-of-year round-up of the winners and losers in the world of open source technologies. Read here
The energy efficiency of open source hardware improves our carbon footprint and slows climate change. The opportunity presented by digital sovereignty and digital autonomy to ethically collect and use data in an open way is waiting, poised for the UK to grasp it and claim "digital regency".
There is real potential here, specifically in the UK, to make open technology the norm across UK public services, businesses and individuals. Today, we are moving on from the sense of confusion around where this is happening and whether it is in business plans or not. It is time for UK leaders to act and embrace open technologies to allow the UK to lead the knowledge economy.