The market dynamics are visibly putting many vendors in market share acquisition mode. Many pick an MSP strategy to sustain a cloud strategy and approach end-users globally thanks to a simple and comprehensive SaaS-based solution. This is the case for N-able
The recent IT Press Tour brought the opportunity to meet N-able. Founded in 2000, SolarWinds identified the potential of N-able and acquired the company in 2013. With the LOGICnow acquisition in 2016, SolarWinds unified the 2 companies to launch its MSP business. Establishing this MSP business proved the right decision with several acquisitions, and in 2021 SolarWinds management decided to spin-off its MSP as an independent company named N-able, even completing an IPO at that moment.
As a technology provider for IT professionals and MSPs, N-able today sells monitoring, security and data protection solutions with a minimal footprint promoting a cloud-first model. It starts with an observation on the industry macro-trends. First, cloud is everywhere, easy to integrate for replacing on-premise devices; secondly, cyber attacks are a daily challenge for every business as all of them are digitised; and third, talent and skill team are limited. So what can end-users do? How can they address a complex IT world under more financial, business and security pressure?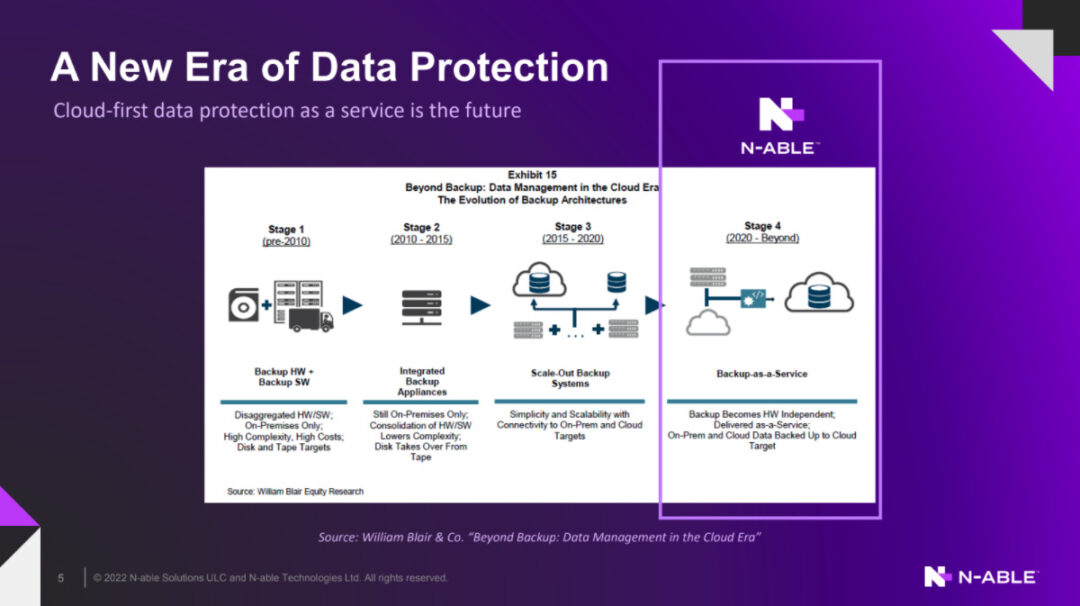 N-able answers these challenges with a simple comprehensive solution, without any friction on users' systems and environments. N-able adopts a pure SaaS model, with no need to deploy any physical machine, dedicated or not — just a software agent to locally identify files changes and initiate data movement. Following an initial full copy, N-able leverages its TrueDelta technology to transfer only the modified data over the public network. By design and choice, data copies are external, producing an immediate wall between the production and protected data in case of a cyber attack. The management console seems to be very intuitive with a rapid and simple learning curve. Users can subscribe and deploy in just a few minutes.
The N-able product strategy targets servers, workstations and associated applications such as Microsoft Office 365 in a full direct-to-cloud mode, leveraging a SaaS model, perfectly aligned with MSPs' needs and operating 30 data centres to secure all protected data. In detail, N-able relies on IASO Backup, a solution that began being developed in 2004 by Dutch company IASO, and was acquired in 2013 by GFI Software, before being morphed into LOGICnow in 2014.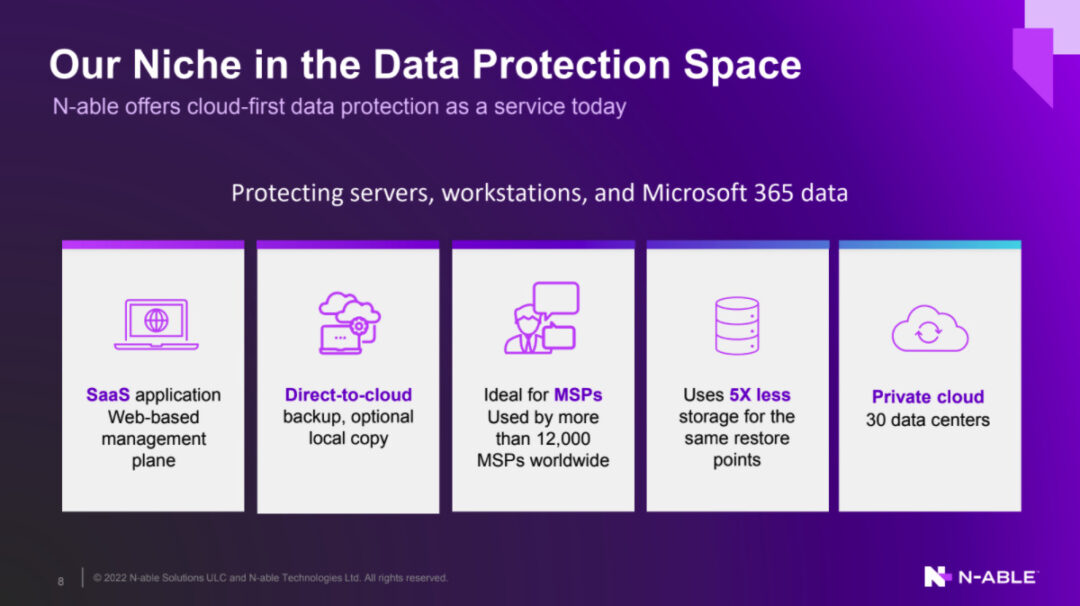 MSPs seem to be the new El Dorado for many vendors executing on the same playbook and strategy. N-able's story should show an advantage in the coming months, accelerating that angle with a comprehensive solution set. The battle is on.