Cyber remains a top priority for organisations across the world, and is rated the scarcest technology skill in the world, but according to The Harvey Nash Tech Salary & Hot Skills Report 2021, this isn't being backed up with pay rises for cyber security professionals.
Although the cyber roles in greatest demand included ethical hackers, CISOs, cyber security consultants and information security analysts, those working as a CISO or Security Specialist were ranked just joint 14th amongst technology roles worldwide receiving a pay rise in the last 12 months.
While cyber security has been an area of strong stability in salaries, with security professionals the least likely technology roles to receive a salary decrease, Harvey Nash data shows that organisations have chosen to focus on rewarding roles that are related to releasing value and creating agility.
This has led to the top three roles to experience pay rises being:
Development management/team leadership (59%);
Design/UX/UI (50%);
Quality Assurance (50%).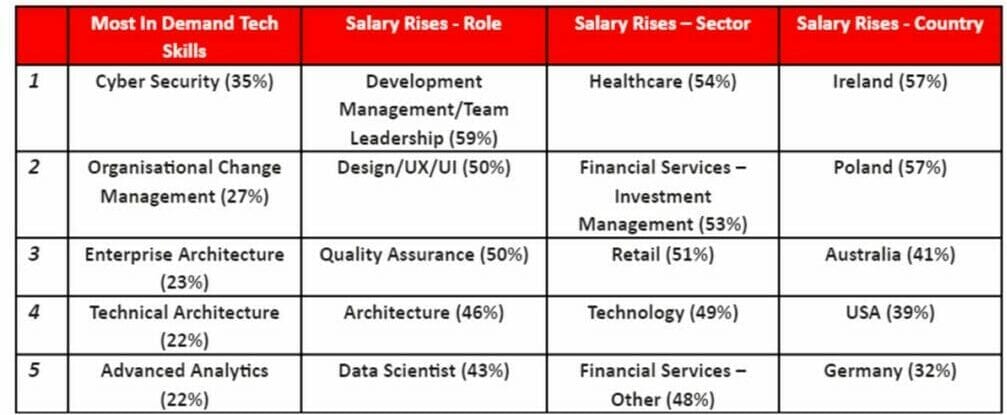 Bev White, chief executive at Harvey Nash Group, said: "Technology roles are hugely important and deserve to be well paid. In today's environment where cyber threats are an ever-present, security roles in particular are critical to the success of organisations and should be properly remunerated. But despite the key role that security specialists have played in keeping businesses protected during the unprecedented challenges of the pandemic and the move to mass homeworking, this doesn't seem to have translated into pay rises for the majority of cyber professionals.
"Instead, organisations have chosen to reward those individuals that have led or supported their focus on developing innovative ways in which they can pivot their business and build new systems with a customer/outward focus. This has meant that roles such as development management/team leadership and design/UX/UI have been rewarded the most.
"While one can see the rationale behind this, it is vital that organisations don't score an own goal by under-rewarding their cyber teams – and then facing an exodus of talent looking for better remuneration elsewhere. There is a balance to be achieved, but the signs are that the reward strategies of many businesses have perhaps tipped too far in one direction."
The biggest post-pandemic cyber security trends

Sanjay Radia, chief solutions architect at NETSCOUT, identifies the most prominent post-pandemic cyber security trends. Read here
Automated positions
In addition, it was revealed that security roles such as CISOs and security specialists are among those most likely to be automated in the next 10 years.
CISO/security specialists ranked fifth in this respect, just behind testing (1st), Quality Assurance (2nd), database administrating (3rd), and business intelligence/analyst (4th).
However, this was welcomed by many security postholders – with the attack surface massively increasing during the pandemic, part automation of their role is providing much needed support to their expanded remit.
New tech roles
When asking technologists for some of the new job roles that had been created recently, Harvey Nash was presented with a list of new titles covering two common themes – data and the need for human interaction and wellbeing. New jobs roles included:
Technology trust builder;
Happiness officer;
Data curator;
Robot shepherd;
Robot overlord.
White concluded: "Technology remains a generally well-remunerated and rewarding career. And with tech solutions in such high demand, new employment opportunities will also remain strong. It's a good industry to work in, even if workloads can be heavy and patterns of reward vary quite significantly between roles, sectors and countries.
"It's encouraging too that the tech industry is moving dynamically to create new roles centred on emerging technology solutions. Chatbot manager anyone? Technology trust builder? These are just the first emerging signs of the new frontiers that technology is taking us towards – opening up fresh career possibilities and aspirations for the next generation of talent."
The report gauged the views of almost 6,000 technologists worldwide, who responded to two major international studies: The Harvey Nash/KPMG CIO Survey 2020 (4219 respondents) and The Harvey Nash Technology & Talent Study 2021 (1724 responses).