Software-Defined Storage (SDS) represents one of the hottest trends in data storage with the capability to be hardware agnostic, run in the cloud and provide storage without storage. Let me explain what could be seen as a strange animal.
Instead of doing storage with dedicated storage arrays or file servers, the idea of Software-Defined Storage is to build similar data storage services based on commodity server hardware coupled with an intelligent storage software.
SDS finally transforms a rack of servers into a large storage farm to be used via one or several interfaces, such as block, file and/or objects, like S3. This design implicitly associates the concept of scale-out, such as multiplying servers to provide scalability, capacity, availability, durability and performance.
StorPool picks the block interface and exposes the logical storage space via iSCSI or its own access protocol and targets primary storage. The product is already validated for bare-metal, virtualisation and container environments.
Users adopt block SDS and StorPool in particular for demanding applications deployed on-premises, hybrid or public clouds with clear needs for low latency and pretty high throughput with attractive IOPS.
StorPool software runs on Linux OS and operates in multi active/active controllers. For data protection, the engineering has adopted three-way replication, but also provides snapshots, clones, thin provisioning and changed block tracking.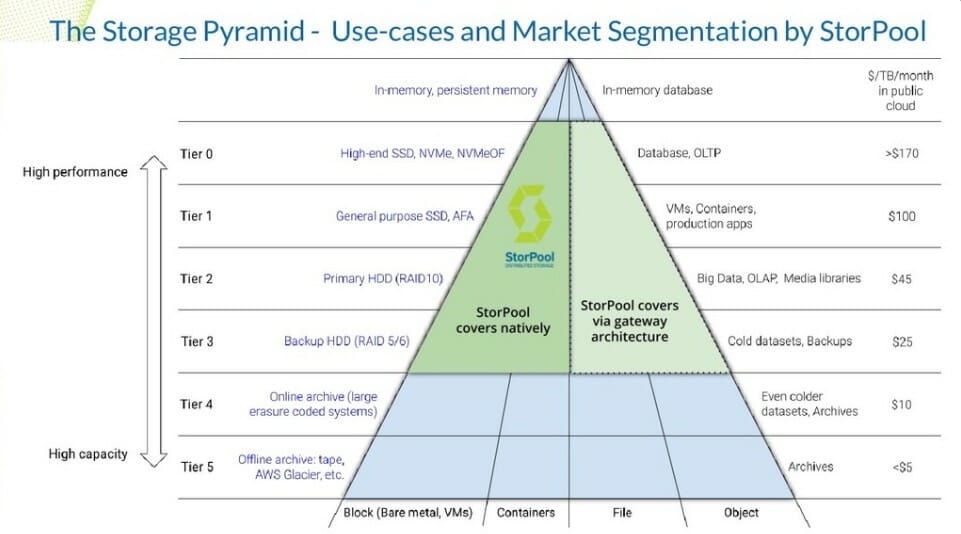 The storage service can be deployed with classic storage entities connected to applications servers or in a converged mode where applications run directly on storage nodes.
Storage in action
At Dustin Group, StorPool consolidates and replaces legacy platforms such HPE, EMC and NetApp for performance and cost reasons.
For Amito, a UK-based cloud and managed service provider, storage farms powered by StorPool are deployed on multi-site data centers to provide a scalable and resilient storage.
Katapult, one of the largest UK web hosting companies, selected StorPool for its performance, simplicity and its capabilities to provide deployment agility on Linux servers.
With some effort to gain visibility, StorPool occupies a pretty unique position in Europe as a storage ISV able to be deployed in a wide range of configurations, from the high demanding to the classic use cases.