With economic turbulence posing challenges to tech leaders globally, Gartner's research found that many leaders entered 2023 prepared for a potential recession.
Nearly half of leaders that declared expectations of company growth believe that they will be able to outperform their competition this year.
Paradoxically, many of the actions taken by respondents were focused on reducing costs and slowing down hiring, as opposed to growing revenue and market relevance.
55 per cent said they were slowing down hiring for new or open roles, while 52 per cent had implemented spending cuts across the board.
Other common measures cited by tech leaders for optimising revenue generation included divesting from solutions deemed unprofitable, and reducing market spend or initiatives (43 per cent each).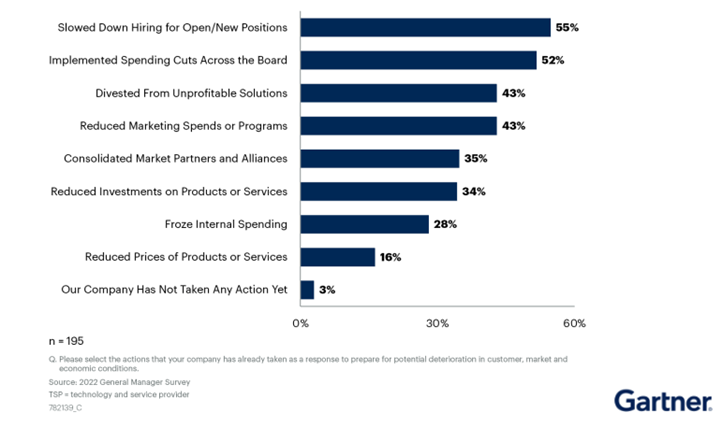 Gartner recently projected that worldwide IT spending would grow by 2.4 per cent this year, with enterprise IT spending particularly to grow 4.1 per cent, and an increasing focus on emphasising relevance of tech in line with business goals is proving a key factor in widespread revenue confidence.
According to Gartner, ever changing context requires leaders to raise their relevance across three situations:
the now — through immediately communicating ideas for tech implementation to the rest of the leadership team;
whenever context changes in the near term;
for future growth — when economic conditions turn favourable in the next economy.
"Outperforming the market through an uncertain market requires an above average ability to execute on revenue ambitions," said Mark McDonald, vice-president and Gartner Fellow.
"The survey results indicate that almost half of firms (46 per cent) do not have a sufficient ability to execute to reliably realise their revenue goals.
"Changes in context challenge the relevance of technology solutions. Lower relevance reduces willingness to pay and renew relationships.
"Gartner sees relevance as the connection between a provider's solution and how applicable it is to current customer needs. That connection exists at every level from the C-level to individual developers. Without relevance, we see sales cycles extend and renewals at greater risk."
195 tech industry executives from across the US, Canada, the UK, France and Germany participated in Gartner's study, 'Raising Technology and Service Provider Relevance in 2023: Now, Near and Next', in the second half of 2022.
Related:
Tech purchasing decisions – how many involved? — At least 16 people are involved in major tech purchasing decisions 21% of the time, according to research. In this article, we consider whether too many people are getting involved.
Information Age's guide to tech leadership roles — We provide our guide to the following roles: the CTO; the CIO; the CDO; and the CPO.