The Tech Talent Charter was formed with one goal in mind; to address the severe gender imbalance within the technology industry. That aim has now widened to every industry, as the list of signatories on the charter include organisations outside the traditionally viewed tech space. It is true that now, every company is a technology company.
The latest organisations to become signatories include HP, CA, BBC and the Department for Digital, Culture, Media & Sport (DCMS) who are joining the mission to tackle the gender imbalance. They join a growing list of 90 businesses that have signed up to the Charter since its inception two years ago, including Monster, Global Radio and Nationwide, as part of their commitment to implement recruitment and retention policies that will support women in digital and technology roles.
>See also: Addressing the gender gap 
Based on the launch event this morning it was very clear that those organisations involved recognise the true value of diversity in driving business forward. But, crucially, as Debbie Forster, CEO at Tech Talent Charter explained: "We're not at the finishing line, we're waiting for the starting gun."
Government go ahead
Matt Hancock, Minister of State for Digital, who delivered the keynote speech at the event following the Government's funding of the Tech Talent Charter, said: "You can't catch all the fish if you only fish in half the pool. Yet our tech industry is still too male dominated, in fact and in culture. We want to see equal opportunities for men and women in one of the fastest growing areas of life, and we want to see Britain's tech industry using the talents of the whole nation. So we funded this fantastic initiative to help tackle the gender divide in technology jobs to end the gender divide, which is wrong in principle and wrong in practice."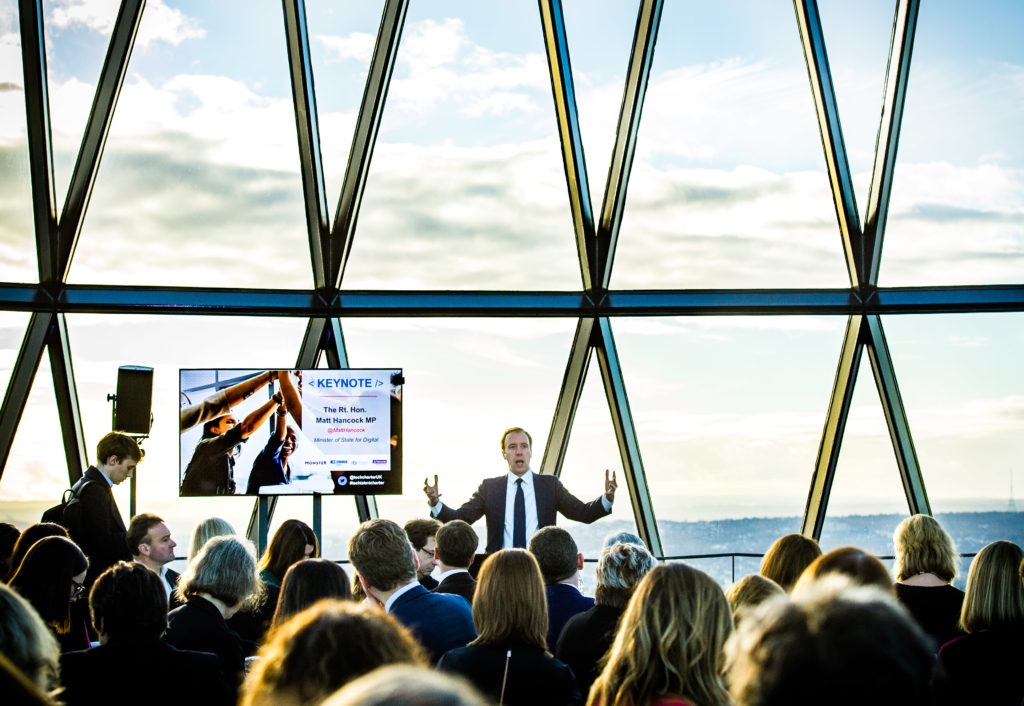 "As part of the Digital Strategy we committed to work with industry on the Tech Talent Charter so everyone can access exciting technology careers. "
"The charter gives organisations tangible actions and principles they can adopt and I encourage all organisations employing tech specialists to sign up."
>See also: Gender bias in the tech industry is all encompassing
The need for industry collaboration and a sharing collective of ideas, even between competitors, is essential in tackling the issue of gender diversity. Leadership is also crucial in this fight, as like with most things that involve organisational change, it comes from the top.
Diverse talent
Tech talent will be the currency of the future, explained Susan Bowen, general manager and VP EMEA at Cogeco Peer 1, in one of the panels at this morning's launch event.
Indeed, going further, the retention of tech talent, and encouragement of candidates to roles, is essential for the UK to have the skilled tech workforce necessary for a thriving economy.
Research by Tech City UK stated one million tech workers are needed by 2020; female workers have a vital role to play in ensuring the UK continues to have a strong role in technological and digital innovation.
Alarmingly the representation of females in these all important roles is disproportionately low – only 17% of tech and telco workers are currently women. These stats highlight that businesses need to do all they can to bring female talent into their organisations and celebrate the valuable contribution they make.
>See also: Diversity of thought: breaking down barriers and championing women in IT
The Tech Talent Charter passion and ambition moves away from simply talking about the issue to implementing positive action to ensure women play a significant role in
the growing UK tech industry.
"We're very excited to be taking the next step on our journey," continued Forster. "It's vital for the industry to come together to show females that a career in
technology is incredibly rewarding, to increase the number of females working within the industry, to attract those considering a career change, and to inspire younger generations."
"One single company can't do it alone which is why we created the Tech Talent Charter, to bring organisations and individuals together to effect the change we need. We've come a long way since we first started out, and it's hugely rewarding to see the amount of signatories we already have on board. We look forward to welcoming many more as we continue our important work."
Success through diversity
George Brasher, managing director for HP UK and Ireland, another panelist at the event, said the reason HP joined was simple: "to win". Brasher, HP and all the other signatories know that diversity leads to success. Having a leadership team, or workforce that accurately represents the customer base in diversity – whether that is gender or ethnicity – is more likely to thrive in a multi-layered, increasingly digital society.
>See also: Breaking up the old boys club: female IT leaders address the gender gap
"At HP we believe that the more points of view a business can draw on, the better its products and the company as a whole will be. Diversity helps drive new business, fuel innovation, and attract and attain the best employees. We are delighted to be a founder signatory of the Tech Talent Charter and look forward to working alongside other signatories to share best practise and to together improve diversity within the UK tech industry. Words are not enough and actions have to be measurable to be effective."
"As a starting point HP UK will commit to hiring a minimum of 50% female interns each year and we are introducing a "Returners Program" which will focus on encouraging women back into the workplace through fixed term maternity cover, which we hope will in turn lead to permanent positions."
HP's commitment, and the commitment of all the other companies who are part of the Tech Talent Charter is just the beginning of a movement that will succeed in closing the gender gap prevalent in the technology industry.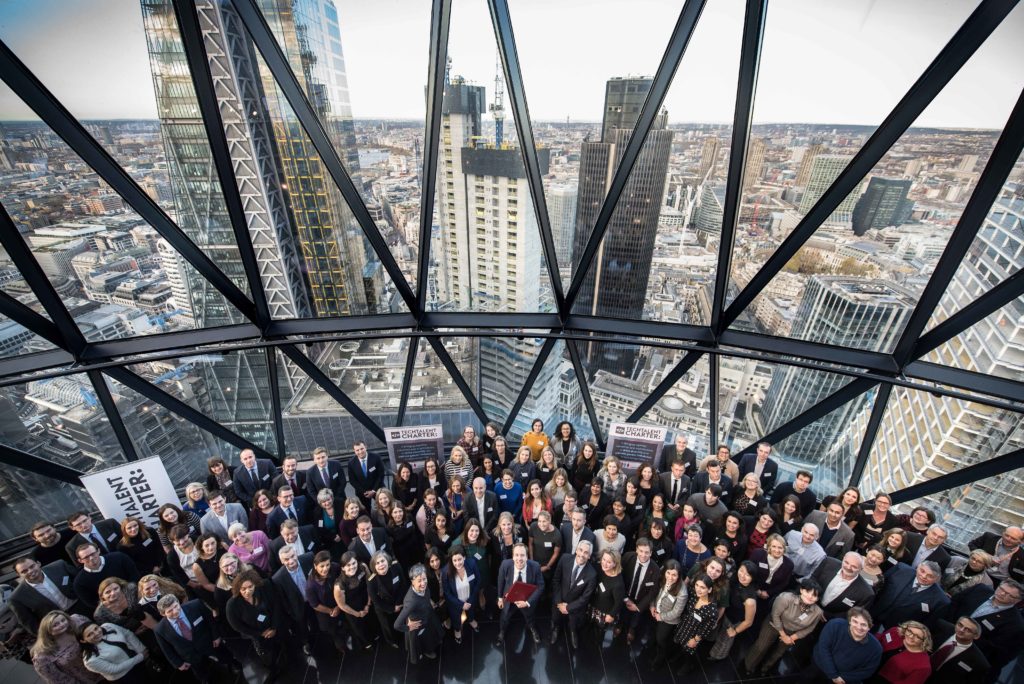 See below for a list of all 90 signatories
-Accenture
-Ada Lovelace Day
-Altius Consulting Limited
-Amplify Life Ltd
-Apps for Good
-Arqiva
-Atom Bank
-BBC
-Bennie MacLean
-British Red Cross
-British Telecommunications plc
-Browne Jacobson LLP
-CA Technologies
-Cancer Research Uk
-Catalyst Inc.
-CharityJob
-Cisco
-Code First Girls
-Cogeco Peer 1
-Croydon Tech City Limited
-DCMS
-Dell
-Deloitte LLP
-Early Metrics
-Egress Software Technologies Ltd
-ELATT Connected Learning
-eurostar
-everywoman
-FDM Group
-Fluxx
-Freeformers
-FUJITSU
-Futureheads Recruitment
-gapsquare.com
-GDS
-Geckoboard
-Global Radio
-Global Resourcing Group
-Harvey Nash Group
-Hewlett Packard Enterprise
-HP Inc.
-James Chase Solutions
-JISC
-L T Harper
-La Fosse Associates
-Lloyds
-London First
-MDS Technologies Ltd
-Monster Worldwide
-Mortimer Spinks
-Nationwide Building Society
-News UK
-Nominet
-Nurole Ltd
-Outsource UK Limited
-Peak
-Plexal
-PwC
-Reed Business Information
-Reply
-Sage
-SAS
-Shell
-sky.uk
-skylineacademy.org.uk
-Smoothwall
-Soprasteria
-Sparrho
-Sparta Global
-Stemettes
-Structur3dpeople
-Surevine
-T-Systems
-Tata Consultancy Services
-TechMarketView
-techUK
-Telegraph Media Group
-The Dot Project
-The Mayor's Digital Talent Programme
-Theodo
-Thoughtworks
-TLA
-Travelport
-Verisk Maplecroft
-WISE Campaign
-Women of Wearables
The Women in IT Awards is the technology world's most prominent and influential diversity program. On 22 March 2018, the event will come to the US for the first time, taking place in one of the world's most prominent business cities: New York. Nominations are now open for the Women in IT USA Awards 2018. Click here to nominate