The Women in IT Global Summit — sponsored by AWS and HSBC — brought together the worldwide Women in IT Summit and Awards community, to celebrate and raise awareness about diversity and inclusion in the workplace.
During the virtual event, a panel session, titled 'Jumping the Big Tech Hurdles', explored how organisations can overcome the biggest hurdles in tech.
Moderated by Nasheen Liu, partner and SVP of CIO Program Strategy at The IT Media Group, the WIT Global discussion delved into how to overcome cyber security challenges as workforces continue to work remotely, as well as closing the digital divide to better develop future tech talent.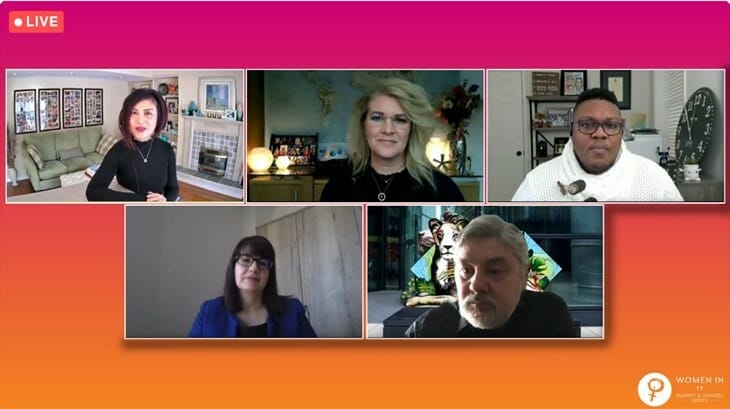 Despite digital transformation accelerating across the board since the Covid-19 pandemic took hold, compressing years' worth of planning into mere months, the challenges of cyber security and the digital divide are standing between organisations and the full benefits from tech.
This panel discussed calls to action and possible solutions for ensuring sufficient protection from evolving cyber threats, and narrowing the digital divide in a world where only around 60% of people worldwide have access to the Internet.
Cyber security in 2021
Cyber threats remain prominent, and without sufficient protection, companies are likely to suffer financial and reputational damage, and innovation can grind to a halt. Threats to company networks aren't only caused by malicious attackers, but also human error and third party systems.
The surface for cyber attacks has widened, with a large proportion of work and communication now being done on remote, personal devices. This has made architectures even more vulnerable to possible infiltration.
Before the pandemic, it was projected that 3.5 million cyber security jobs will be unfilled by the end of 2021, and this is likely to be higher in the wake of Covid-19. With such a shortage of talent in the space, more diverse skill sets are required to ensure that the war against cyber threats stays swayed towards organisations.
"Threat actors are creative in their approaches, and to match this, teams need to be creative themselves," said Kurt John, chief cybersecurity officer at Siemens USA.
"Cyber security has a unique opportunity to not only drive social change and educate the population, but also to leverage diversity of talent in order to better defend against adversaries."
Kaspersky shares IT security recommendations for businesses in 2021

The latest report from Kaspersky provides recommendations on IT security for businesses to consider over the course of this year. Read here
When asked what business leaders can do to amp up diversity and inclusion efforts, Catherine Sherwin, head of digital EMEA, & Paris Market Leader at Alix Partners, commented: "There needs to be a top-down approach. This can't just be initiated by the cyber security team.
"Education is important for instilling confidence, so that we don't shy away from the topic of security.
"The whole line of business needs to understand how important security investment is, and that this isn't the area to be cutting costs."
When it comes to ensuring that diverse workforces are well educated in cyber risks, Cara Antoine, chapter ambassador for the Dutch Chapter – The Netherlands at Women in Tech, Netherlands, said that leaders can look to empower women in the space.
Antoine explained: "We need to highlight role models and mentor women in the field of security.
"There's an ambition to contribute to sustainability and equality, and this entails looking at working policies for caregivers and other underrepresented groups, and integrating people."
The digital divide
The digital divide threatens to widen an already severe digital skills gap going forward. To meet the need for a sustainable workforce in the long term, a diverse workforce is vital, and this means ensuring that prospective tech talent have access to the right skills from an early age.
What's more, with around 40% of the global population are without Internet access, this means that organisations are missing out on a major proportion of potential talent, and that accessibility needs to be improved.
When it comes to overcoming this hurdle, Justin Arbuckle, global chief technology officer – WPB Technology at HSBC, said that there isn't a short-term solution: "We have to build the pipeline and invest in the long term.
"We need to reach back into schools and ensure that girls see STEM as an area that they would love to thrive in, and can thrive in.
"In software, diversity equals quality; we have to nurture that quality, and this means investment in schools and the community."
The UK universities leading the way in computer science gender diversity

A CrowdStrike report has revealed the UK universities with the most gender diversity within their computer science departments. Read here
Antoine, meanwhile, said that girls are believed to be at their most creative when they are 14 years old, meaning that prospective female talent in tech need access to digital skills while they are still in school.
"In the agricultural sector in Africa, for example, women are the primary farmers," said Antoine, "so if we can help them leverage data, they can improve the farming community where we live."
John continued on from girls being at their most creative at 14 years old, adding: "I have two girls and I would have it no other way.
"I would love for my daughters' creativity to meet lower entry requirements that involve getting them connected with organisations. If we can serve the communities in which we operate, digital literacy can be reduced."
To view the Women in IT Series event calendar for 2021, and register your interest in any of the events happening throughout the year, please click here.