With semiconductor revenue growing to total $449.8 billion globally, 44% of growth in this area came from memory, according to Gartner, with this device category benefiting from increased server build, as well as PC and ultramobile demand, which came about due to the shift to remote working.
Within memory, NAND flash experienced the best performance with revenue surging by 23.9% to $52.8 billion.
Supply, meanwhile, was limited over the course of 2020, meaning that prices went up during the first half of the year, which led to overall annual price decline being limited to just 2%.
While demand was strong from hyperscale customers and PC OEMs, the impact of Covid-19 did result in oversupply conditions during the second half of the year, which tempered overall annual revenue growth.
Coronavirus Diary: the impact on a semiconductor business

As part of Information Age's Coronavirus Diary series, Woz Ahmed — chief strategy officer and chief of staff at Imagination Technologies — discusses how the pandemic has affected the semiconductor business, while looking at what challenges lie ahead and the way forward. Read here
Intel, the revenue of which grew 3.7% due to growth of core client and server CPU businesses, retained its position as the leading vendor in the semiconductor space in 2020, followed by Samsung Electronics, SK hynix and Micron.
Strong sales of 5G smartphones also played a role in propelling the market, as companies such as Qualcomm and MediaTek showed strong growth over the year.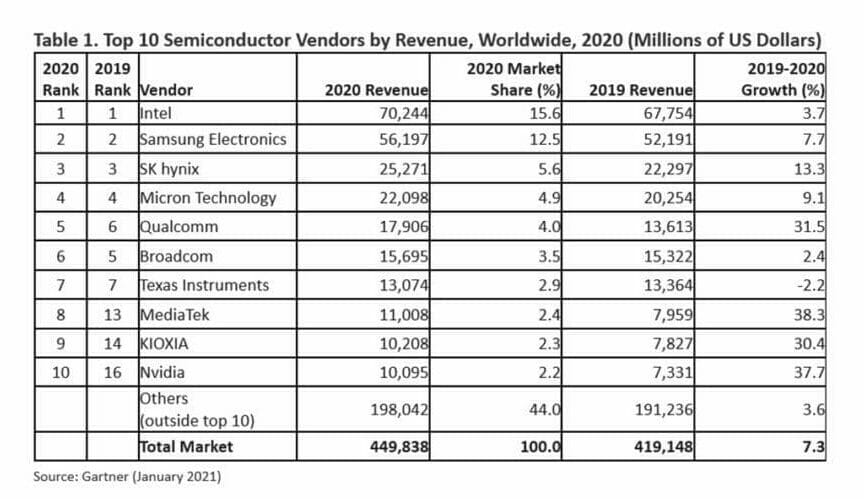 "In early 2020, the expectation was that Covid-19 would have a negative impact across all end equipment markets, but the actual effect was more nuanced," said Andrew Norwood, research vice-president for semiconductors at Gartner.
"Automotive, industrial and some areas of the consumer market were hit hard by reduced enterprise and consumer spending. However, lockdowns vastly increased work from home and e-learning, and any markets that facilitated those activities benefited.
"Server demand was strong as hyperscale customers, which in 2020 accounted for over 65% of server demand, rushed to add capacity to cope with extra demand during lockdowns in the first half of 2020. Additionally, strong demand for PCs from enterprises and consumers due to increased work and study from home led to strong growth in CPUs, NAND flash and DRAM."